Potter & Potter Auctions will offer a rare first world war poster in its wildly eclectic July 28 fine books and manuscripts sale.
Created by designer HR Hopps, the legendary piece of propaganda shows an ape in a German helmet marked "Militarism" holding a bloody club inscribed "Kultur".  In his other hand he clutches half-naked blonde woman. A ruined Europe lies behind him and America is at his feet.
The message is pretty clear. Around him are the words: "Destroy this Mad Brute/ Enlist".
Entry into the first world war was a tough sell to the vast majority of Americans, especially once you consider that Germans were among the largest immigrant groups in the country.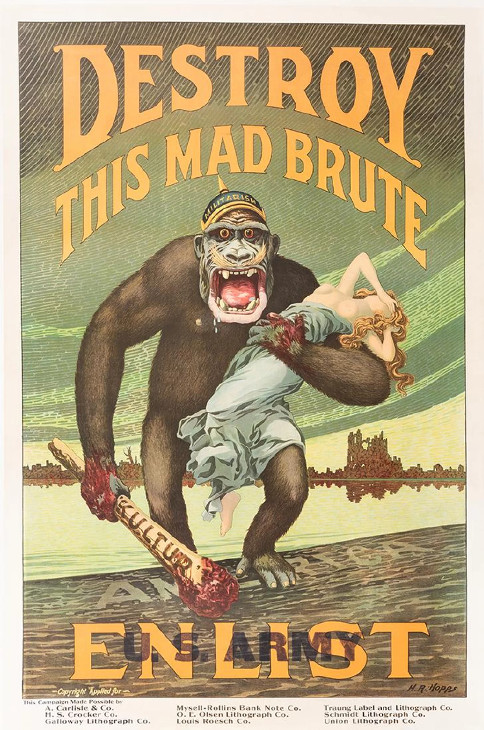 Public opinion began to change over the years, as news of German atrocities began filtering in. The sinking of a fleet of American supply ships bound for England in 1917 was the catalyst for US troops to finally land on European shores.
In its violent sexuality, this poster was designed to prey on the worst anxieties of red blooded American males. It certainly did its job. Around 4m men were drafted into the American Expeditionary Forces between February 1917 and the end of the war in November 1918. By this time the Allies were close to toppling. The arrival of the Americans brought events to a swift end.
This poster is extremely rare in higher grades, which is why the auction house has slapped this A- graded specimen with a $12,000-18,000 valuation.
A Stetson hat that once belonged to former President George W Bush is also on offer with a valuation of $2,000-2,500.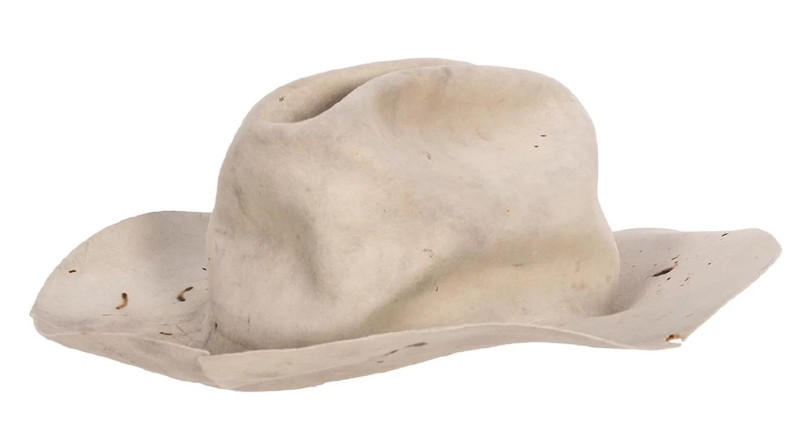 This is clearly a well loved possession. It's covered with burns, presumably from fanning campfires while relaxing at Camp David. Bush gifted the lot to Samuel Sutton, his personal White House valet, at some time during his tenure.