A historic Babe Ruth baseball bat with a remarkable back-story could set a new world record price when it goes up for auction at MEARS Online this month.
Ruth originally used the bat to hit his first home run of the 1924 season, and presented it as a prize to a high school batting champion in California.
More than half a century later the bat was stolen, and disappeared for over 30 years before being recovered thanks to a simple email alert.
Now the bat is expected to sell for more than $3 million, and could even surpass the baseball memorabilia world record price of $4.41 million set in 2012 by a 1920 Babe Ruth game-worn jersey.
"I would not be surprised if a collector offers a never seen before price for this historic masterpiece," said Troy Kinunen of MEARS Online.
"Rarely, if ever, does an artifact of this caliber have the provenance and documentation that this bat has."

The story begins back in 1923, on the cusp of Ruth's incredible first World Series-winning season with the New York Yankees.
In preparation for the new season, his marketing agent Christy Walsh and the Los Angeles Evening Herald newspaper cooked up a new three-year promotional competition.
They announced that he winner of the Los Angeles High School League batting championship would receive a signed Ruth bat, used to hit his first home run of that season.
The winner of the 1923 title received the bat Ruth used to hit the first-ever home run at Yankee Stadium – a piece of history now regarded as the world's most important baseball bat with an estimated value of $10 million.
The following year the lucky winner was Phil Grossman, a junior outfielder for Jefferson High School in Los Angeles, who secured his title with a single hit on the last day of the season.
The bat he received, signed and inscribed by Ruth "To the Champion Batter, Los Angeles High School League, Babe Ruth 1924", also had
Ruth's first home run of the year came against the Washington Senators on April 20th, 1924, in front of 20,000 fans at Griffith Stadium, off a pitch from legendary Hall of Famer Walter Johnson.
He was then photographed signing the bat, and in the Fall of 1924 he presented it in person to Grossman during a barnstorming tour of the West Coast.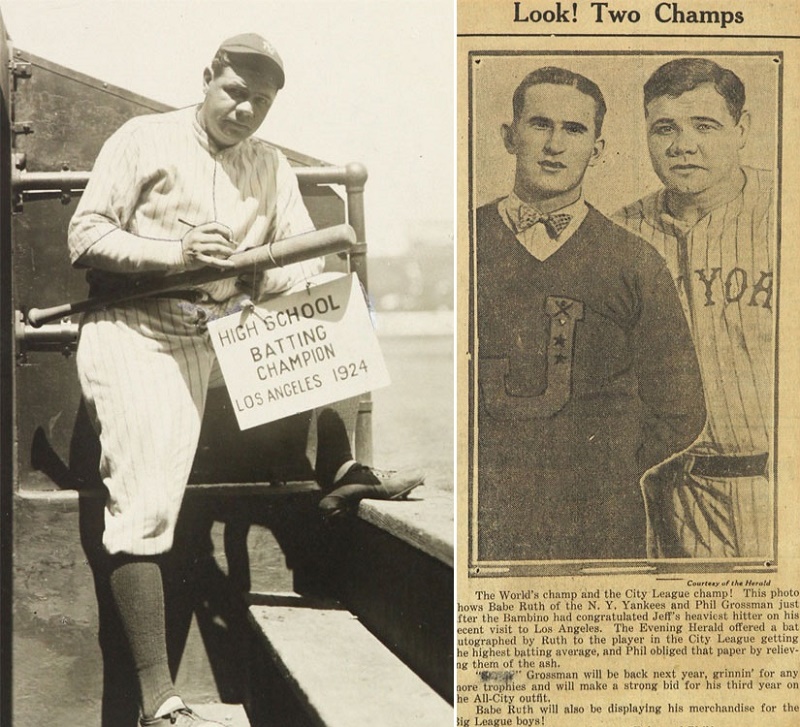 The bat remained one of Grossman's most treasured possessions for the rest of his life, and for years after he would entertain his young nephew Mike Robinson with the story of his meeting with the Great Bambino.
"I'd come in the living room," Robinson recalls, "and the first thing he would do is go under the stairs and pull out his box of stuff. And all I cared about was looking at his stuff, and the bat, of course, was the cherry on top."
When Grossman passed away in 1986, his collection of baseball memorabilia was offered for sale in a local estate auction. The winning bidder was Robinson, now 32 years old and desperate to own his beloved uncle's bat.
Robinson knew he could be sitting on something valuable, but he had no idea where to look for advice, and when a friend put him in touch with an 'expert' he entrusted them with the bat.
It was the last time he saw it for almost 30 years.
Robinson was heartbroken over the theft, spending years in vain trying to track it down, and finally he set up a Google alert which would email him each time a piece of Ruth memorabilia came up for sale.
Hundreds of emails came and went – but finally in 2017, on Robinson's birthday, he received the message he'd been waiting for: having spent years in a private collection, the bat had reappeared was now up for auction.
Robinson was stunned and fell to the ground. When he got back up he called his lawyer, who began legal proceedings to block the sale.
It turned out the bat had been acquired in 1989 by renowned collector Steve Demos, who had no idea it was stolen, and it had later passed down to his two sons George and Steve Jr.
The bat had played an important role in their childhood, just as it had in Robinson's, and a settlement was agreed in which the proceeds of the bat would be shared 50/50 between the two parties.
The bat will now be offered by MEARS Online, having received the highest grading of GU10 by authenticators PSA/DNA, and comes with the backing of the renowned game-used bat expert John Taube.
"Babe Ruth game used memorabilia dominates our industry," said Taube. "His fully documented material occupies an area all by itself. This larger than life ballplayer has assumed a mythical quality, transcending his sport and finding his place in the cultural heritage and folklore of America.
"In addition to the bat's unquestionable history, Ruth's autograph and dated inscription confirms the events outlined in the many articles that are included with the bat, further elevating its stature in the realm of his finest documented bats."
Some experts have even suggested the importance of the bat could push its price into "the realm of fine art".
But for Robinson, the chance to hold his uncle's treasured bat once again was simply priceless.