A gigantic pink diamond known as the 'Pink Legacy' sold at Christie's in Geneva this week for a record-breaking $50 million.
The diamond weighed an impressive 18.96-carats, and achieved a new world auction record of $2.637 million per carat.
The diamond was sold after five minutes of furious bidding to the world-renowed jewellery firm Harry Winston, who immediately renamed the stone The Winston Pink Legacy.
Naturally occurring pink diamonds are considered highly rare, with only one in 100,000 stones possessing a color strong enough to qualify as 'Fancy Vivid'.
Of those stones, few than 10% weigh more than one-fifth of a carat, making this 18.9-carat diamond a truly incredible discovery.
"The saturation, the intensity of this stone is as good as it gets in a coloured diamond," said Rahul Kadakia, International Head of Jewellery at Christie's.
"To find a diamond of this size with this colour is pretty much unreal. You may see this colour in a pink diamond of less than one carat. But this is almost 19 carats and it's as pink as can be. It's unbelievable."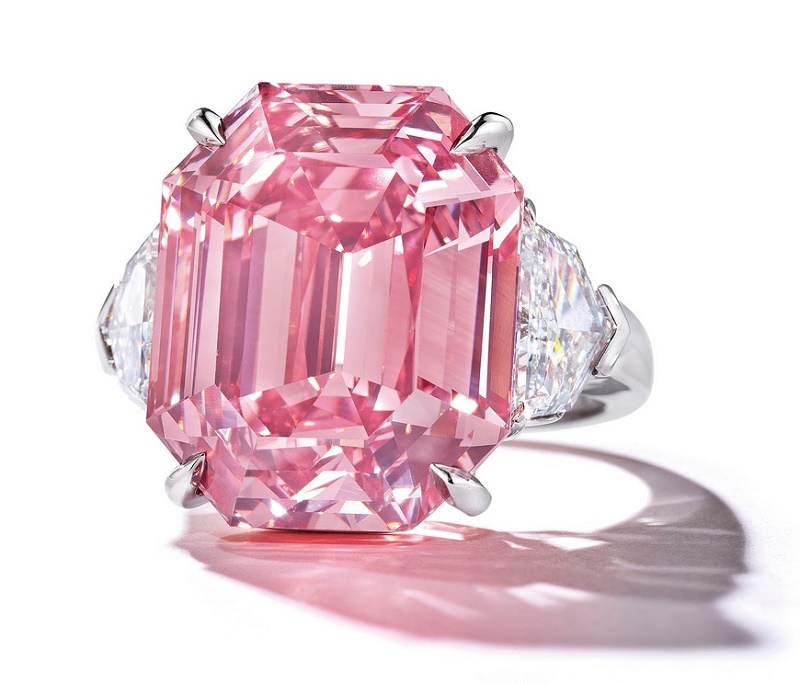 Christie's stated that in the company's entire 250-year history, only four pink diamonds weighing more than 10 carats had ever crossed their auction block
The Pink Legacy had originated from the private collection of the Oppenheimer Family, who helped build the South African De Beers mining company into the world's largest supplier of diamonds.
During their ownership, which began in 1929 under the lead of German entrepreneur Ernest Oppenheimer (1880 – 1957), De Beers cornered the market and at one time controlled 90% of all international diamond sales.
The family also built one of the world's biggest private diamond collections, the exact contents of which remain a mystery to this day.
The Pink Legacy was previously unrecorded, and its existence was only publically revealed when it was offered for sale at Christie's this year.