A classic American Silk City Diner was the runaway star of the Dingman Collection sale at RM Sotheby's in Hampton, New Hampshire this week.
The unusual lot sold for $336,000, towards the lower end of its $300,000-400,000 estimate. It was built at the Silk City Diner production facility in Paterson, New Jersey sometime in the 1940s. The company produced around 1,500 of these models between 1926-1966, although few survive today.
This example has been known by a few names over the years. In the late 1940s it was acquired by New Jersey restaurateur 'Smoky' Wentzell , who called it The Pittsgrove Circle Diner and installed it on Route 40 on the city outskirts.
Wentzell worked behind the counter on and off until 1989, when he finally sold the diner to a local collector. The restoration work was carried out by Steve Harwin of Diversified Diners, a company based in Columbus, Ohio that specialises in the preservation of these iconic pieces of Americana.
The lot is likely to have been particularly appealing to buyers as it's an entirely viable business. The interior is kitted out with everything you could possibly need to run a successful restaurant.
While we're on the subject of Americana, the sale also featured a dazzling array of more than 500 neon, porcelain and metal signs gleaned from roadside restaurants and back alley boozers.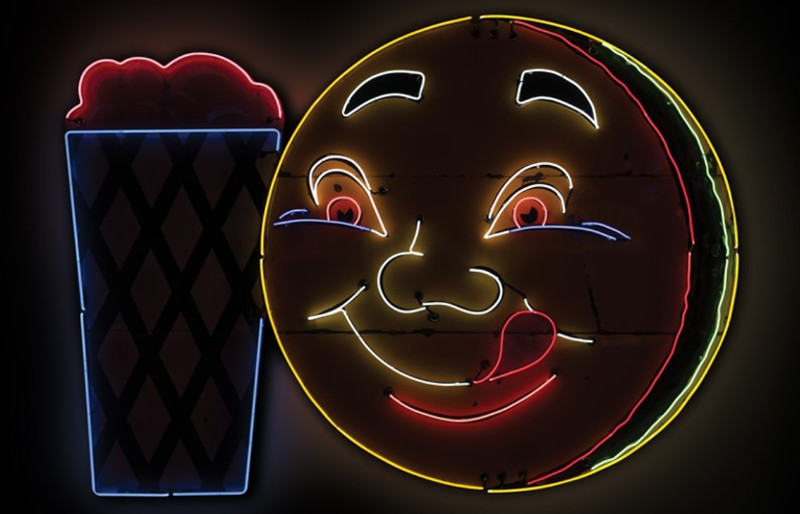 The highlight was a large 8.7 x 12.5 foot Hamburger and Shake sign recently restored with full colour. The history of the piece is unknown, but it likely originates from somewhere in the Midwest. It realised an impressive $48,000.
The late investor and former Ford CEO Michael Dingman (1931-2017) acquired his remarkable collection over many years, selling off parts of it in 2006 and 2012.