An Albert Einstein letter on the existence of God will be offered for auction at Sotheby's in New York this week.
The letter is expected to sell for $70,000 – $100,000, during a sale of rare books and manuscripts which concludes on July 21.
The typed, signed letter was written in English by Einstein in July 1945, in reply to a letter he received from a U.S Navy officer stationed in the Pacific.
Ensign Guy Raner had written to Einstein from aboard the USS Bougainville, relating a story he had heard from a fellow officer about a conversation Einstein once had with a Jesuit priest.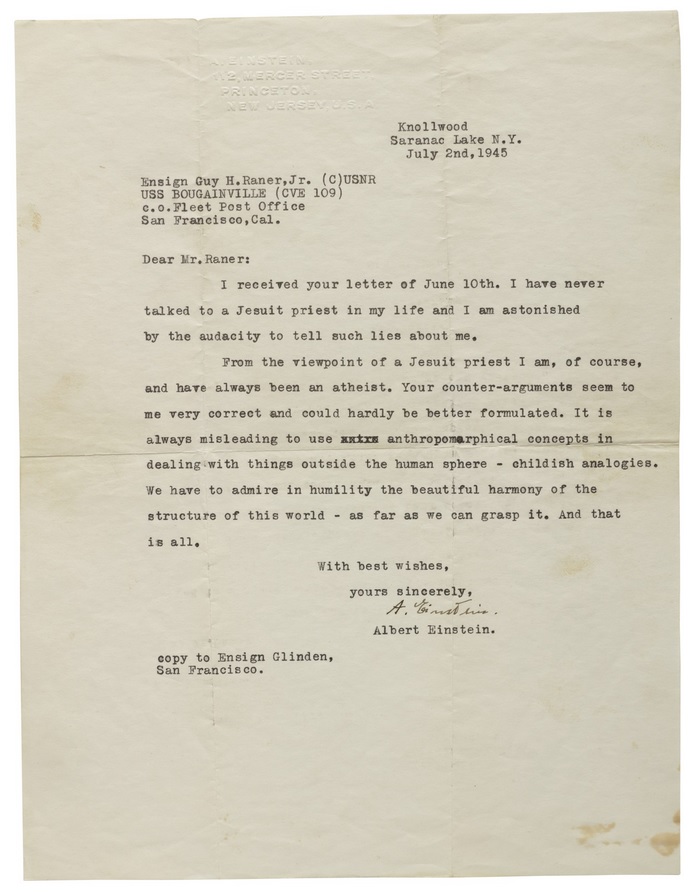 The story suggested Einstein had, through this conversation, become a believer in a "supreme intellect which governs the universe" – a suggestion which he was quick to refute in no uncertain terms:
"… I have never talked to a Jesuit priest in my life and I am astonished by the audacity to tell such lies about me … From the viewpoint of a Jesuit priest I am, of course, and have always been an atheist … It is always misleading to use anthropomorphical concepts in dealing with things outside the human sphere—childish analogies."
He then ends the letter with one of his most eloquent, and oft-quoted statements on the existence of God:
"We have to admire in humility the beautiful harmony of the structure of the world—as far as we can grasp it. And that is all."
Although it was Einstein's scientific theories which changed the world, his personal religious beliefs have continued to spark debate and fascinate collectors to this day.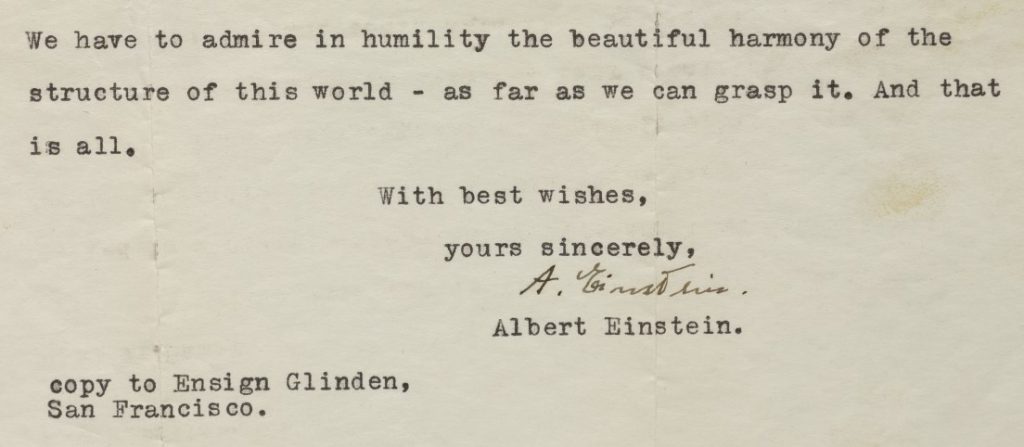 In December 2018, another Albert Einstein letter on the subject of God and his religious beliefs was offered at Christie's in New York.
The 1954 handwritten letter was addressed to philosopher Eric Gutkind, who had sent Einstein a copy of his book 'Choose Life: The Biblical Call to Revolt'.
In his reply Einstein reiterated his atheism, stating:
"The word God is for me nothing more than the expression and product of human weaknesses, the Bible a collection of honourable, but still primitive, legends which are nevertheless pretty childish."
The letter is regarded as the definitive statement on his religious beliefs, written less than a year before he passed away in 1955, and sold for a record $2.89 million.
Although the letter offered at Bonhams is far more concise, and typed on a single page, it would cause little surprise if it surpassed its top estimate of $200,000.
The market for Einstein's letters, particularly those in which he discusses his personal philosophies, has surged in recent years. And in some cases, it seems the shorter the statement, the higher the price.
In November 1922, having found himself with no cash for a tip, Einstein gave a hotel porter in Tokyo a note containing a single line, his own 'theory of happiness':
"A calm and modest life brings more happiness than the pursuit of success combined with constant restlessness."
Ninety-five years later, in October 2017, that same single sentence note hit the auction block in Israel estimated at $5,000 – and sold for an incredible $1.56 million.