A signed copy of Elvis Presley's first Las Vegas contract has sold for $37,000 at auction in the UK.
Dating from April 1956, the two-week performance contract marked Elvis' debut in Las Vegas, a city which he became synonymous with later in his career.
The historic document, which had formerly belonged to the renowned Elvis memorabilia collector Jimmy Velvet, sold at the Henry Aldridge & Son auction house on June 16 for £28,000 ($37,082).
Having signed with the major record label RCA in 1955, Elvis then joined the William Morris Agency in January 1956, with his eyes firmly fixed on Hollywood.
As his profile began to rise rapidly, the agency booked him into his first residency in Las Vegas, for 15 shows a week at the Frontier Hotel.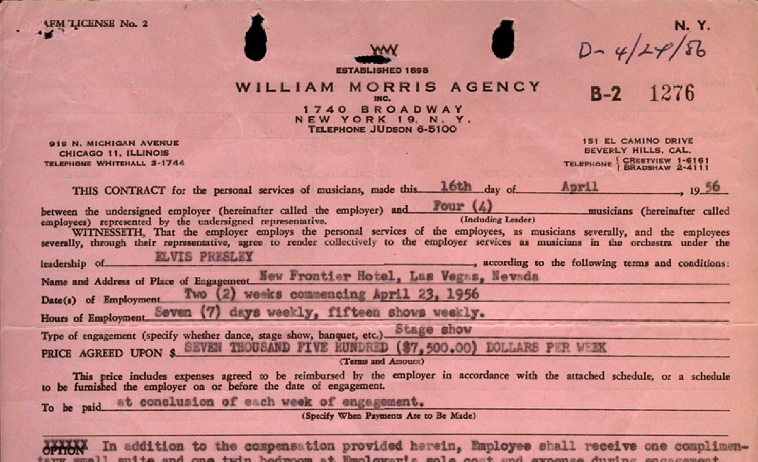 During Elvis' two-week run, both his eponymous debut album and his single Heartbreak Hotel soared to the top of the US charts.
However, it seems that many in the Las Vegas gambling crowds still weren't quite ready for Elvis' raucous rock and roll shows.
"Up until now Elvis had performed in front of screaming teenagers but things would be different in Las Vegas," said the auction house.
"Compared to the usual teenage hysteria however Elvis had a lukewarm acceptance from the middle-aged audience.
"While the audience liked and appreciated Elvis and politely applauded, he was never going to receive the hysteria he was now accustomed to."
It seems critics agreed with the gamblers, and the Las Vegas Sun newspaper wrote of the shows: "The brash, loud braying of his rhythm and blues catalogue… is overbearing to a captive audience."
It would be another 13 years before Elvis returned to perform in the city, with a four-week residency at the International Hotel in 1969.
By then he'd become respectable, served in the US Army, made 28 films and sold tens of millions of records around the world.
Elvis' first Las Vegas contract earned him $7,500 per week, but this time he commanded a fee of over $250,000 per week – and he was worth every cent. The crowds went wild, and he became a famous fixture in Sin City for the rest of his life.
The Henry Aldridge sale also included another rare item of Elvis memorabilia, in the sparkling form of a huge 14kt gold lion head ring with diamond-set eyes.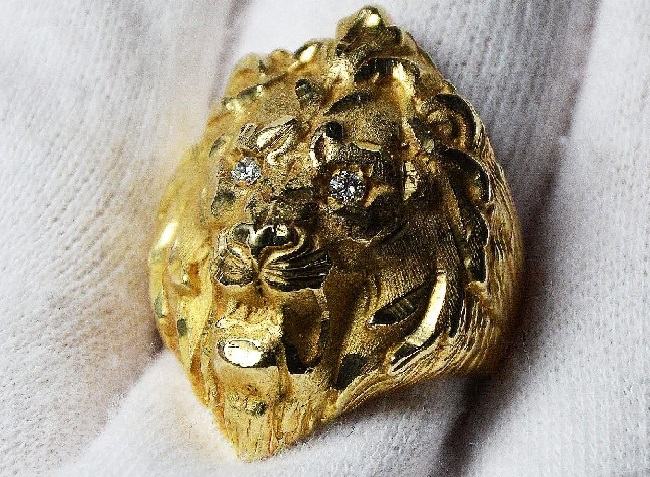 Elvis was well known for both his flashy taste in jewellery and his generosity for giving it away – and the ring certainly ticks both boxes.
According to its former owner, Elvis acquired the ring in 1972 and wore it regularly until one evening at Graceland, when it slipped out of his hand onto the floor.
Before he could retrieve it, Memphis Mafia member Lamar Fike wandered into the room and promptly stepped on it, badly bending the ring beneath his feet.
After a few choice words for his friend, Elvis gave the ring to his cousin and asked her to get it fixed for him. He also stated that if it was unrepairable she could keep it – and she did.
Also originating from the collection of Jimmy Velvet, the ring – still displaying the damage from Lamar Fike's foot – sold for £33,500 ($44,350).