The quill used by Admiral Horatio Nelson to write his final letter aboard the HMS Victory will be offered for auction at Christie's in London next month.
The goose feather quill, which was discovered next to an unfinished love letter by Nelson to his mistress Emma Hamilton, is expected to sell for £9,000 – £12,000 ($11,600 – $15,500) on December 11.
Following Nelson's death at the Battle of Trafalgar on October 21, 1805, the quill was recovered from his cabin by his trusted right-hand man Captain Thomas Hardy.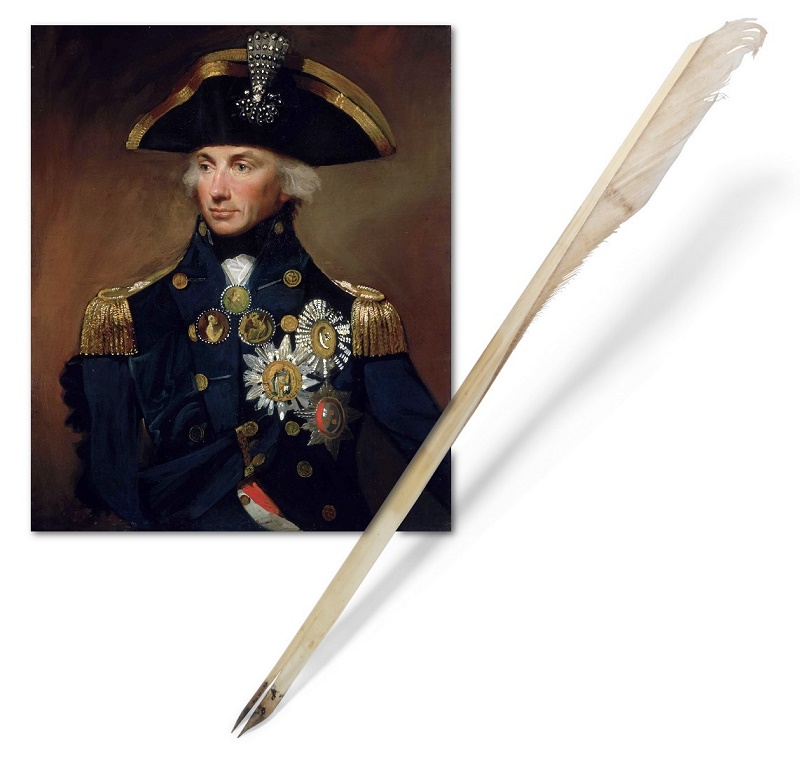 Nelson's now-famous unfinished letter to Hamilton was dated October 19, the day before the historic battle, and reads in part:
"My Dearest beloved Emma the dear friend of my bosom, the signal has been made that the enemys combined fleet are coming out of port. We have very little wind so that I have no hopes of seeing them before tomorrow.
"May the God of Battles crown my endeavours with success, at all events I will take care that my name shall ever be most dear to you and Horatia, both of whom I love as much as my own life. And as my last writing before the battle will be to you, so I hope in God that I shall live to finish my letter after the Battle."
The letter was finally delivered to Hamilton when Nelson's body returned to England, preserved inside a cask of Brandy and lashed to the mast for safety.
It now resides in the permanent collection of the National Maritime Museum, and includes a poignant addition by Hamilton herself, written beneath Nelson's final line:
"Oh miserable wretched Emma, oh glorious & happy Nelson".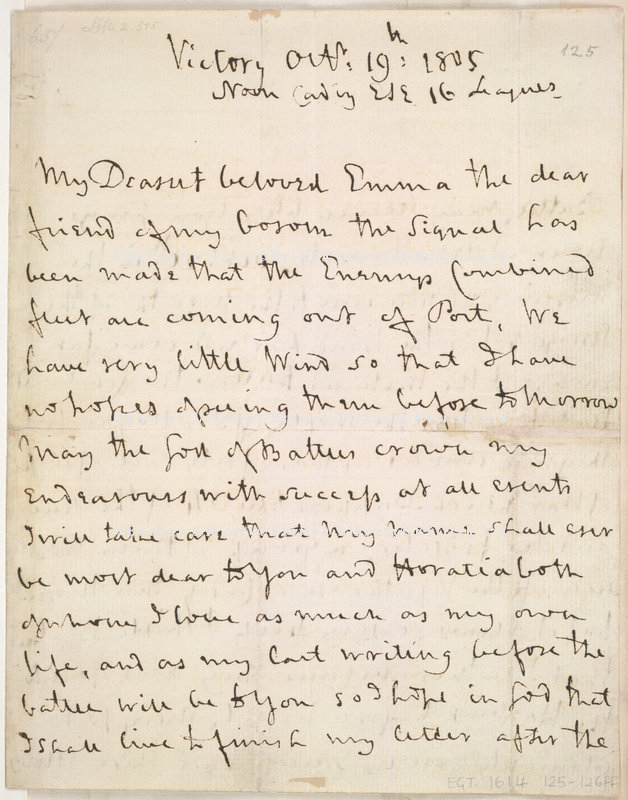 The quill was originally contained inside Nelson's brass-bound writing box, which was made from the timber of 'L'Orient', the flagship of the French fleet destroyed during the Battle of the Nile in 1798.
Following the victory at Trafalgar, the badly-damaged HMS Victory was towed to Gibraltar for repairs before it could return to England.
It was there that Hardy encountered Major Robert Wright of the Royal Artillery, who was stationed at the Gibraltar garrison, and presented him with the historic quill.
Accompanying the quill is a note of provenance written by Wright himself which reads:
"This pen was taken by Major Wright out of Lord Nelsons writing Desk on the 2nd of Novr 1805 in the presence of capt Hardy of the Victory who desired him to keep it as being the pen with which his Lordship had written for the last time in the morn[ing] of the action. It was lying beside an unfinished le[tter to] Lady Hamilton."
Nelson's writing box is also now owned by the National Maritime Museum, and his letters to Emma Hamilton have sold for six-figure sums in recent years, meaning the quill is likely to attract attention from major museums and private collectors alike.