A snuff box once owned by British Naval hero Admiral Hortatio Nelson has gone up for sale in the U.K, valued at £45,000.
The historic hand-painted box was owned by Nelson during the late 18th century, and is currently available through the rare collectibles dealer Paul Fraser Collectibles.
Lord Nelson originally gave the box to his personal secretary George Unwin during a dinner party in Sicily in late 1798 or early 1799.
Nelson's mistress Emma, Lady Hamilton was also in attendance that night – and it's believed he gifted the box to impress her with his generosity.
The couple had only just embarked on their extra-marital relationship, as Nelson recuperated in Italy from injures suffered at the Battle of the Nile.
They went on to have one of history's most famous love affairs, until Nelson's death at the Battle of Trafalgar in 1805.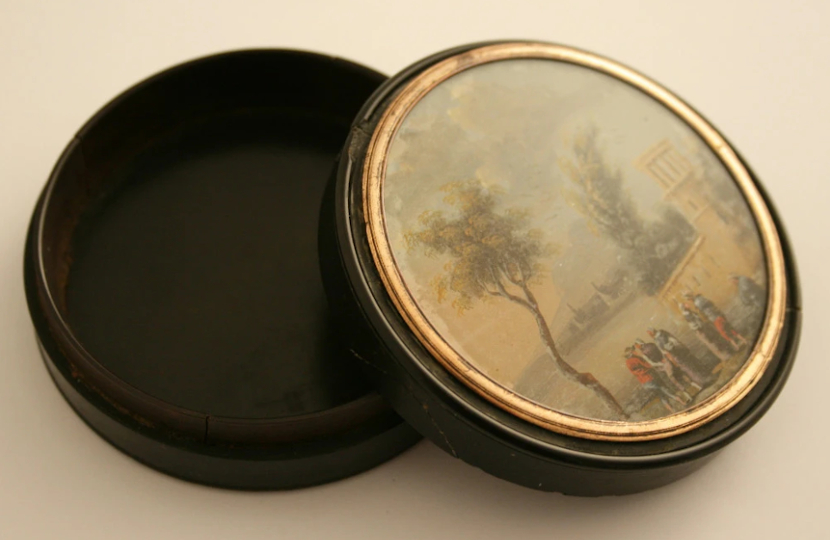 The tortoiseshell composition snuff box features a delicate painted watercolour scene of the Amalfi coast, and remains in remarkable condition after more than 220 years.
It's also offered with a letter by Unwin's son George, who explains the story and provenance behind the box.
It reads: "My Father had either lost his own snuff box on going ashore or in some shop in Palermo and upon mentioning the circumstances at Lady Hamilton's table where Lord Nelson was one of the party his Lordship handed over to him this identical box and desired him to keep it until he could get a better one."
The box was later owned by George's wife Anne Oxenham, then passed to her brother Rev. William Oxenham, before descending through the family for several generations.
"This is such a wonderful piece of history," said Dan Wade, an expert at Paul Fraser Collectibles.
"Not only was it personally owned by one of Britain's greatest heroes, but it has a close link to his romance with Emma Hamilton.
"It's rare for pieces like this with such strong provenance to appear on the market. It's one of the finest we've ever handled, and I'm sure it will end up in a museum or a major private collection."