The gold pocket watch worn by Admiral Horatio Nelson at the Battle of Trafalgar will be offered for sale at Sotheby's next month, where it's expected to sell for up to £450,000 ($595,700).
The historic timepiece will cross the block in London on July 4, as part of Sotheby's Treasures sale which features a collection of rare objects with royal, noble and aristocratic provenance.
Nelson's pocket watch was one of the personal effects removed from his body as he lay dying aboard his ship the HMS Victory, having been shot by a French sniper.
It was later returned to his grieving family, and set into the casing of a gold carriage clock so it could be prominently displayed in his memory.
The timepiece itself is a rare and horologically important item, made by the renowned watchmaker Josiah Emery circa 1787.
It is unlikely that Nelson could have afforded to purchase such a valuable watch for himself during his early naval career, and experts believe it may have been presented to him as a gift for his services to the nation.
The Battle of Trafalgar on October 21, 1805 was Nelson's finest – and final – hour, and remains one of the most important naval battles in British history.
He led the British fleet to victory against the combined fleets of France and Spain, ultimately thwarting Napoleon Bonaparte's attempts to invade Britain.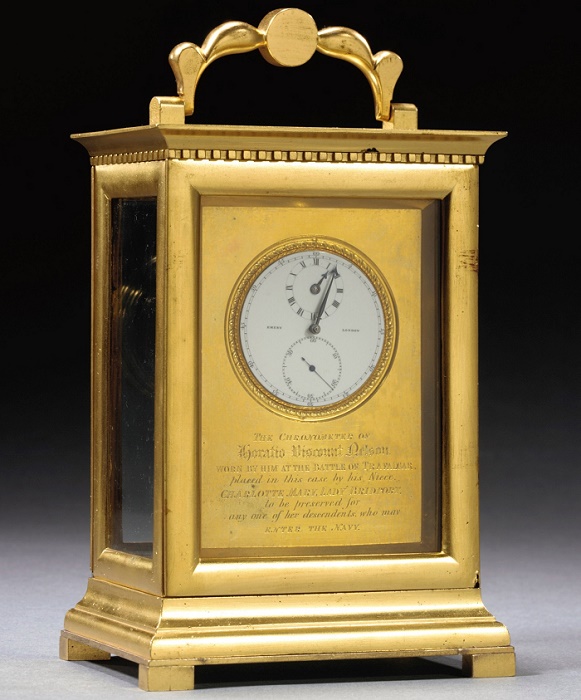 Nelson's unconventional tactics relied on precise timing, and prior to the battle he called upon his lieutenants to synchronise their watches to the time on his own watch.
"The perfect timing of the British assault at the Battle of Trafalgar was key in the historic victory of the Royal Navy so to be able to offer for sale the watch that Nelson probably used to establish the timing for this decisive battle, is a real privilege," said chairman of Sotheby's international watch division, Daryn Schnipper.
Following his death, Nelson's body was returned to England preserved in a barrel of brandy and his personal effects were sent to his mistress, Emma Hamilton.
Nelson's pocket watch was then inherited by his brother William, 1st Earl Nelson, and subsequently passed to William's daughter, Charlotte, who had it mounted into a clock casing inscribed with the message: "The chronometer of Horatio Viscount Nelson. Worn by him at the Battle of Trafalgar, placed in this case by his niece Charlotte Mary, Lady Bridport, to be preserved for any one of her descendants who may enter the navy."
In 1895 Charlotte's son General Alexander Nelson Hood sold a large number of artefacts from the family collection at Christie's, including Nelson's medals and personal papers.
Most of the items were acquired for the nation by the British government, but the watch remained with the family and passed down through several further generations.
Having been exhibited for years at the Maritime Museum in Greenwich, it was then sold privately to an American collector in 2005, and will now be offered for sale publically for the first time in its 230-year history.
Relics relating to Nelson's victory at Trafalgar are highly sought after by collectors and museums alike, and it's rare to find such an important piece remaining in private hands.
This rarity is reflected by the prices they can achieve at auction. In January 2018, a large section of the Union Jack flag that flew from the HMS Victory during the battle was auctioned at Sotheby's in London for £297,000 ($408,761).