An Abraham Lincoln letter to a supporter during the U.S Civil War could sell for up to $1 million when it goes up for auction this month.
The historic letter, written seven months before the end of the war, will be offered by Sotheby's on October 14 as part of the Collection of Elsie and Philip Sang.
The letter is dated September 6, 1864, and was written in reply to John J. Meier of Brooklyn, New York, whose young son had donated money to the Union cause.
Meier's original letter, which survives amongst Lincoln's papers in the Library of Congress, read in part:
"I take the liberty to enclose to your care Five dollars, being the proceeds of some German currency, sent to me by my only child, James B Meier, for the last eighteen months at school in Dusseldorf.
"He writes me that he has been "saving up his pennies" in order that he might "help the sick and wounded of our brave boys, fighting for the glorious cause of truth and freedom" as he is "not yet old enough to fight."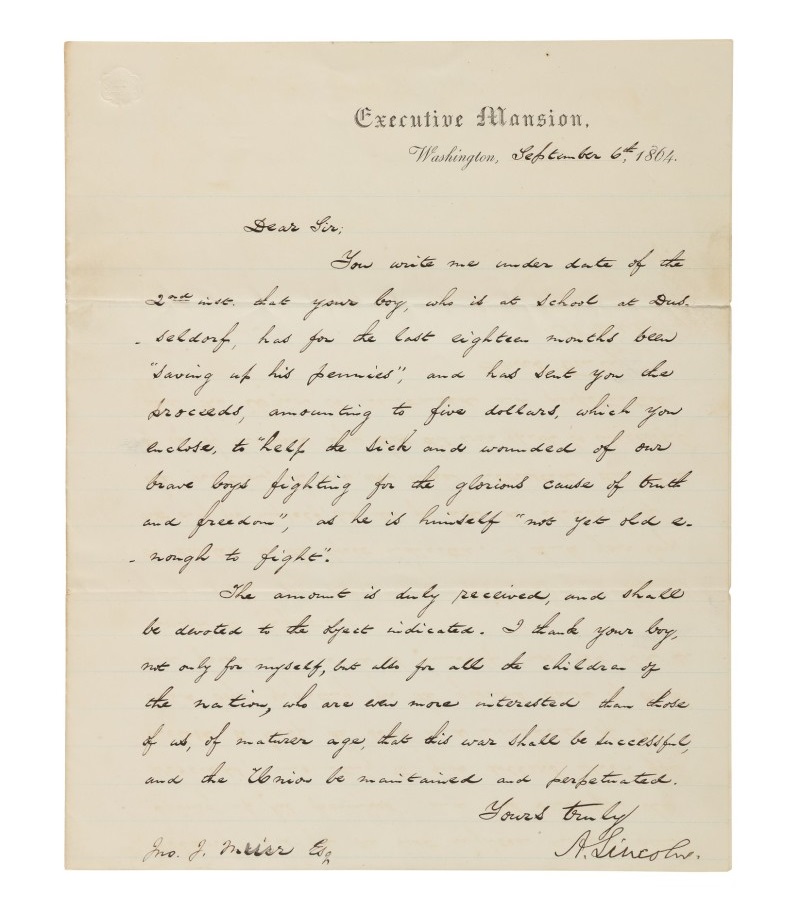 Throughout his presidency Lincoln received up to 500 letters every day from across the U.S, and the vast majority were dealt with by his office staff.
However, occasionally they passed a letter on to him due to its touching or significant nature, and the donation of Meier's young son made it to the President's desk.
Abraham Lincoln was known for his indulgence of children, and the letter inspired him to send a personal response.
"The amount is duly received, and shall be devoted to the object indicated. I thank your boy, not only for myself, but also for all the children of the nation, who are even more interested than those of us, of maturer age, that this war shall be successful, and the Union be maintained and perpetuated."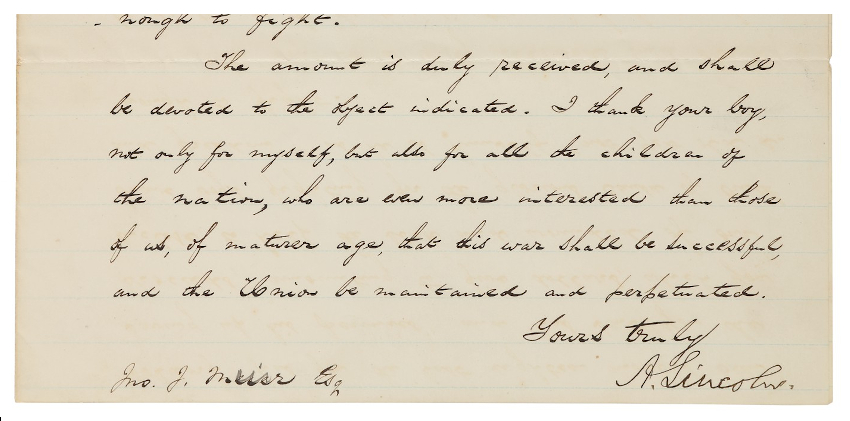 Lincoln drafted his reply, which was then carefully written out by presidential secretary Edward D. Neill, signed by the President and sent the Meier family in Brooklyn, who carefully guarded it for generations.
The original draft also survives amongst Lincoln's archive at the Library of Congress, but the final version signed and sent by Abraham Lincoln was believed lost forever until recently.
Now it will head to auction at Sotheby's with an estimate of $700,000 – $1 million.