A signed photograph of US President Abraham Lincoln could auction for up to $100,000, after it was discovered hidden in a Midwest antique store.
The rare artifact was found tucked inside an antique photo album, and will now hit the block at University Archives on January 16.
The album originally belonged to Hattie Rossen, the wife of a Union Army soldier who was given the card by Lincoln himself for his service during the U.S Civil war.
The signed Carte de Visite (CDV) is one of the finest known examples of its kind, having been graded PSA/DNA GEM MT 10, the highest possible grade for an antique signed photograph.
Just one other Abraham Lincoln signed photograph graded PSA/DNA GEM MT 10 is known to exist, having sold at Heritage Auctions in 2016 for $75,000.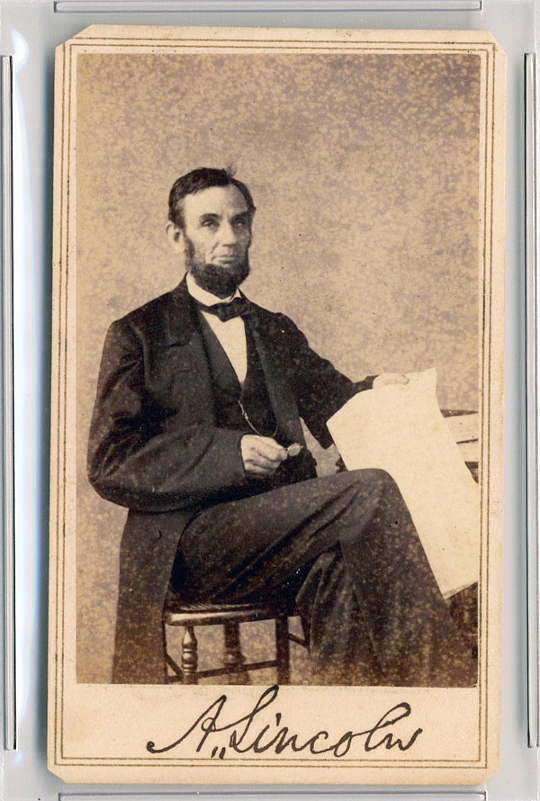 Lincoln originally sat for the portrait on August 9, 1863 at the Washington D.C studio of photographer Alexander Gardner, who became renowned for his stark images of the Civil War.
He later signed the CDV On August 23, 1864 and presented it to Colonel Benjamin F. Rosson (1826-1873), a Union officer from Ohio.
Rosson had originally served as a private in the Mexican War, before retiring to Ohio to raise a family and pursue a career as a dentist.
But when President Lincoln called for men to be mustered into 100 days of service in the spring of 1864, Rosson returned to military service as Colonel of the 147th Ohio Infantry regiment.
The regiment was sent to Washington D.C, where they soon found themselves on the front line defending the capital against a Confederate attack led by General Jubal Early's Army of the Valley.
On August 23, 1864 Abraham Lincoln personally thanked Rosson and the entire 147th Ohio Infantry Regiment for their services, and gave him the CDV as a token of his gratitude.
It was then placed inside the Rosson family album, which included 65 photographs of other notables such as Generals William T. Sherman and Ulysses S. Grant, alongside several generations of close relatives.
The Lincoln photograph was no doubt cherished by the family, particularly as the nation mourned in the aftermath of his assassination less than one year later.
And more than 150 years on, its rediscovery in an antique store will now give a new owner the chance to treasure a piece of American history.