An 1815 panorama of London sold for £250,000 ($330,375) in Sotheby's July 4 Old Master & British Works on Paper sale.
The full title of the enormous 6m painting is A Panoramic View of London, from the Tower of St Margaret's Church, Westminster. Incredibly, this is just a study for one fifth of the finished painting. When complete it would have been around 30m long.
The painting was housed in a specially built circular building in Paris, allowing the city's great and good to experience the Big Smoke without the hassle of getting on a ferry. A circular rotunda in the centre of the building housed the crowd, while clever lighting and tricks of perspective brought the scene to life.
Today Google Streetview offers us this same immersive experience for practically any country in the world, but back in the 19th century this was a revelation.
The artist behind this painting is Pierre Prevost (1764-1823), regarded as France's best panorama painter. He also produced views of other great cities – including Rome, Amsterdam and Jerusalem.
This painting displays views of Westminster Abbey, the church of St Martin-in-the-Fields and the Banqueting House of the Palace of Whitehall. The street life of early 1800s London is deftly captured, with marching soldiers, riders on horseback and urchins peopling the wide roads. For anyone with even a passing familiarity with this part of London, the lack of bumper to bumper traffic comes as a surprise – even though the motor car will not be invented for another 70 years.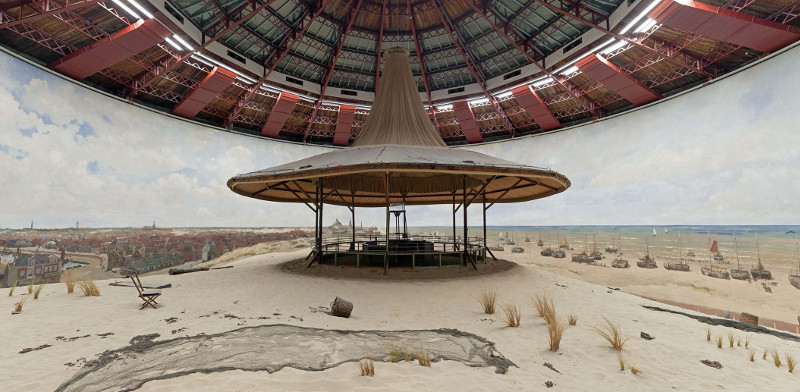 The craze for panoramas eventually died out. With nowhere to safely store them, these enormous views were largely destroyed or lost. One of the few survivors is the Panorama Mesdag in Den Haag, Holland, which shows a view of the city from the dunes surrounding it.