A collection of suffragette memorabilia discovered in a shoebox under a staircase in Islington, London will feature at Hansons Auctioneers on July 2 with an estimate of £1,000-1,500 ($1,306-1,959).
The consignor explains: "We read in our paper about an Antiques Roadshow-style event Hansons were running and decided to take it along but had no idea what its value might be.
"We're very excited that it's aroused such interest. It's a real piece of history."
This year marks the 100th anniversary of woman's suffrage in the UK. The establishment reluctantly granted some women the right to vote after a hard fought campaign by women's rights groups, a minority of who resorted to militant action.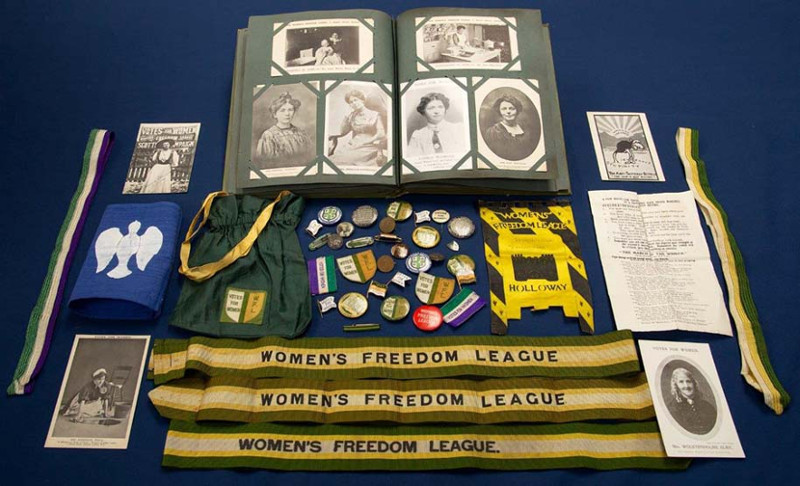 Over time the suffragettes managed to push their goal into the mainstream. Change also came with the first world war, as hundreds of thousands of women entered the previously male dominated workforce.
This collection includes banners, photographs and badges from the early 1900s. All belonged to Grace, Edith and Florence Hodgson – three sisters who became involved with the movement around that time.
They were valued campaigners, as the 101 postcards from leading figures like Emmeline Pankhurst and Lady Constance Lytton show. Grace Hodgson even spent time in Holloway Prison for her activities.
The sisters never married and lived out the rest of their lives together in a big house in Islington. This box was tucked away and forgotten about for a century.
Hansons Isabel Murtough said: "Right now, there is huge interest in what the suffragettes achieved and fought for and suffragette-related finds are soaring at auction…
"What makes this discovery extra special is the fact that it's so personal to the sisters, a rich archive of political ephemera gathered during the years when they were fighting to change the course of political history on behalf of all women.
"I expect huge interest in this and the archive could easily exceed its estimate."