A collection of unseen photographs of the car crash which killed James Dean will be offered for sale at RR Auction in Boston next month.
The unpublished images show the twisted wreckage of Dean's Porsche 550 Spyder, which was destroyed in a collision on September 30, 1955, killing the actor instantly.
The collection is expected to sell for $25,000 – $30,000 when it goes up for sale at RR Auction on August 15, as part of an auction of historic celebrity memorabilia.
"The early death of James Dean reverberates to this day, with these never-before-seen images offering an intensely unique perspective of the crash location and the resulting carnage, with many of the photos taken only hours after the accident," said the auction house.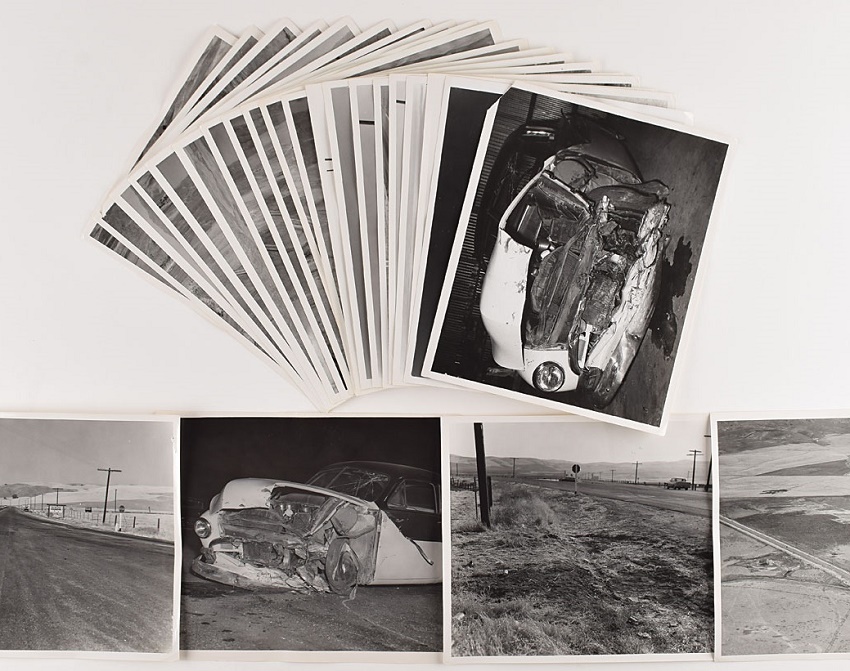 Like many actors of his generation, James Dean developed a passion for auto racing, and owned a series of increasingly fast cars during his all-too-short life.
In March 1955, just before filming began on the classic movie Rebel Without A Cause, Dean drove his 1955 Porsche Super Speedster at the Palm Spring Auto Races event, finishing first overall in the novice class and second overall in the main event.
During production on his next (and sadly final) film Giant he was banned from racing by studio executives, but was determined to disobey them if he could.
Towards the end of the shoot in September 1955 he traded his Super Speedster for an even more powerful Porsche 550 Spyder, and had it custom painted with the nickname 'Little Bastard' as an act of defiance.
Two days after acquiring the Porsche, Dean spotted fellow actor Alec Guinness outside the Villa Capri restaurant in Hollywood and went over to introduce himself.
He also asked Guinness to take a look at his new car, and received the now-legendary premonition from the British actor: "If you get in that car, you will be found dead in it by this time next week."
That fateful meeting took place on September 23, 1955 – and seven days later James Dean was dead.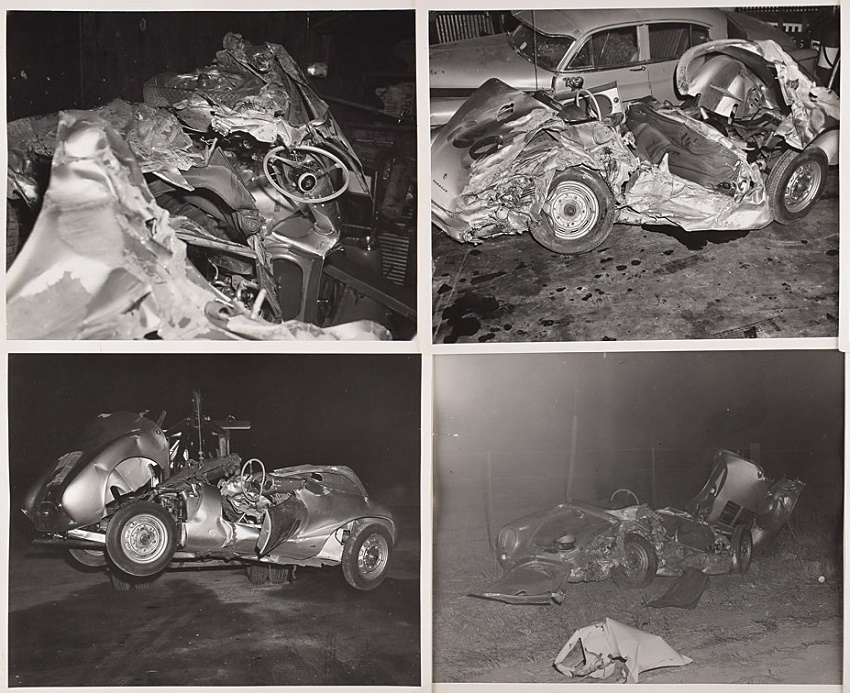 Whilst on their way to compete in a weekend of races in Salinas, Dean and his mechanic Rolf Wutherich were struck by a 1950 Ford Tudor driven by Donald Turnupseed.
Although Dean was killed in the crash and his passenger Wutherich was badly injured, Donald Turnupseed survived remarkably unharmed, with just facial bruises and a bloodied nose.
The archive document the accident site at the junction of Route 466 and Route 41 in California, where the accident took place, and the infamous stretch known as 'the racer's road', used as a shortcut by speeding sports car drivers on their way to Salinas.
Several of the photograph feature the horrifying aftermath of the crash, with interior and exterior shots of Dean's mangled car alongside fresh skid marks on the road.
Turnupseed was later found 'not guilty' of dangerous driving during the inquest into Dean's death, which was ruled as "accidental death with no criminal intent".
The collection of photographs belonged to Robert Everett Coyle, the attorney who defended Turnupseed and his insurance company against a claim by Wutherich, before the mechanic abruptly returned to West Germany in 1957.
Coyle kept the photographs after the case was dropped, and they will now be offered for sale for the very first time by his son Robert A. Coyle.