The Bertoia Auctions Annual Spring Sale is our featured sale this week, with a catalogue packed with antique toys, still and mechanical banks, cast-iron doorstops and vintage Halloween decorations.

The sale takes place in Vineland, New Jersey on May 23-24 – and here are 10 lots on offer that we'd love to own…
Chein Popeye in Barrel walking toy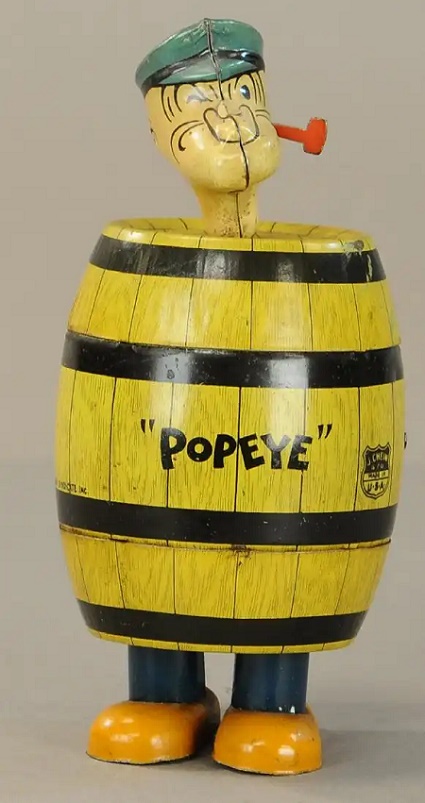 Estimate: $200 – $300

A Popeye 'Barrel Walker' tin lithograph wind-up toy, made by the New York manufacturer J. Chein & Co. circa 1932.

The Depression-Era walking toy combines a Popeye toy with the company's popular 'Happy Days Barrel Bank', and some experts have suggested the figure is symbolic of the struggles faced during the tough economic times.

Lehmann Tut Tut car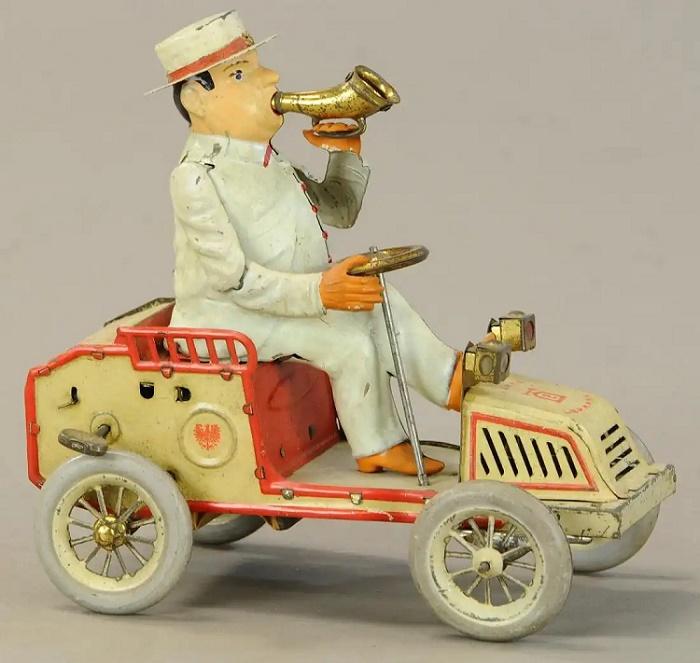 Estimate $500 – $750

A clockwork 'Tut-Tut' toy car made by German manufacturer E.P. Lehman Co., circa 1910 – 1920.

The 'Tut Tut' is perhaps Lehman's most famous toy, first patented in 1903 and later sold around the world.

According to legend, company founder Ernst Paul Lehmann disliked the invention of the automobile and wanted to depict their owners as fat, wealthy and arrogant.

The car features a small bellows which makes the driver blow his horn, demanding everyone gets out of his way as the car motors forward.

Boston Terrier cast-iron doorstop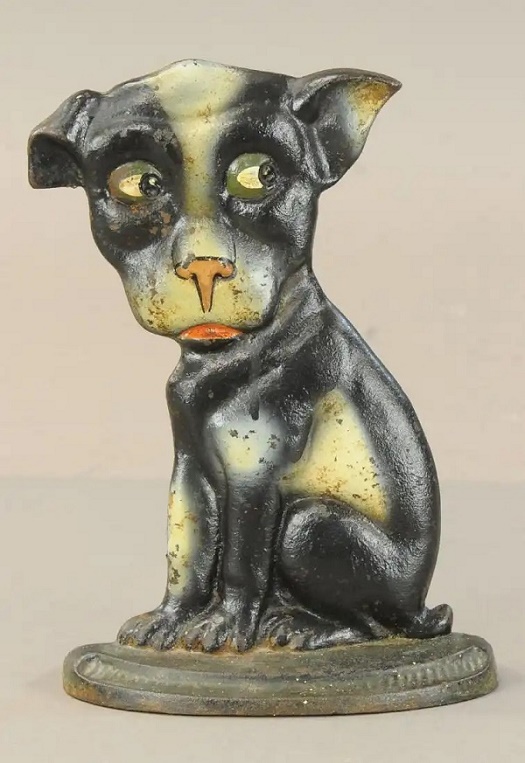 Estimate: $500 – $900
A rare cast-iron doorstop depicting a whimsical Boston Terrier, produced in 1928 by A.M. Greenblatt Studios of Boston, Massachusetts, which operated from 1928 until 1948/9.

A.C Gilbert James Bond Aston Martin car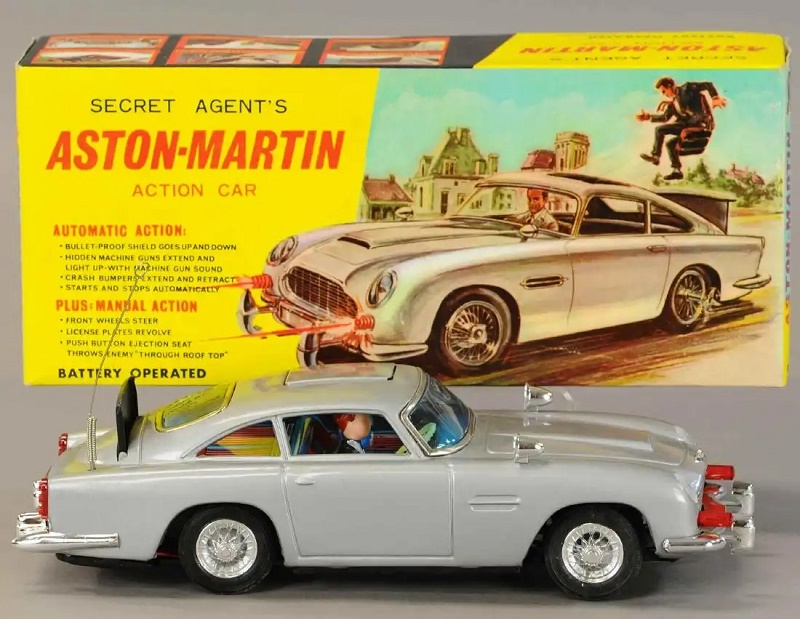 Estimate: $700 – $1,000

An A.C. Gilbert 'Secret Agent' Aston Martin car toy, circa 1965, featuring the DB5 as seen in the James Bond films Goldfinger and Thunderball.

The battery-operated car includes special features based on Bond's gadgets, such as an ejector seat, a retractable bullet-proof shield, revolving number plate, an extendable crash bumper and hidden pop-out machine guns.

Shoenhut Humpty Dumpty Circus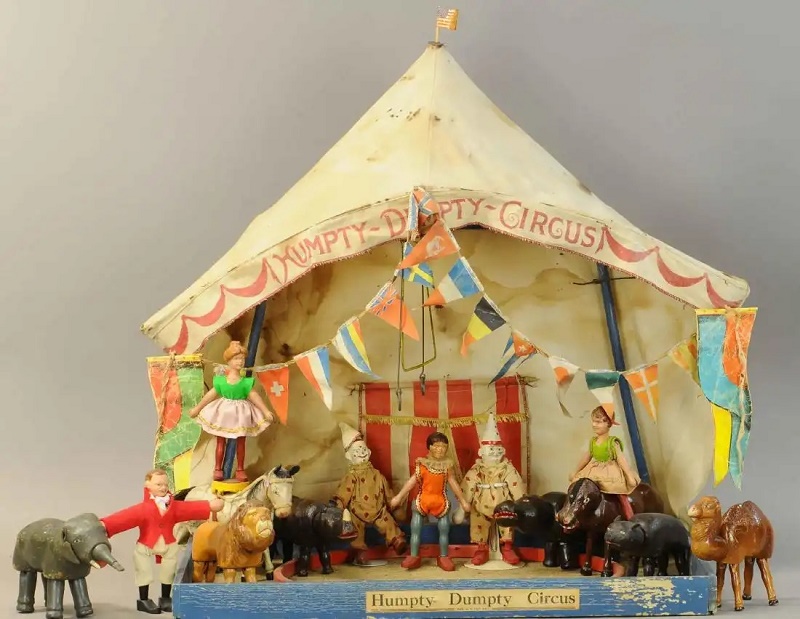 Estimate: $800 – $1,200

A Schoenhut 'Humpty Dumpty Circus' set, featuring wooden animals and circus performers in a big top tent, circa mid-1920s.

Toy manufacturer Schoenhut first introduced their highly popular Humpty Dumpty Circus set in 1903, and it grew to include 37 animals, 29 performers and over 40 different accessories.

In 1923 the company began producing 'reduced size' figures, around half the size of the originals, followed by the reduced size sets and accessories in 1927.

Lehmann Echo Touring Cycle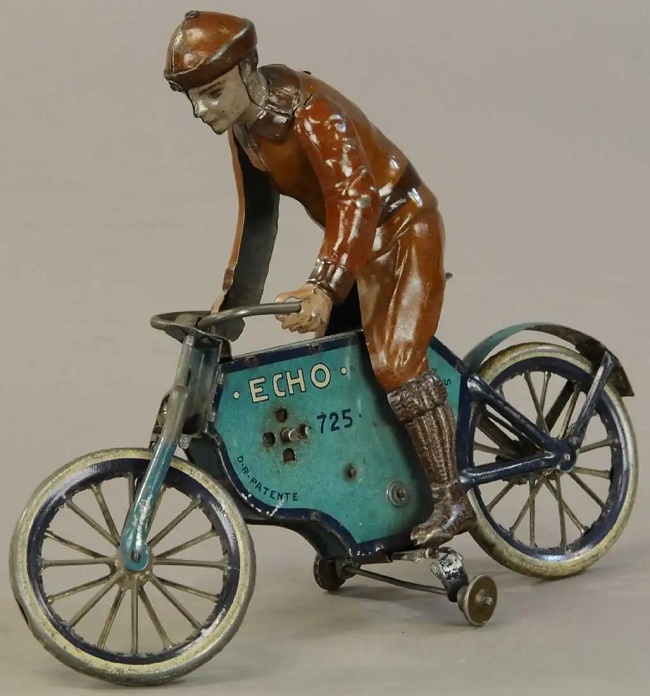 Estimate: $800 – $1,200

A Lehmann 'Echo Touring Cycle' tin lithograph wind-up motorcycle toy, produced by the German manufacturer between 1917 and 1935.

Marx Butter and Egg Man walking toy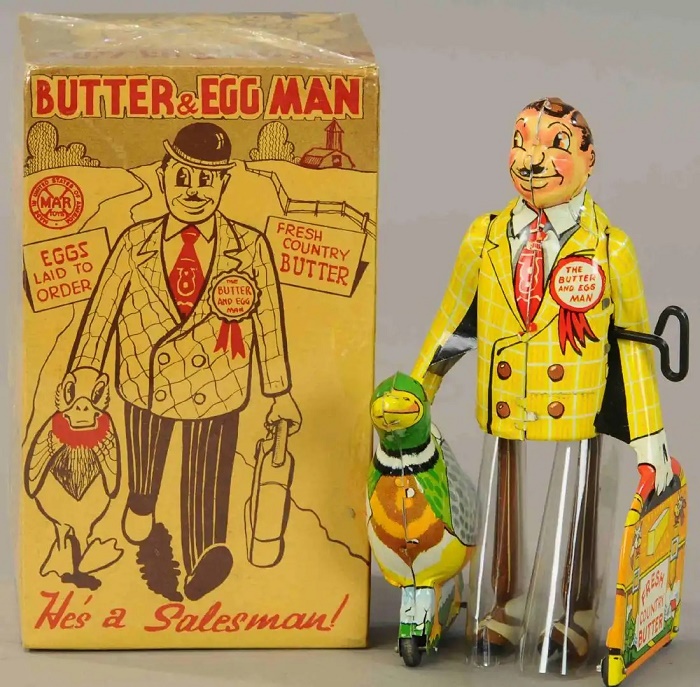 Estimate $1,200 – $1,800

A rare, unused and boxed Marx 'Butter and Eggs Man' walking toy, circa mid-1930s.

The figure is based on an earlier Marx walking toy depicting Joe Penner, the popular vaudeville comedian and radio star whose catchphrase was "Wanna buy a duck?"

Marx changed the lithography but reused the same shape, which is why the 'Butter and Eggs' salesman is accompanied by a duck, rather than the more obvious chicken.

Witch Head Halloween Jack-O-Lantern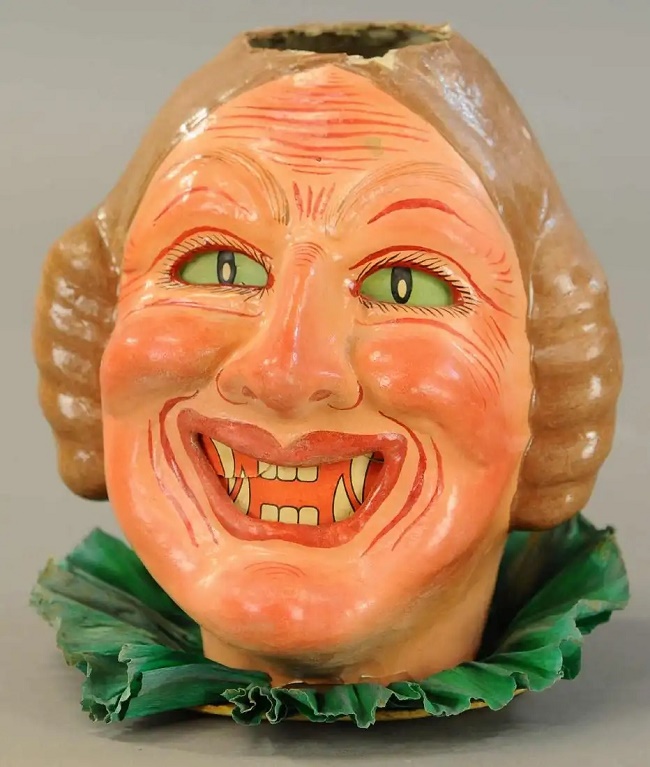 Estimate: $2,000 – $3,000

A rare life-sized witch head Halloween Jack-o-Lantern, made in Germany circa 1920s using pressed composition, a paper insert face and an original crepe paper collar.

Linemar Superman Fighting Tank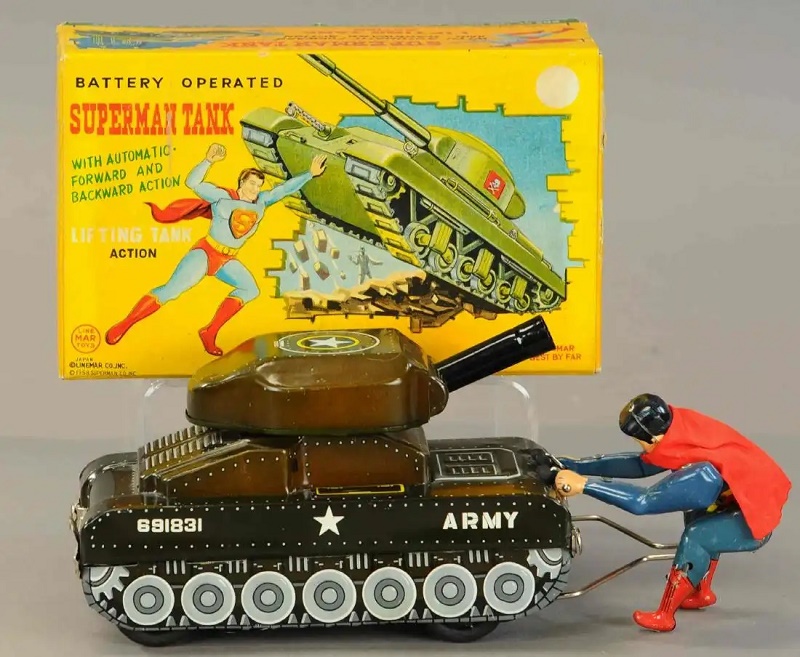 Estimate: $3,500 – $5,500

A rare boxed Linemar 'Superman Fighting Tank' lithograph tin toy, made in Japan circa 1958.

The battery-operated tank moves back and forth as Superman battles against it, before he triumphantly lifts it up to stop it in its tracks.

Marklin Bouvines Battleship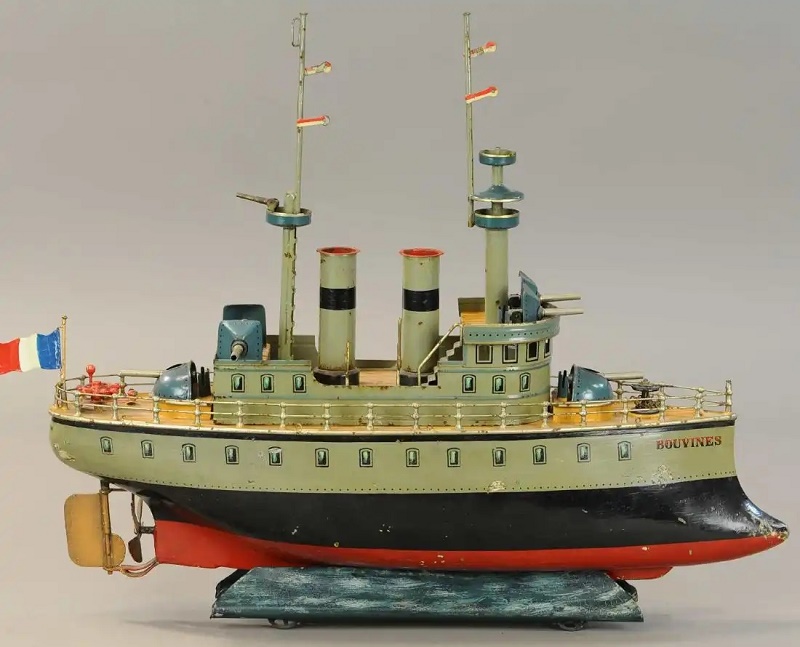 Estimate: $30,000 – $50,000

A Marklin clockwork 'Bouvines' battleship toy, made in Germany circa 1904-1908.

The Bouvines was a coastal defence ship built for the French Navy, named after the Battle of Bouvines, which operated between 1892 and 1918.