Siegel Auction Galleries will auction "the finest" Inverted Jenny stamp on November 8. The Jenny is the most famous error in philatelic history. It goes to auction with an estimate of $1.5 million to $2 million.
The Inverted Jenny's visual appeal and compelling history have helped examples realise millions on multiple occasions.
The 24c stamp was released on May 14, 1918. It was designed to celebrate the launch of the US's (and the world's) first regularly scheduled airmail service.
The rush to get the stamp into post offices for the service's first flight, and a 2-stage printing process conspired to produce a mistake. Some stamps were printed with the central panel, showing the post office's "Jenny" delivery plane, upside down.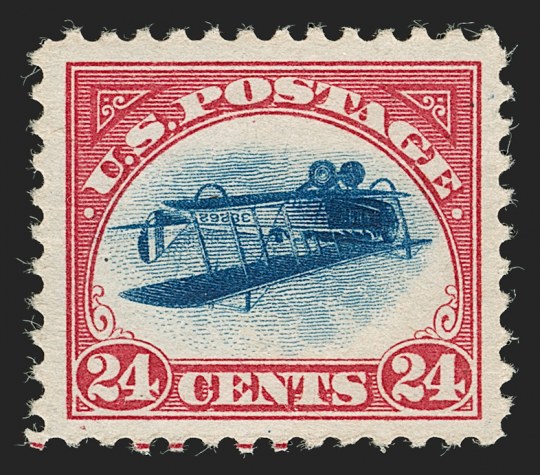 Position 49 Inverted Jenny.
Errors are rare but inevitable in stamp production.
The Inverted Jenny became a legend because of its first sale.
Stamp collector William Robey was aware of the printing process, and snapped up a complete sheet of 100 imperfect stamps. He informed the post office and sales were halted. No more inverts entered circulation.
The 100 Robey stamps were sold to a dealer for $15,000. Since then, every sale, forgery and theft has been minutely documented.
All of the 100 stamps are accounted for, though some have not been seen since their last sales. For example, the Position 16 stamp was last sold in 1957 to an anonymous buyer, who paid just $2,100 for it.
The stamp to be offered on November 8 is position 49. It was last sold at auction in 2018, by Siegel, for a record value of $1,350,000 ($1,593,000 with buyer's premium).
Siegel says the example for sale next week is graded at 95 on the 100-point condition scale, with "Mint Never-Hinged" gum. This is unique among the Jennys.

Scott Trepel, president of Siegel Auction Galleries, said: "That is the highest grade an Inverted Jenny has ever or will ever receive.
"We have tracked each of the stamps and are certain no other example compares to this one. For the
collector, it simply doesn't get better than this."

The Inverted Jenny is one of the rare stamps, like the Penny Black, to find fame outside the philatelic community.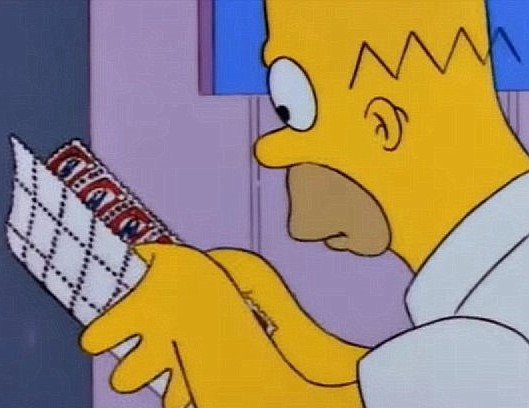 Homer Simpson about to discard a sheet of Inverted Jennys.
It is well known enough in the United States to appear in an episode of the Simpsons. It has its own Wikipedia page and a website dedicated to documenting its history in minute detail.
It is also one of history's most valuable stamps.
Siegel Auction Galleries has itself broken records with Jennys. They sold a single for $977,500 in 2007. A block of 4 realised $2.7 million in 2005.
The sale of the Inverted Jenny position 49 by Robert A Siegel Auction Galleries takes place online and in New York on Wednesday, November 8.