How long dare you wait? That's the question asked by Paul Fraser Collectibles as it pioneers the Dutch Auction format in philately with a sale of 80 rare and desirable stamps.
One lucky sale winner could walk away with a stamp of which only 60 have ever existed. Some of the well-known rarities in this sale are likely to attract collectors hoping to grab them under market price.
So-called Dutch Auctions were invented to cope with huge demand for rare flower bulbs from the Netherlands.
The auctioneer starts by calling a top price. That is then lowered until a buyer signals they are willing to pay the demand.
By reversing the dynamic and heading straight to the winning bid auctions could be quicker.
For a buyer it's a white-knuckle ride. You're holding out for a bargain. But could miss out on a coveted item at any second. No second chances.
How good is your nerve?
Paul Fraser Collectibles has brought the format online and its Postage Stamps sale opens today.
There are 80 lots, all British Commonwealth and Empire items. Each will test the nerve of philatelists.
Prices drop at 10am each day. Bidders must register.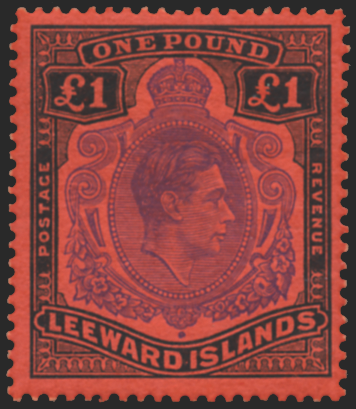 Eye-catching lots include the top-price item, a Leeward Islands George V £1 violet and black/scarlet. Its sideways watermark renders it a classic. This extremely rare stamp is one of just 60, and one of very few of those to merit "unmounted mint pristine" classification.
It opens at £6,500.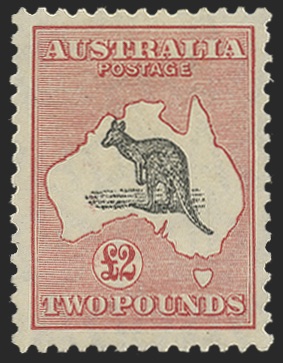 An Australia 1929-30 Kangaroo £2 black and rose is an iconic antipodean stamp. This example's superlative condition earns it a catalogue value of £4,500, which is well beaten by the opening price of £3,500 in the Dutch auction.

Irish philatelists will immediately recognise the Irish language Seahorses overprints.
These 1922 stamps are a hugely collectible British issue, overprinted with "Irish Free State" in Irish just a year after the liberation of Ireland by the 1921 Anglo-Irish Treaty.
The pair are listed at a starting price of £4,500, several hundred pounds under the Stanley Gibbons catalogue value.
It's a price that's due to fall every day.