A rare Rolex Oyster Submariner 369 Explorer bought for £60 has raised £82,000 in a sale in Wilshire, UK.
The sale price of £65,000 (the £82,000 total includes fees) is an enormous return on its 1965 price.
The seller bought the timepiece from a Bond Street jeweller and claims to have worn it almost every day since.

On this valuation it has appreciated by a factor of 1,370.

Gardiner Houlgate Auctions in Corsham, Wiltshire, hosted the sale,

Their watch specialist David Hare said: "The stand out thing about this Rolex model is the dial. It has got an Explorer dial with three, six and nine in digits rather than batons."

A customer backlash meant this innovation lasted only a couple of years. Rolex even replaced damaged dials with a standard design if owners asked.

"This one has got its original dial," David said. Crucially, it also came with its (battered) box and much of its original paperwork.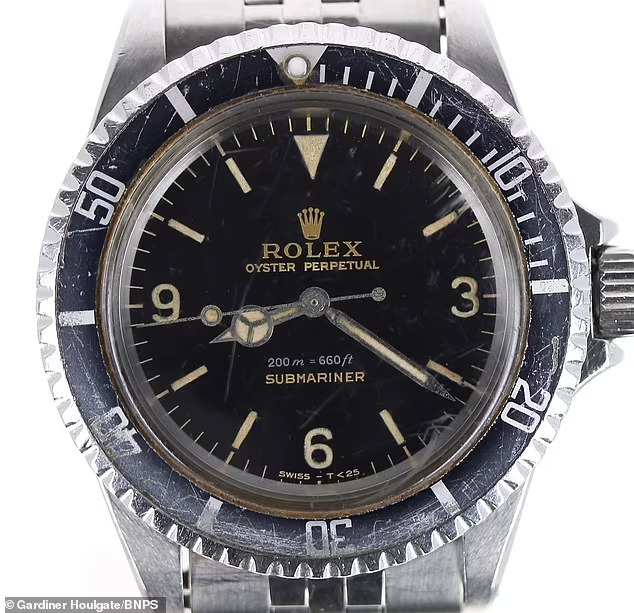 This Rolex was bought for £60 in 1965 and has just sold for £82,000.
"The owner hasn't worn it for a while but it was very much his everyday watch."

The secondary luxury watch market exploded during the pandemic.

It has settled recently. But the Rolex Market Index of the top 30 models shows a 5-year increase of 44%.

Rolex is undoubtedly the best known brand in the market.
While Patek Philippe watches hold most of price records, a Paul Newman Rolex Cosmograph Daytona was the most valuable watch sold when it raised $17.8 million at auction in 2017.

David Hare added: "Considering the current economic climate, vintage Rolex watches continue to attract high demand from all four corners of the globe and it is just amazing when these examples appear, a real "Antiques Roadshow" moment."