Stephen Hawking's wheelchair and a rare copy of his original PHD thesis are amongst the highlights of a special Christie's online sale next month.
The auction, entitled 'On The Shoulders Of Giants', features rare manuscripts and memorabilia from some of the greatest minds in scientific history, including Hawking, Albert Einstein, Isaac Newton and Charles Darwin.
One of the leading lots from the collection is a highly rare copy of Hawking's PHD thesis, written whilst studying at Cambridge University in 1965.
Hawking had already been diagnosed with the onset of motor neurone disease during his first year at Cambridge, and had initially abandoned his studies in despair after he was given just two years to live.
However a far more positive diagnosis, combined with his marriage to Jane Wilde in 1965, renewed his confidence and he produced the paper 'Properties of expanding universes'.
When Cambridge made the paper available to view online in 2017, it was viewed more than 60,000 times in the first 24 hours and the surge in traffic crashed the University's server.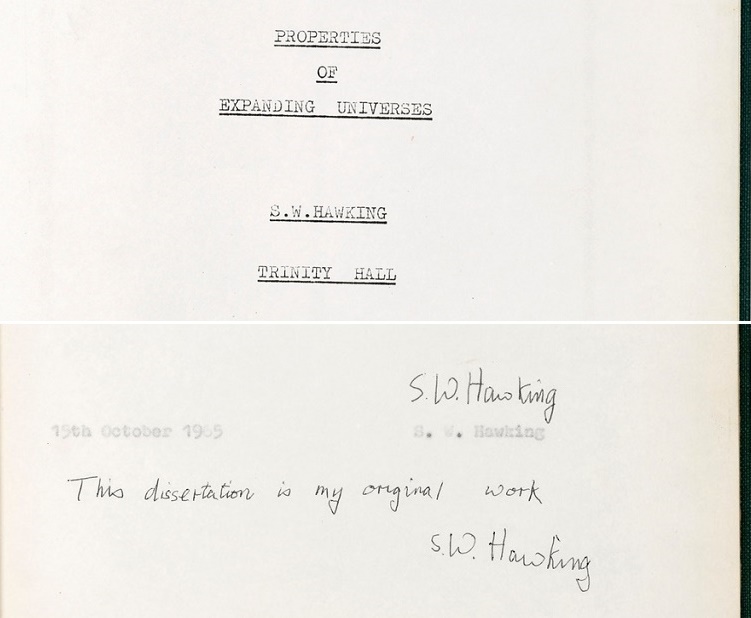 Just five original copies of the paper are known to exist, and this example, signed by Hawking with the inscription "This dissertation is my original work", is estimated to sell for £100,000 – £150,000 ($130,000 – $195,000).
The auction will also include Hawking's own copies of several further important scientific essays from his career, such as 'Singularities and the Geometry of Space-Time' (1966); 'Fundamental Breakdown of Physics in Gravitational Collapse' (1975); and 'Wave function of the Universe' (1983).
The motorized wheelchair on offer is dated circa 1988, and was used extensively by Professor Hawking as he toured the globe promoting the release of his best-selling book 'A Brief History of Time'.
During his travels Hawking was known to enjoy his celebrity status, and he could often be found on the dance floor at parties in his honour, where his friends and colleagues knew to watch out for their toes.
Christie's have described the chair as "arguably both literally and metaphorically the most-travelled wheelchair in history", and it is expected to fetch up to £15,000 ($19,500), with proceeds benefitting the Motor Neurone Disease Association and The Stephen Hawking Foundation.
Along with Hawking's scientific genius, the auction will also illustrate his renowned sense of humour.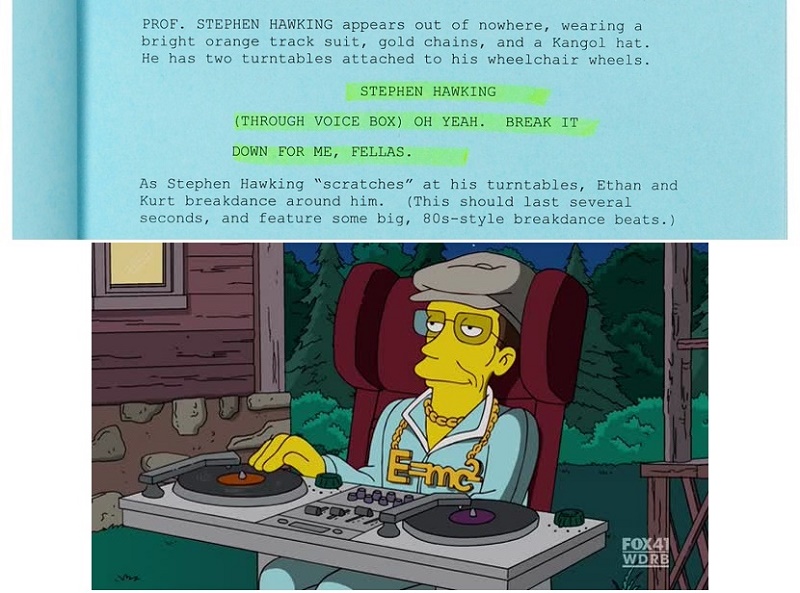 During his life Hawking made four guest appearances on the hit animated show The Simpsons, and he described it as "the best show on American television".
The sale includes a copy of the script from the 2010 episode Elementary School Musical, in which Hawking makes a brief appearance in a musical number.
The script, estimated at £2,000 – £3,000 ($2,600 – $3,900) includes the superb description of his entrance to the scene, along with his single line:
"PROF. STEPHEN HAWKING appears out of nowhere, wearing a bright orange track suit, gold chains, and a Kangol hat. He has two turntables attached to his wheelchair wheels.
"STEPHEN HAWKING (THROUGH VOICE BOX) OH YEAH. BREAK IT DOWN FOR ME, FELLAS."
Another lot combines Hawking's love of the absurd with his ability to explain complicated theories with simple experiments.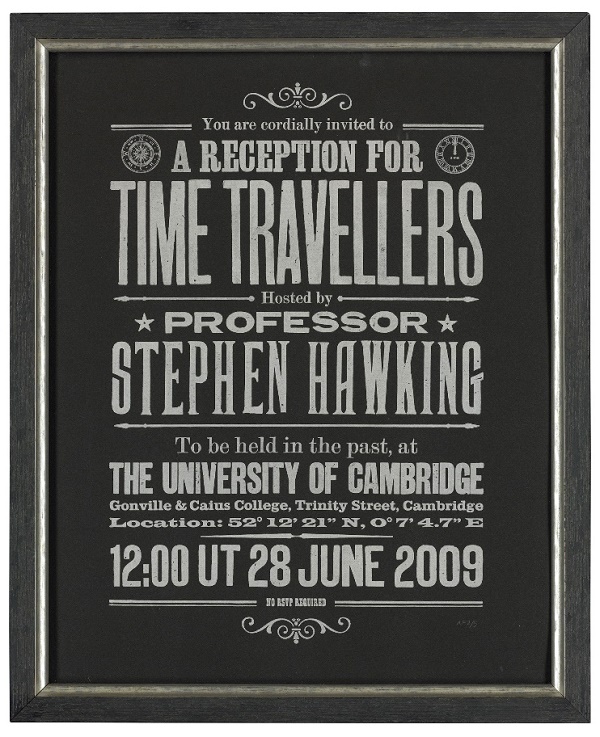 In June 2009 Hawking hosted a champagne reception for time travellers at Cambridge University. He deliberately released the invitation for the event after it happened, hypothesizing that if anyone turned up it would prove the existence of time travel.
A later video showed Hawking alone at the event, surrounded by hors d'oeuvres and a pyramid of champagne flutes, awaiting guests from the future that never arrived.
"I sat there a long time, but no one came," he said, concluding that either time travel probably doesn't exist, or people in the future are particularly rude.
The framed invitation is one of 100 original copies Hawking had printed for the experiment / event, and comes with an estimate of just £100 – £150 ($130 – $195) – although we expect it to achieve a far higher final price.
'On The Shoulders Of Giants' runs online at Christie's from October 31 until November 7.