The story behind The Beatles' most controversial album sleeve, known as the 'Butcher' cover, will be revealed in an upcoming sale at Heritage Auctions.
The auction in Dallas on November 3 will include two copies of the band's 1966 U.S album 'Yesterday and Today' – each with very different covers, and both worth thousands of dollars.
The record was the ninth Beatles album produced specifically for the US market, featuring four songs from Rubber Soul, two tracks from Help!, three songs from Revolver and both sides of the single-only release Day Tripper/We Can Work It Out.
The second cover, which sold more than a million copies, features the band looking slightly bored whilst posing around a large travelling trunk.
But the original cover, which was recalled almost immediately, features an image of the Fab Four grinning maniacally in white lab coats, and draped with slabs of bloody raw meat and parts of baby dolls.
It is, to say the least, a disturbing image to find on an album which features the song 'Yesterday'.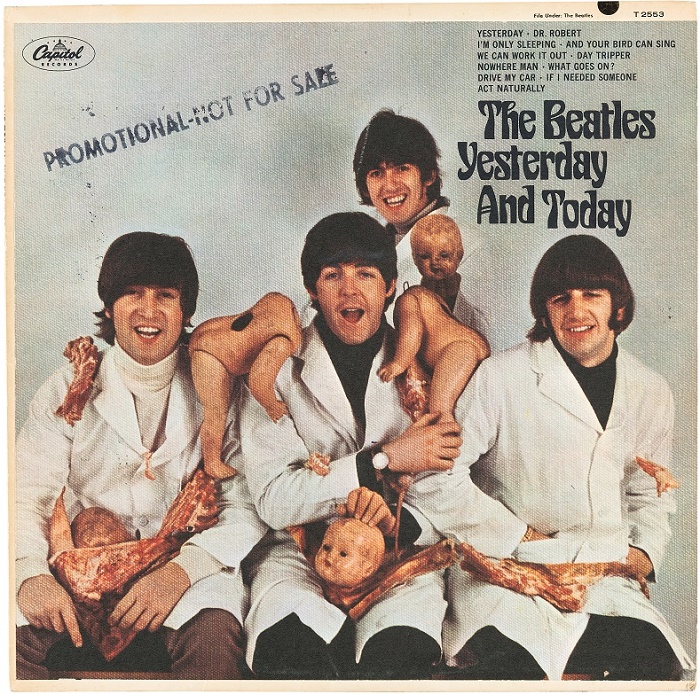 The shot was originally taken during a photo shoot by the Australian photographer Robert Whitaker, for a surreal project entitled 'A Somnambulant Adventure' which was never finished.
"We'd done a few sessions with [Whitaker] before this, and he knew our personalities," Paul McCartney remembered in the Beatles Anthology documentary.
"He knew we liked black humor and sick jokes…I don't really know what he was trying to say, but it seemed a little more original than the things the rest of the people were getting us to do."
Over in the U.S, Capitol Records were preparing to release Yesterday and Today, a record created for the American market using tracks from several different Beatles albums.
Although it was common practice, The Beatles were known not to like their songs being cobbled together in such a way. And when the record company asked the band to provide a photograph for the cover, they decided to send them the weirdest one they had.
Lennon later claimed in a press conference that the cover was the band's reaction to the Vietnam War, and suggested it was a good way to shake up their clean-cut image.
George Harrison didn't share the sentiment, and later told the Anthology "I thought it was gross, and I also thought it was stupid."
He wasn't the only one.
"It was reproduced as a record cover without ever having the artwork completed by me," Whitaker later recalled. "It was a good idea to ban it at the time, because it made no sense at all.
"It was just this rather horrific image of four Beatles, whom everybody loved, covered in raw meat, the arms, legs and torsos of dolls, and false teeth…I mean what you want to read into it is entirely up to you. I was trying to show that the Beatles were flesh and blood."
Capitol Records were understandably resistant to the idea, but the Beatles were equally insistent. Against their better judgement, the company stuck with the band's choice of photograph and had around 750,000 copies pressed up.
They then sent 60,000 copies out to radio DJs, promoters and record stores ahead of the official release – and the backlash began almost immediately.
Due to the graphic nature of the cover, many retailers simply refused to stock the album on their shelves, and Capitol were forced to launch a massive recall operation.
Most of the albums were returned, but not all of them. Some had already been sold to fans by over-eager record stores, and others were kept by DJs and record company employees who knew a future rarity when they saw one.
To save time and money, Capitol simply printed new covers with a far less disturbing photograph and pasted them onto the existing sleeves before sending them back out.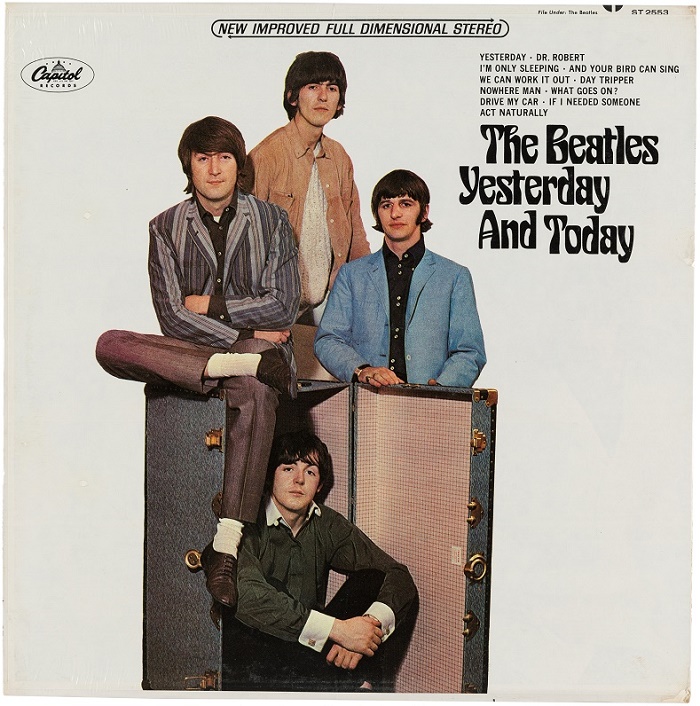 The Heritage Auctions sale on November 3 will offer both a 'first state' Butcher album with the original cover visible, and a 'second state' album with the pasted replacement image.
The first-state 'Butcher' copy is an ultra-rare promotional copy which originally belonged to the Nashville radio DJ, promoter and manager Sheriff Tex Davis.
Davis is more famously known as the former manager of rock and roll star Gene Vincent, and together they co-wrote his classic 1956 hit Be-Bop-A-Lula (which was later covered live by The Beatles, John Lennon and Paul McCartney).
Davis' daughter later gifted the album to a friend, and it comes complete with a copy of the original recall letter from Capitol Records asking for it to be returned.
The second-state copy is also rare as it remains sealed in its original wrapping, untouched and unplayed more than 50 years after it appeared on the shelves.
Although a sealed second-state cover is highly collectible it its own right, collectors know that lurking below this cover is the gory original, just waiting to be revealed with a little steam and a lot of patience.
George Harrison himself once called the Butcher covers "the definitive Beatles collectible", and Ringo grumbled in Anthology that he hadn't saved a copy for himself.
John Lennon, however, did save a copy and he kept it on his wall for years, before giving it to a teenage fan during a meeting at a New York radio station in 1971.
Bearing the signatures of Lennon, McCartney and Starr, the album sleeve sold at Heritage Auctions in November 2017 for $125,000.
That price matched the record for a Butcher sleeve set the previous year, when a mint-condition sealed copy of the album also sold at Heritage for $125,000.
The first-state copy now at Heritage is unlikely to fetch that amount, due to its condition and the fact that it's a mono pressing, rather than the far scarcer stereo version.
But it still comes with an estimate of more than $15,000, and the sealed second-state copy is valued at upwards of $7,500.
Together, both copies of the album tell the story of The Beatles' battle for artistic freedom throughout their career. And how their sense of humour, and a healthy anti-authoritarian streak, created one of the 'Holy Grail' of Fab Four collectibles.