A piece of the original Death Star from Star Wars Episode IV: A New Hope is offered in an upcoming eBay auction hosted by Hollywood Memorabilia.
Bidding on the present example is already at $10,600 ahead of the June 4 close date. It could easily rise to double that figure.
This biscuit foam segment was one of a large number of pieces used to film the sequence showing the assault on the Death Star. All were painted grey and fixed together. The team then propped the panel up outside the studios, allowing the cameras to swoop low over the structure's surface and create those breathtaking visual effects for the film's finale.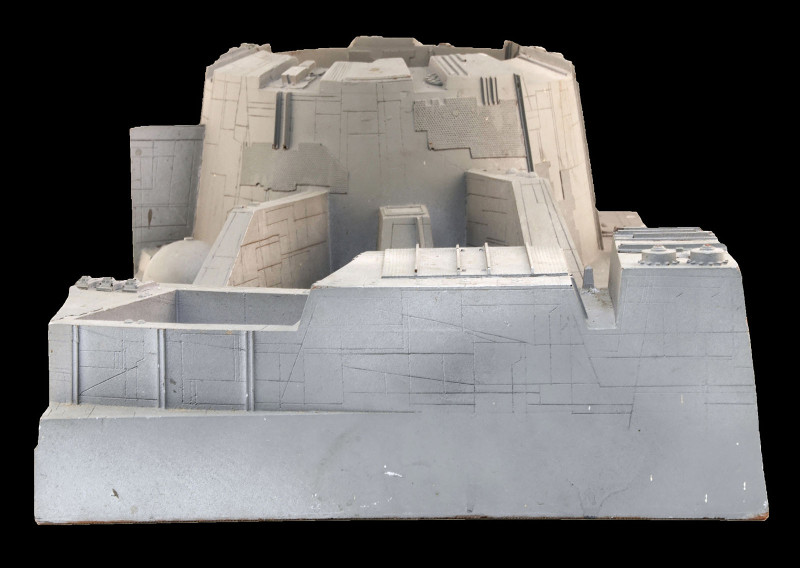 Each of the abstract segments was ornamented with what the production team referred to as "greebles", a term that's still in use in the prop industry today. These little non-functioning elements (including pipes and raised sections) provide a sense of scale and complexity.
A huge number of these pieces were needed and so Star Wars director George Lucas' visual effects company Industrial Light and Magic (ILM) commissioned an outside manufacturer to produce them.
The auction house explains: "Many of these sectional pieces did not survive after shooting and were discarded in a landfill.
"This is where the origin of this piece becomes a story of true survival and lore. After the pieces were discarded, an ex-ILM employee… rescued this specific piece and kept it as a memento for the next 37 years. Lost and forgotten from the world, this amazing prop resurfaced in 2014."
The piece was acquired then by Pawn Stars expert Steve Grad – who paid an undisclosed sum for it. He has kept it safely tucked away in his collection for the past four years.
The lot measures almost two feet in length. A piece of around the same size sold for £12,000 ($15,911) at the Propstore in London in 2015.