A unique collection of the world's rarest Star Wars action figures is heading for sale at Heritage Auctions in Dallas next month.
'The Dubai Collection', assembled by an anonymous collector, includes 33 figures and is expected to achieve more than $360,000 when it goes up for auction on August 2-4.
These early prototype figures were originally created by Kenner to test the steel production moulds, prior to the figures going into mass production.
Each one was then assembled and painted by hand, and the process was repeated until the figures had been perfected and were ready to hit toy store shelves.
These figures were never offered to the public, and were usually kept by toy designers and Kenner employees. In many cases there are less than five known prototypes for each figure, making them the rarest vintage Star Wars toys in the world.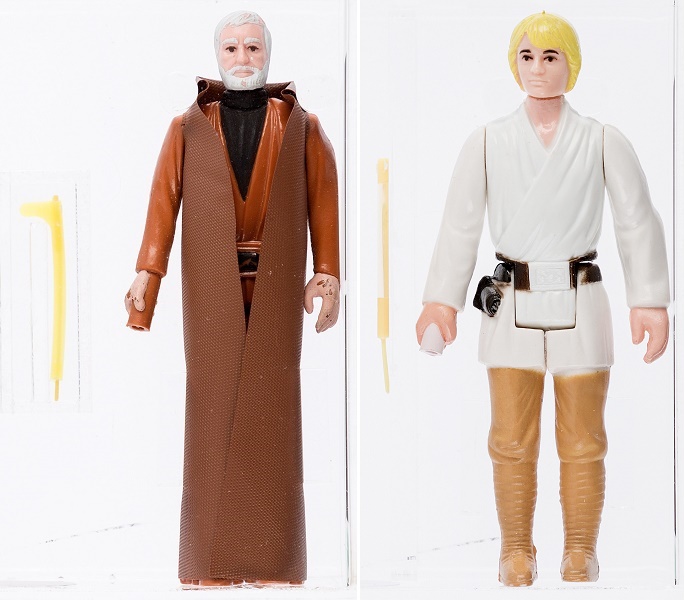 "Star Wars action figures from the late 1970s and early 1980s are highly collectible, but these 'first shot' prototypes are glued and painted by hand, making them the most valuable figures you could ever own," said Aaron White, an expert in vintage comic books and original comic art at Heritage Auctions.
"The entirety of the collection is in near mint condition. Many figures are the finest existing examples ever graded — there are none like them anywhere in the world."
Amongst the highlights are a prototype Obi-Wan Kenobi figure from 1977, estimated to sell for $25,000, and a 1983 prototype for Jabba the Hutt's right-hand man Bib Fortuna, valued at $30,000.
The collection also includes several rare figures in the highest-known grades in existence, such as an AFA 95 MT Luke Skywalker figure which could exceed $50,000, and a highly rare Yak Face figure on a French-Canadian backing card, which is expected to sell for over $20,000.
"Demand for vintage Star Wars collectibles has increased after the release of the new films," White said. "These figures have always been collectible, but in the last three years or so individual figures are now selling for five figures."
The values of the figures had been rising steadily until December 2017, when a sale at Hake's Americana saw the previous world record price surpassed three times in quick succession.
The top lot, and current record holder, was an Obi-Wan Kenobi 'double telescoping lightsabre' figure, graded AFA 80 NM on an un-punched card, which sold for an impressive $76,700.
The previous record had stood since 2016, when an unopened French-release Boba Fett figure sold in the U.K for £26,000 ($34,285).
Whether that huge jump marks the next stage of the market remains to be seen; but with Disney still planning to release a new Star Wars film each year, you should expect to see the force remain strong amongst collectors for the foreseeable future.