A bronze death mask of Joseph Stalin stunned auctioneers in the U.K last week when it sold for $17,000, more than eight times its estimate.
The rare mask, which featured the face and hands of the former Soviet dictator, is believed to be one of only 12 examples created after his death in March 1953.
It had originally been discovered by experts at the Canterbury Auction Galleries, when the consignor brought it in to be valued without knowing the true history or importance of the piece.
"It was a bit of a shock when the owner handed it to me and asked me if it was something we could sell," said auction house valuer Dan Ponder.
"He explained how he had found it among his grandfather's possessions after he died. His grandfather was in the merchant navy, and he assumed he acquired it on his travels."
The art of creating death masks of important military and political figures first began in Ancient Egypt, and found popularity throughout Europe in the 14th century.
By the early 20th century the practice had fallen out of fashion, but it was embraced by Bolsheviks in the Soviet Union as a way of immortalizing martyrs to the revolutionary cause.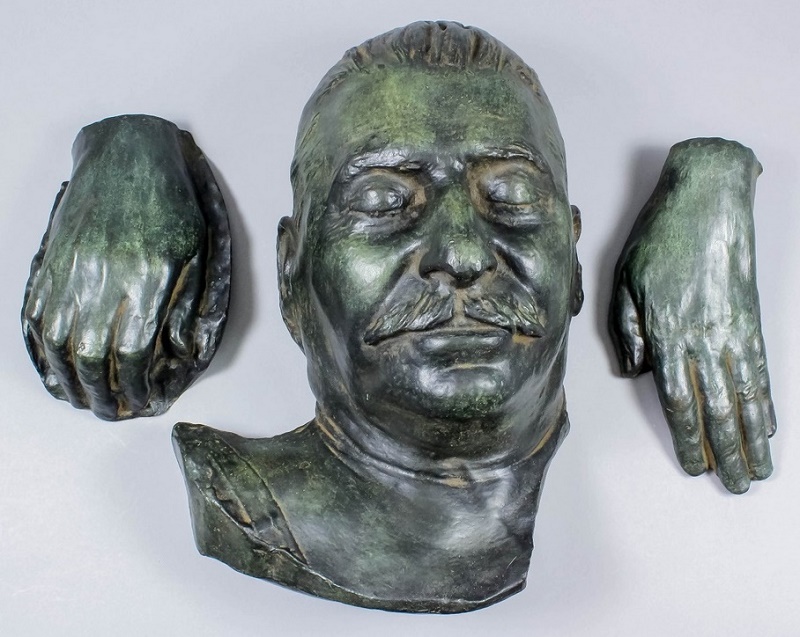 The mask is thought to have been originally created by Matvei Manizer, a prominent Soviet sculptor who was awarded the People's Artist of the USSR in 1958.
Four artists were initially brought in to produce death masks of Stalin, and Manizer's sculpture was chosen to be the official version.
According to another of those artists, Viktor Tsigal, the atmosphere surrounding the process was tense. "We worked under pressure all night. Of course we were worried. Important people were coming in and out: Khrushchev, Kaganovich, Mikoian. Even Beria, his glasses sparkling over my shoulder, stopped in to check how my work was going."
Having first been cast in plaster, 12 bronze sculptures were eventually produced. It was initially believed that ten of those bronze masks remained in Russia, with the other two owned by private collectors in the U.K.
One of those examples sold at Sotheby's in the early 1990s, and the second – acquired by art dealer James Birch in Moscow in 1990 – had previously sold at Mullock's Auctioneers in 2012 for £3,600 ($4,600).
The existence of the present mask was unknown in the West until it turned up unexpectedly at the Kent auction house earlier this year.
Canterbury Auction Galleries based their pre-sale estimate for the cast on the 2012 sale, but were shocked at the final price, paid by an anonymous overseas telephone bidder.
"It was difficult to give a saleroom valuation…so we decided to offer it with an estimate of £1,500-2,000," said Ponder. "No one was expecting it to reach £13,500 ($17,250), least of all the person selling it. He was delighted."
One of the most fascinating aspects of the discovery was the cast of Stalin's withered left hand.
At the age of 12 Stalin had been injured beneath the wheels of a horse-drawn carriage, leaving his left arm irreparably damaged.
He spent the rest of his life attempting to hide his disability, and his left hand was often either obstructed or depicted as normal in official portraits.