It's one of the most iconic images in American political history – and now this portrait of Abraham Lincoln and his son also looks set to become one of the most valuable.
The 154-year-old signed photograph is expected to sell for more than $100,000 when it goes up for sale at RR Auction next month, as part of the company's latest Fine Autographs and Artifacts sale.
The photograph was originally taken on February 9, 1864 at the Washington D.C studio of Matthew Brady, regarded as the "father of photojournalism".
Lincoln posed for a series of photos with his youngest son Tad, which were taken by Brady's assistant Anthony Berger (1832-1897).
The portrait was widely reproduced and sold in the form of photographs, lithographs and engravings which people placed in albums alongside images of their own families.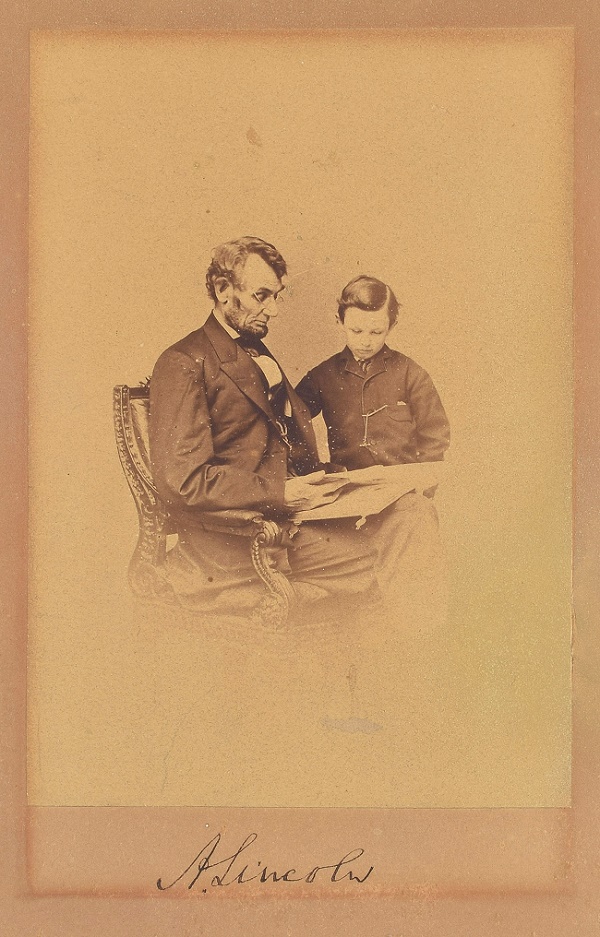 Berger later retouched the photograph, changing the book from a photo album to a large Bible and altering the chair so it appeared the portrait had been taken in the White House.
This new version was then used on the cover of Harper's Weekly to memorialize the President following his assassination in 1865.
Lincoln rarely signed photographs of himself, making examples in any size highly rare. But the exceptional size of the example at RR Auction places it amongst finest Lincoln photographs in existence.
Whereas most of the original prints of the photograph were produced in a small 'cartes-de-visite' size, measuring 2.5″ x 4″, this larger print measures 3.75″ x 5.25″ and is presented in its original mount which bears Lincoln's signature.
According to experts, just two other signed copies of the portrait in this size are known to exist.
One is held in the collection of the collection of the Neville Public Museum in Green Bay, Wisconsin; and the other was part of the legendary private collection of Malcolm Forbes, before selling at Christie's in 2002 for $325,000.
This copy was originally acquired by Franklin Wayland Pitcher (1833-1923), a travelling lumber salesman from Maine.
During the 19th century the White House was often open to the public, and it was possible for unannounced visitors to simply turn up and speak to the President.
It seems Pitcher was one of those lucky visitors, as his inscription on the reverse of the photograph reads "This autograph is genuine. It was procured by me at the White House in June 1864. F. W. Pitcher."