An incredibly rare poster from Buddy Holly's ill-fated Winter Dance Party tour will be offered at Heritage Auctions in Dallas next month.
Just three original posters are known to exist from the 1959 tour, during which Holly and his fellow acts the Big Bopper and Ritchie Valens were tragically killed in a plane crash.
"A genuine Winter Dance Party poster is so rare, and so highly coveted, that this is the first time in the history of the world that one is being sold publicly," said Pete Howard, Consignment Director at Heritage Auctions.
"On the once-in-a-decade occasion when a Winter Dance Party poster changes hands privately, it's usually hush-hush among the world's most elite and wealthy collectors."
The poster is dated Sunday January 25, for a show at the Kato Ballroom in Mankato, Minnesota, which took place just eight days before the trio's final performance in Clear Lake, Iowa.
The poster originates from the collection of a fan who attended the Mankato concert and pulled it off the wall of the Kato Ballroom as she left.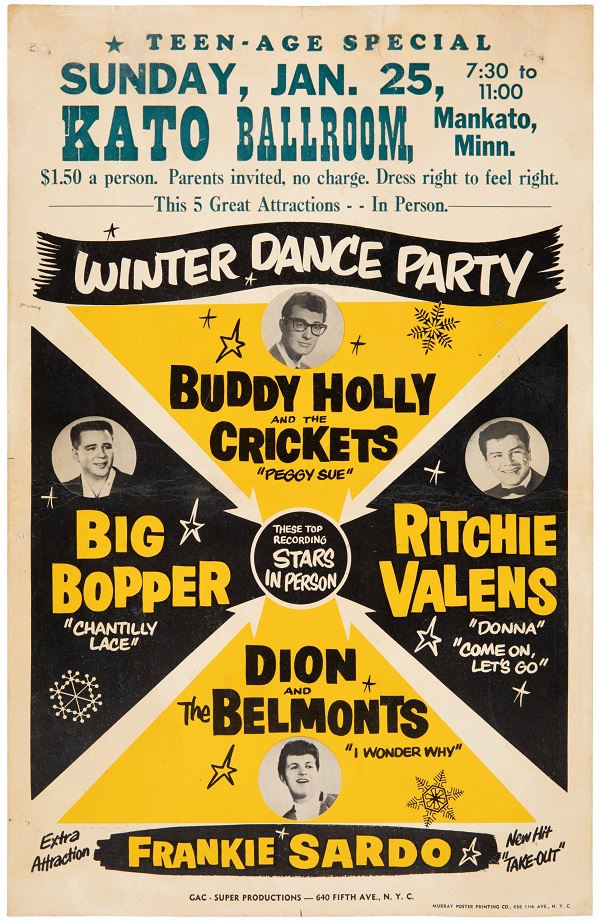 It's believed that between 25 and 50 posters would have been printed by local promoters to advertise the show, but almost all would surely have perished outside in the depths of a brutal Minnesota winter.
This exampled survived because it was hung inside the venue itself, away from the ice and snow, and then saved by a fan as a memento of a magical night.
Following the deaths of the three stars on February 2, 1959, the poster also became a poignant reminder of the loss the music world suffered that night, and which is still felt more than 60 years later.
The April auction will also include an equally rare and sought-after poster for The Beatles' 1966 Shea Stadium concert, which came less than a week before they retired from touring forever.
Just 5 – 6 original copies of the poster are known to exist amongst a sea of reproductions and fakes, which were reprinted months and years later when it became clear The Beatles were never hitting the road again.
In November 2019 a copy of the poster sold at Heritage for $125,000, marking the first time in 15 years that an example had appeared on the market.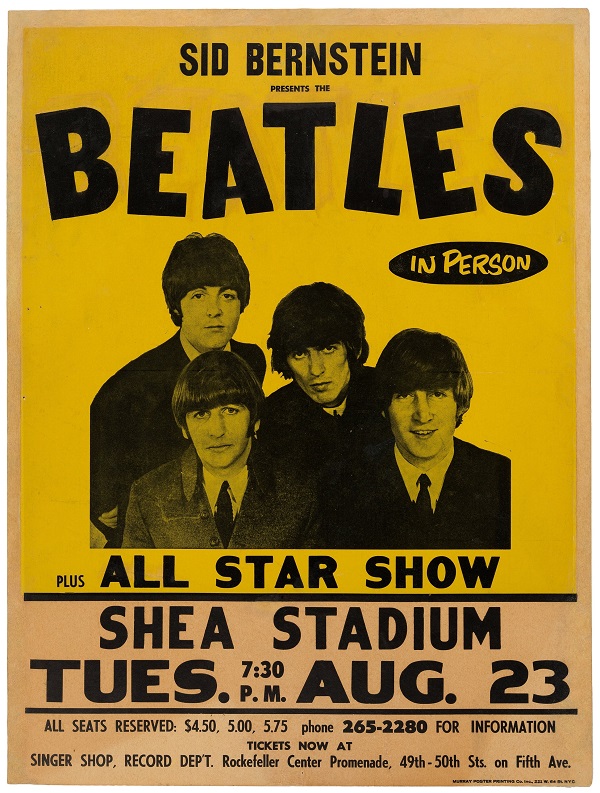 The stunning result prompted a call from another owner with a similar story: his sister had snagged a poster from a Brooklyn Subway station before the concert and kept it safe in her collection for more than half a century.
The fresh-to-the-market poster is now expected to sell for a similar sum
"One of the tried and true facets of the auction-house world is that when an item performs spectacularly well, somebody with another one will often step forward and say, 'Well heck, if it's worth that much, then I'll sell mine'," said Howard.
"This is not a dealer or collector consigning the poster; it's the original owner (within the family) who simply took it down out of fandom and has possessed it for all 54 years since.
"It's as popular, reliable, solid and spectacular as any concert poster, or dare I say any music collectible period, could possibly be."
The Heritage Auctions Vintage Music Posters sale takes place in Dallas on April 5 – 6.