A handwritten Sherlock Holmes story by Arthur Conan Doyle could fetch up to $450,000 when it goes up for sale at Sotheby's next week.
The 34-page manuscript is Doyle's original copy of 'The Adventure of the Greek Interpreter', one of the most significant Sherlock Holmes tales ever written.
Written in 1893, the story was the first to introduce readers to Sherlock's older brother Mycroft Holmes.
The story was first published in September 1893 on both sides of the Atlantic, in The Strand Magazine and Harper's Weekly, and was ranked by Conan Doyle himself as one of his 19 favourite Sherlock Holmes stories.
It also remains one of only two stories in which Myrcroft takes an active role, rather than watching leisurely from the sidelines.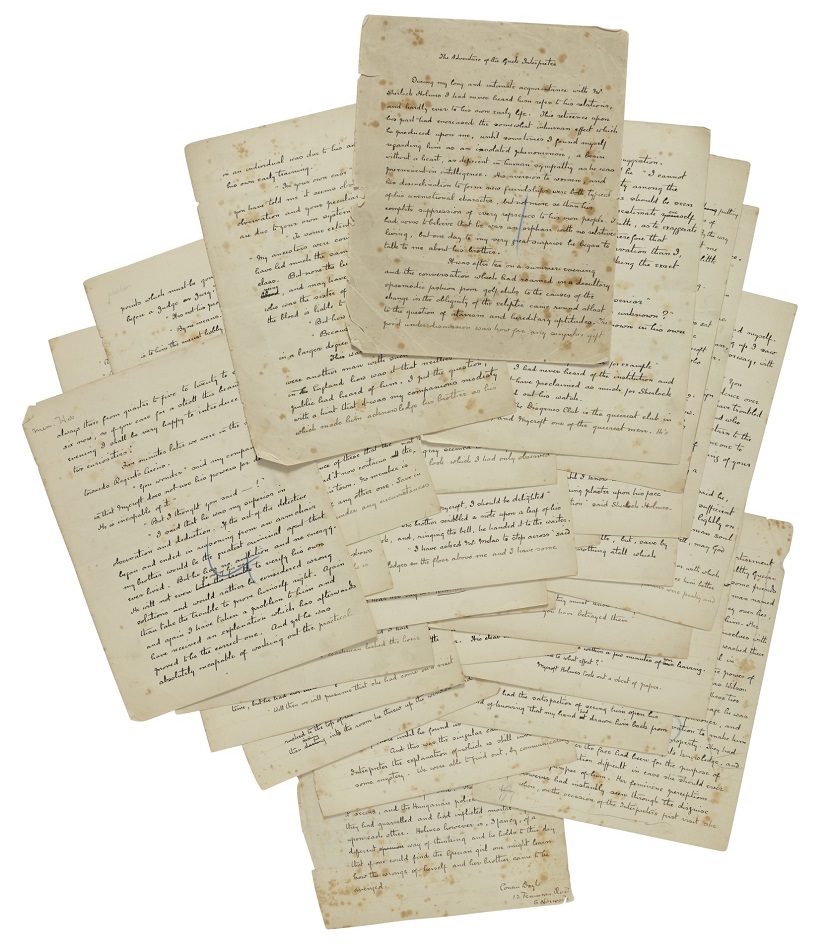 Holmes and Watson are called to meet Mycroft at Diogenes Club, an eccentric gentleman's club, where the elder brother requires assistance for his neighbour, the Greek translator Mr Melas, who was kidnapped under bizarre circumstances.
In the story, Watson learns that Sherlock's sibling has powers of deduction that may even outstrip his own, but that his inherent laziness prevents him from utilizing those skills.
Holmes tells Watson: "If the art of the detective began and ended in reasoning from an arm-chair, my brother would be the greatest criminal agent that ever lived.
"But he has no ambition and no energy. He will not even go out of his way to verify his own solution, and would rather be considered wrong than take the trouble to prove himself right."
Arthur Conan-Doyle wrote 60 stories in the Sherlock Holmes series, and around half of his original manuscripts survive to this day.
The vast majority are owned by museums and institutions including the British Museum, Harvard University, the Bibliotheca Bodmeriana Cologny Geneva, and the Huntington Library.
The manuscript even features pencil doodles from one of Conan Doyle's children – either eldest daughter Mary Louise (b. 1889) or eldest son Kingsley (b. 1892) – proving that even history's greatest authors had to deal with their kids scribbling on their work.
Conan Doyle's Sherlock Holmes manuscripts have rarely appeared for sale, and have fetched six-figure sums in the past.
The manuscript will be offered at Sotheby's in New York on July 21 with an estimate of $350,000 – $450,000.