A LeBron James rookie card has sold at auction for a remarkable $1.8 million, setting a new world record for a modern-day sports card.
The 2003-04 LeBron James Upper Deck rookie Patch Parallel card sold at Goldin Auctions on Sunday (July 29), following an international bidding war between collectors.
According to reports, the winning bid was placed by Leore Avidar, CEO and co-founder of Lob.com.
The result stunned experts and collectors alike, as the final price was the kind usually reserved for antique baseball cards.
"If we were talking about a T206 [Honus] Wagner, or a 1952 [Mickey] Mantle, it probably wouldn't be that much news," Ken Goldin, founder of Goldin Auctions told ESPN.
"But when you're talking about a card that was literally produced 17 years ago and is for a guy still playing in the NBA, it's just shocking news to a lot of people."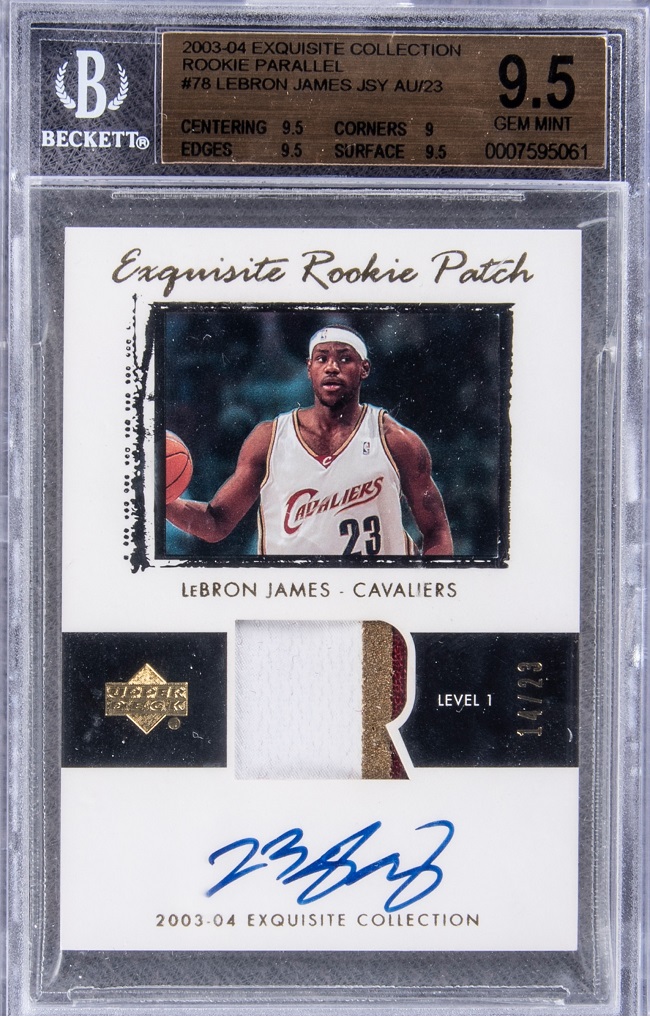 LeBron James made his debut for the Cleveland Cavaliers in 2003, and having subsequently played for Miami Heat – before returning to the Cavaliers in 2014 – he now plays for the Los Angeles Lakers.
He is widely regarded as one of the greatest players in NBA history, having won three NBA championships, four NBA MVP Awards, three Finals MVP Awards and two Olympic gold medals.
James is regularly compared to Michael Jordan as perhaps the finest player in basketball history – and it seems the value of his memorabilia is similarly valued.
The card features LeBron James' autograph along with a patch from his Cleveland Cavaliers rookie jersey, and is one of only 23 of its kind ever produced – matching the number '23' he wore on his jersey.
The card was also one of only two examples to achieve the grade of BGS GEM MINT 9.5, making it the finest ever offered for auction.
The result almost doubled the previous record for a modern sports card, classed as any card produced after 1980.
That record had also been set by Goldin Auctions back in May, when a mint Bowman Draft Chrome Red Refractor Rookie Card featuring current baseball star Mike Trout sold for $922,500.
The LeBron James card is now the first million-dollar basketball card, marking a huge step for the hobby, and some experts believe the market may even surpass that of rare baseball cards in the near future.