A rare menu from Ernest Shackleton's 1907-1909 Nimrod Antarctic Expedition featuring 'penguin patties' and 'roast reindeer' is heading for auction in the UK this week.
The printed menu is part of a remarkable archive belonging to William Charles Roberts, who served as the cook and assistant zoologist during the two-year British expedition.
Little is known about Roberts, who took the position after responding to Shackleton's famous newspaper advert which read:
"Men wanted: For hazardous journey. Small wages, bitter cold, long months of complete darkness, constant danger, safe return doubtful. Honour and Recognition in case of success."
The archive, which also includes Roberts' original employment contract signed by Ernest Shackleton, is expected to sell for around £15,000 ($19,000) at Golding Young & Mawer on January 3.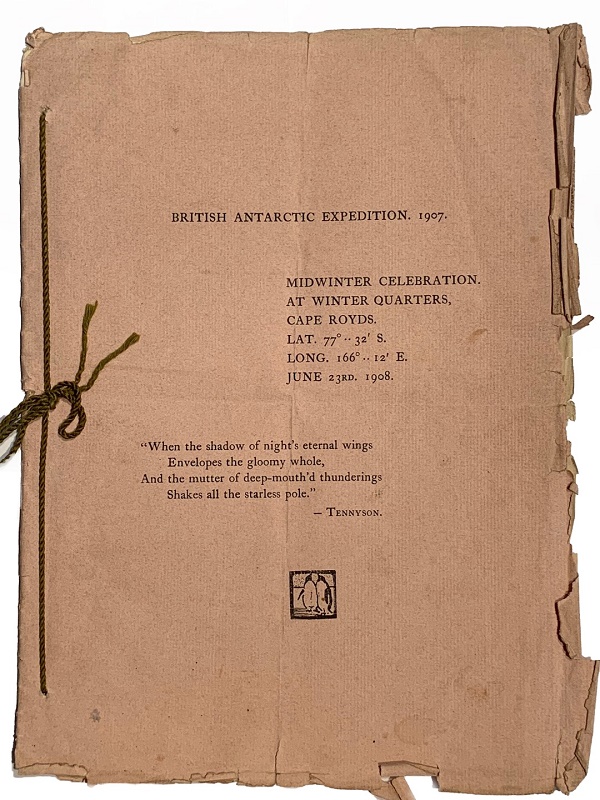 The menu was produced for 'Midwinter Celebration' held at the expedition's quarters at Cape Royds on June 23, 1908.
In his 1909 book on the expedition, Shackleton wrote: "After a teetotal regime the Midwinter Day, the Great Polar Festival and Birthday festivals were a release, and an occasion for a 'wild spree'."
It features several courses, including a starter of turtle soup, followed by penguin patties and seal cutlets, a main course of roast reindeer and blackcurrant jelly, and a dessert of plum pudding and mince pies.
Each of the courses is accompanied by rounds of whisky and champagne, and the evening ends with "more whisky!!!?" and "sledges at 12.30".
Despite sounding like a sumptuous feast fit for an explorer, the menu was actually mocked up in advance of the meal, as a humorous idea of what they may have been served in the depths of the Antarctic.
In reality the crew were forced to survive of meagre rations in the depths of winter, as they ran perilously low on supplies.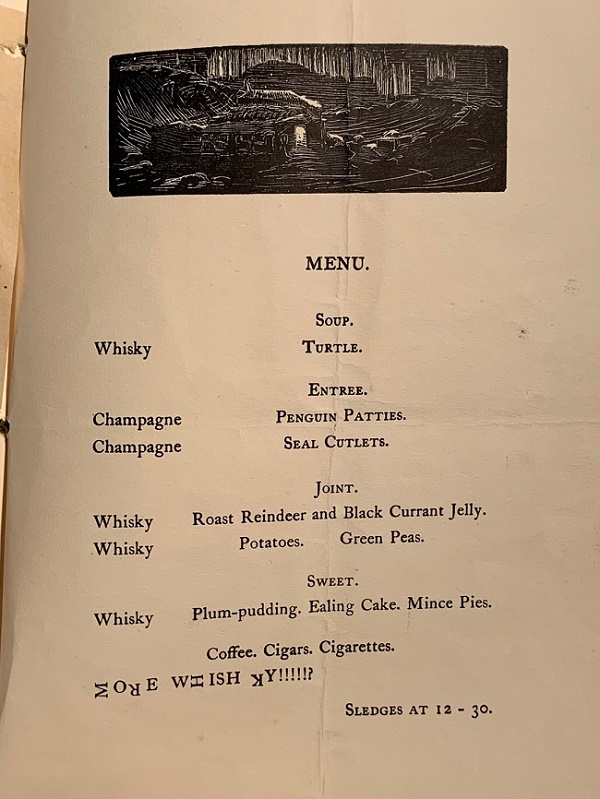 The menu was printed using the same printing press and paper that produced Aurora Australis – the historic first book ever published in Antarctica.
The men in charge of printing were crew members Ernest Joyce and Frank Wild, who were forced to heat the press using candles to prevent the ink from freezing as they worked.
Copies of the Aurora Australis have been known to sell for more than $150,000 at auction, and a handful even include a copy of the midwinter feast menu bound as the final page.
The menu isn't the only rare artifact from the historic expedition heading for the auction block.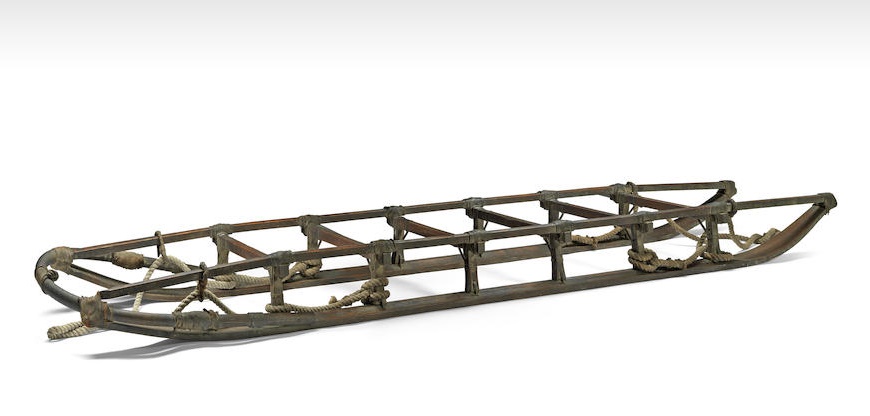 Next month one of the original sledges used during Shackleton's attempted push for the South Pole will be offered for sale at Bonhams, where it's expected to sell for up to £100,000 ($126,000).
The sledge survived the unsuccessful journey, and was retained by Eric Marshall – one of the four men, along with Shackleton, Jameson Adams and Frank Wild, who reached the 'Furthest South' point on January 9, 1909.
Years later in 1952, Marshall donated the sledge to his alma mater, Monkton Combe School in Bath, where it has remained to this day.
It will now be offered as part of Bonhams' Travel and Exploration Sale in London on February 6.