A surreal masterpiece by Salvador Dalí could sell for up to £10 million at Bonhams this March, when it goes up for auction for the first time in its history.
Dalí's 1936 work 'Couple aux têtes pleines de nuages', which translates as 'Couple with their heads in the clouds', will hit the block on March 26 as part of Bonhams' upcoming Modern Art Sale in London.
The diptych was created at the height of his surrealist period, during the Spanish Civil War, and features two large frames formed in the shapes of Dalí and his wife Gala.
Within the frames lies a dessert landscape filled with dreamlike imagery such as disfigured trees, a girl skipping and a giraffe on fire, which were often seen in Dalí's paintings.
These specific images became highly symbolic throughout his work, with the skipping girl representing childhood memories and the burning giraffe representing what Dalí termed "the masculine cosmic apocalyptic monster".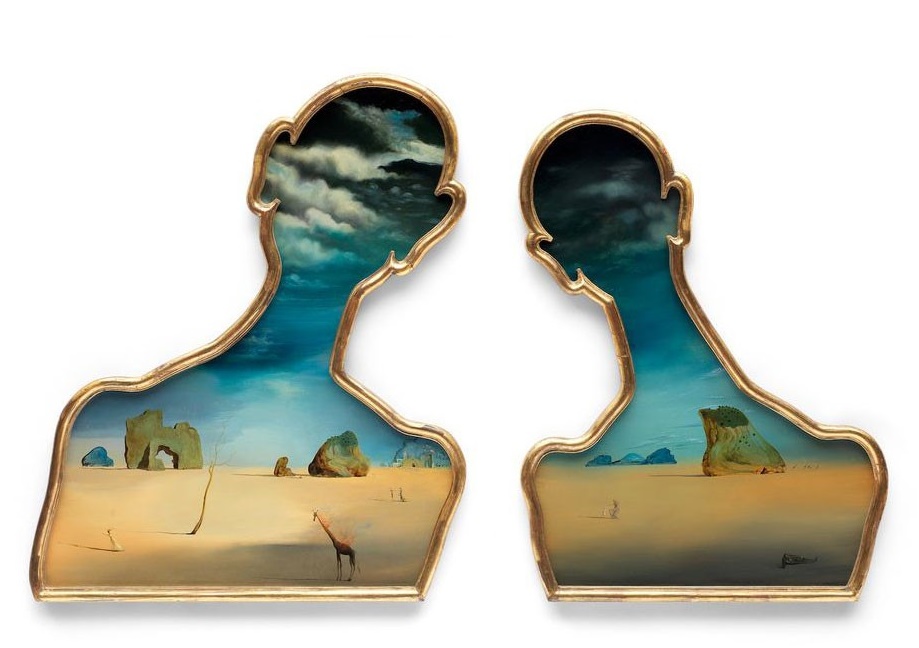 The work spent more than 50 years in the private collection of Italian composer Giacinto Scelsi (1905-1988), who became associated with many artists in the Surrealist circle in Paris in the 1920s.
It will now be offered publically for the very first time, with an estimated value of £7 – £10 million ($8.3 – $11.9 million).
The current auction record for a Salvador Dalí artwork was set back in 2011, when his 1929 painting 'Portrait de Paul Eluard' sold at Sotheby's for $21,673,806.
French poet Eluard was one of the founders of the surrealist movement, and the first husband of Gala Dalí, before she left him for the Spanish artist who was 10 years her junior in 1929.
Salvador and Gala remained together for the next 50 years, and such was their creative collaboration that many of Dalí's most famous works – including 'Couple aux têtes pleines de nuages' – were signed "'Gala Salvador Dalí".
"Dalí's Couple aux têtes pleines de nuages (1937) is a masterpiece from the height of his key surrealist period," said India Phillips, Head of Bonhams Impressionist and Modern Art department.
"It is full of the highly personal imagery that made Dalí perhaps the most exciting member of the Surrealist group during these years of experimentation, revealing his obsession with Freudian psychology as much as his obsession with his great lover and muse Gala.
"Dalí painted these monumental panels at a time of intense personal discovery and expression, while the world around him erupted into conflict.
"Simply put, it is one of the most exciting works by Dalí ever to come to the market."