A collection of rare original artworks by Muhammad Ali will go under the hammer at Bonhams next month.
The paintings and illustrations were created by the boxing legend in 1967 and 1977, and will be offered at auction for the first time in New York on October 5.
The sale is the largest collection of Ali artworks ever seen at auction.
Leading the way is Sting Like a Bee, painted by Ali during the filming of the TV mini-series Freedom Road in Mississippi in 1978.
The artwork depicts a boxing ring in a packed arena, and features Ali's most famous line "Float like a butterfly, sting like a bee".
The work was later produced as a limited-edition screenprint, but the original is now estimated to sell for $40,000-60,000.
Many of the illustrations on offer were created by Ali in 1967 for Avant Garde magazine.
These works capture Ali's dedication the the Civil Rights Movement, for which he was a passionate activist throughout his life.
One, entitled 'War In America', draws parallels between the U.S involvement in foreign wars and the violent treatment of African Americans during the Watts riots.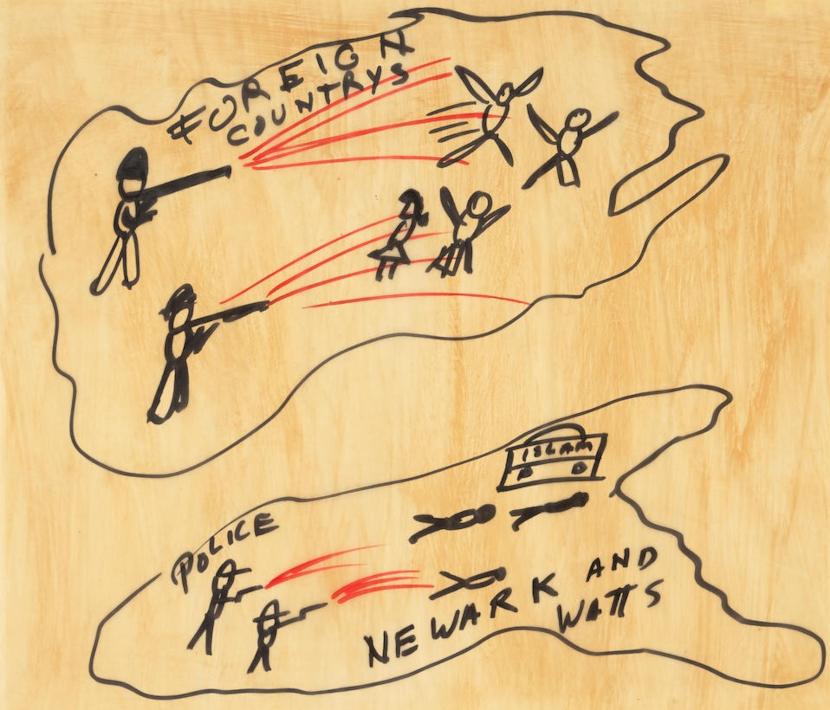 Another, 'America The Big Jail', is a condemnation of 400 years of slavery following the transportation of Africans to the U.S on the Good Ship Jesus.
The series of artworks are expected to fetch $20,000 – $35,000 each.
Other works on offer focus on Ali's remarkable boxing career, including The Crowd, which Ali described in the Avant Garde articles as:
"This is how it looks when I look out of a boxing ring after a victory. I see a few smiles but most of the people are angry that it ended so quick."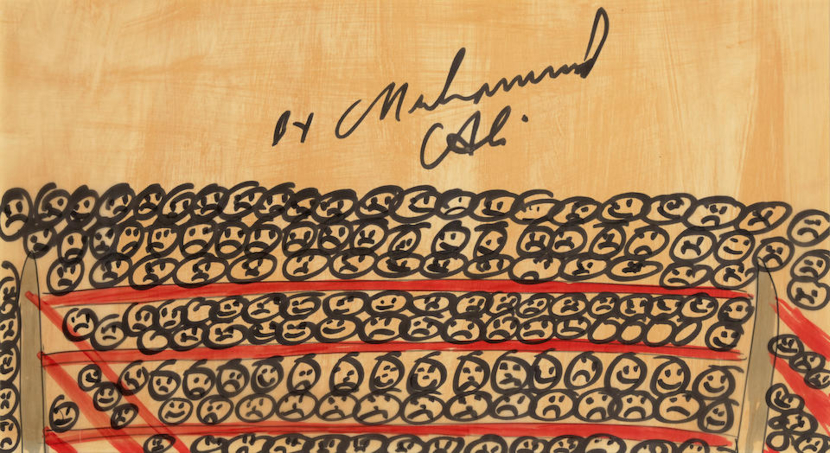 All the works originate from the collection of Rodney Hilton Brown, author of Muhammad Ali: The Untold Story: Painter, Poet & Prophet.
Brown knew of Ali's passion for art, and encouraged him to return to creating in the late 1970s.
"Muhammad Ali was a cultural icon who defined a generation," said Bonhams Director of Popular Culture, Helen Hall.
"His artwork depicts those subjects close to his heart: Boxing, Civil Rights, Religion and World Peace and Humanitarianism.
"This sale presents buyers with an incredibly rare opportunity to acquire unique and meaningful artwork made by 'The Greatest of All Time.'"