An incredibly rare letter handwritten by Old West outlaw Jesse James could fetch up to $300,000 when it goes up for auction at Bonhams next month.
The letter, dated June 5, 1875, sees James reacting furiously to being called a horse thief and demanding a retraction of the accusation.
Handwritten letters by the legendary outlaw have been described as "virtually nonexistent", and just three examples are known to exist outside the collection of his descendants.
The letter will be offered in New York on October 23, during an auction of rare books and manuscripts, with an estimate of $200,000 – $300,000.
The letter relates to a public accusation by a Mr Flood that Jesse and his brother Frank had stolen a horse from Dr. William J. Yates.
Jesse was offended at being called a horse thief, which he believed was one of the lowest forms of criminality, and writes (in part):
"Sir from the tone of your conversation at the City Hotel in Lexington a few days ago I feel it my duty to write to you. I & Frank have been lied on & persecuted enough. We cannot stand every thing.
"What did you mean by telling in Lexington that we Stole Dr. Yates horse. my friends Zack Mitchal Tom Bulis & several others heard you Say it & you kneed not deny it & if you dont go to my Mother & explain why you sed what you did we will hold you responsible & you will be brought to grief…"
"Do you suppose if we were thieves we would Steal a horse from one that has been so kind to Mother as Dr Yates has no far from it…and they are no men in Mo. who scurn horse thieves more than we do…if you value your life you had better retrace your Slander/Jesse W James."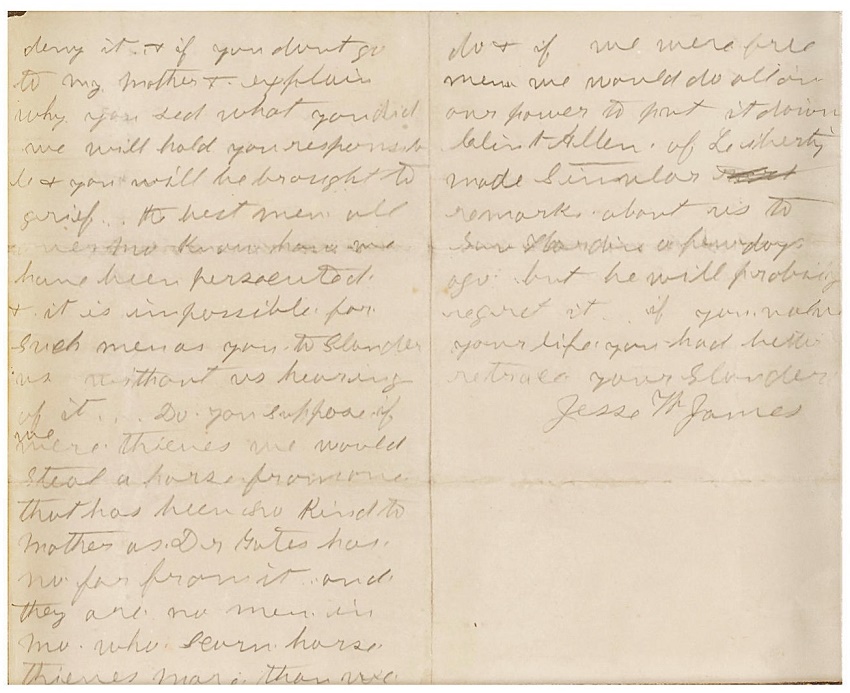 Dr Yates was in fact a close friend of the James family, and at the time of the alleged theft was treating Jesse and Frank's mother Zerelda Samuel.
James was so incensed at being accused of stealing from a friend that he even asked Dr Yates to personally deliver the letter to Mr Flood to protest his innocence. The reverse of the letter reads:
"Dr. Yates Pleas read this/letter & hand it to Mr. Flood/& oblige JW James"
Dr Yates was one of the doctors who attended to the James family following the infamous incident in January 1875, when the James homestead was firebombed by Pinkerton agents hunting for Jesse and waging a personal vendetta against him.
An explosive device thrown by one of the agents had killed James's young half-brother Archie, and blown his mother Zerelda's arm off.
Following the attack, James wrote an angry letter to his stepfather Dr. Reuben Samuel describing the agents as "midnight assassins", and in 2004 that letter sold at Christie's for $175,000.
If the current letter reaches its top estimate at Bonhams, it would set a new auction record for a piece of memorabilia owned by Jesse James.
The current record was set in 2009, when a gun and holster used during his teenage years as he rode against the Union Army with Quantrill's Raiders sold for $230,000.