One of the world's most important watches, known simply as 'The Asprey', is expected to fetch up to $4 million at Sotheby's in Geneva next month.
The Patek Philippe wristwatch was made in 1952 and retailed by Asprey, the historic luxury goods store which has operated in London since 1781.
The timepiece has been described as "a legend amongst the market and collecting community", and will be appearing at auction for only the second time in its history.
The first time it crossed the block was in December 2006, when it sold at Sotheby's in Geneva for $1.77 million, setting a world record for a Patek Philippe Ref. 2499 watch.
It will now be offered again by Sotheby's in Geneva on November 13, with a pre-sale estimate of $2 – $4 million.
The Patek Philippe Ref. 2499 perpetual calendar chronograph is one of the most celebrated and sought-after models ever produced by the Swiss manufacturer.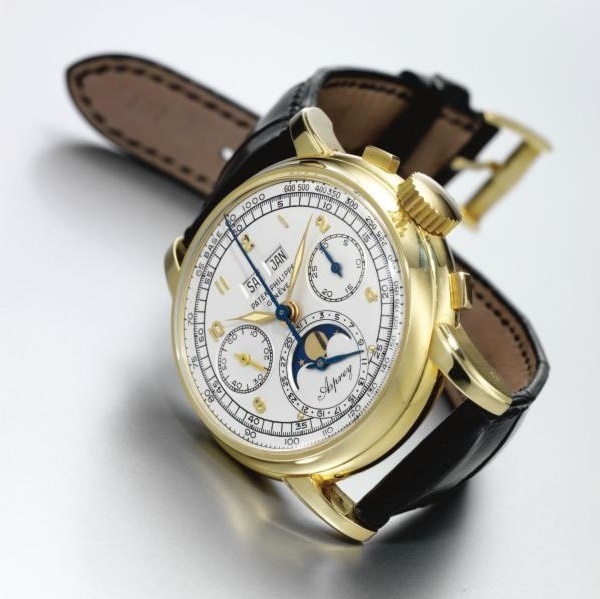 Between 1950 and 1985 just 349 watches were made, at an average of nine pieces per year, due to the countless hours of painstaking craftsmanship that went into each one.
The Asprey is an early 'first series' example, and one of only 40 made from yellow gold. These characteristics alone would make it highly desirable – but the watch is also believed to be the only example in the world bearing the exclusive Asprey signature.
The watch was produced in 1952 and imported to London in 1956, before being sold at the company's flagship store in London.
It remained with its original owner until the late 1990s, and it was then purchased by a distinguished private collector before being offered publically for the first time in 2006.
"It is an absolute privilege to have been trusted with the sale of this exceptional vintage watch," said Sam Hines, Global Head of Sotheby's Watch Division.
"This is the only known 2499 to be retailed by Asprey and is the most complicated Patek Philippe wristwatch to be sold by Asprey.
"I have had countless discussions and debates with collectors about this watch due to its pristine state of preservation, making it one of the best preserved examples of a first series."