One of Kentucky Fried Chicken founder Colonel Sanders' famous white suits will be offered for sale in Dallas next month.
Sanders was the founder of the Kentucky Fried Chicken fast food chain, and he remains one of the world's most recognisable brand icons to this day.
The suit will be offered as part of Heritage Auctions' Entertainment and Music Memorabilia Signature Sale, which takes place in Dallas on November 3.
Harland Sanders first entered the fried chicken business in the 1930s, selling his home-made recipe from a Shell Oil service station in North Corbin, Kentucky.
When business boomed he took to the road, selling the recipe to franchises across America, and by the mid-1960s there were 600 Kentucky Fried Chicken restaurants around the world.
Having created a global phenomenon, Sanders sold the company in 1964 – but he continued to serve as the brand's ambassador for the rest of his life, making appearances at restaurants and public events up and down the country.
For years he was accompanied by Dick Miller, who served as the Colonel's driver and personal aide from 1970 until his death in 1980.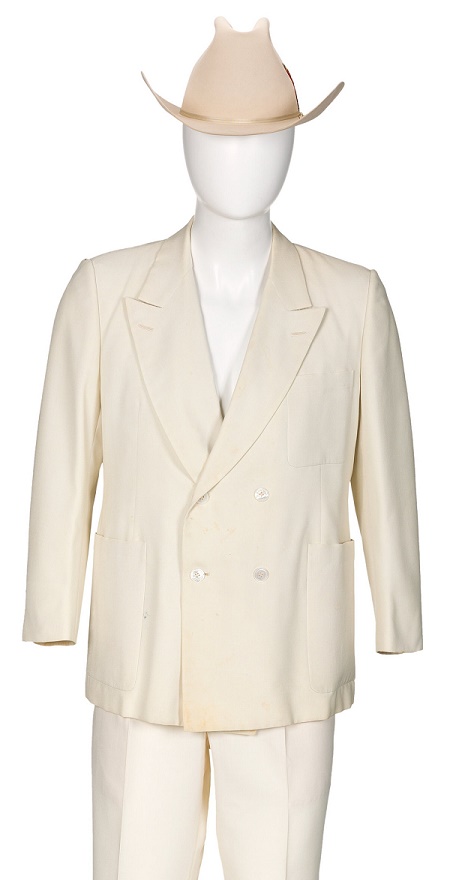 In an interview with WDRB.com, Miller recalled his years with the Colonel.
"I travelled a quarter of a million miles a year and saw a lot of KFC stores…even though he had me as a driver, there's times we walked out of the house up here, and he'd get in on the driver's side and buckle up, and he'd do the driving."
Miller also remembered Sanders rarely gave him time off during his decade of service.
"I got married, and he gave me that day off. He said, 'I'll see you tomorrow morning. I said, 'Well, I was going on a honeymoon.' He said, 'You have the rest of your life to consummate the marriage.'"
Miller is now selling his collection of memorabilia, which includes the famous white suit along with Sanders' Stetson hat, his personalised belt buckle, watch and driving license.
The suit was made for Sanders by Merton Chesher Limited in April 1979, and was worn until the following year when he passed away at the age of 90.
The lot also includes two spare pairs of matching pants and an ivory Stetson cowboy hat, with a multi-colored feather plume and a brown leather inner hatband gold-stamped 'Made by Stetson Especially for Colonel Sanders'.
Sanders was originally given the honorary title of Kentucky Colonel back in 1935, and for the rest of his life he cultivated his image as a traditional southern gentleman.
He rarely appeared in public without wearing one of his white suits, and over the years a small number of them have appeared at auction.
Most recently in 2017, another suit made for Sanders in the final year of his life sold at Julien's Auctions for $12,800.