The original engraved printing blocks used to print Alice in Wonderland will be offered for sale by Christie's in New York next month.
Having survived intact for more than 150 years, the rare relics of literary history could now fetch up to $30,000 when they cross the auction block on December 4.
Lewis Carroll's book is one of the best-loved works in all of children's literature, and the accompanying illustrations by John Tenniel are equally as famous.
The auction will include 49 copper-plated lead printing blocks featuring his illustrations of famous scenes such as the Mad Hatter's Tea Party, encounters with the Cheshire Cat, the Blue Caterpillar and the Mock Turtle, and her trial at the hands of the Queen of Hearts.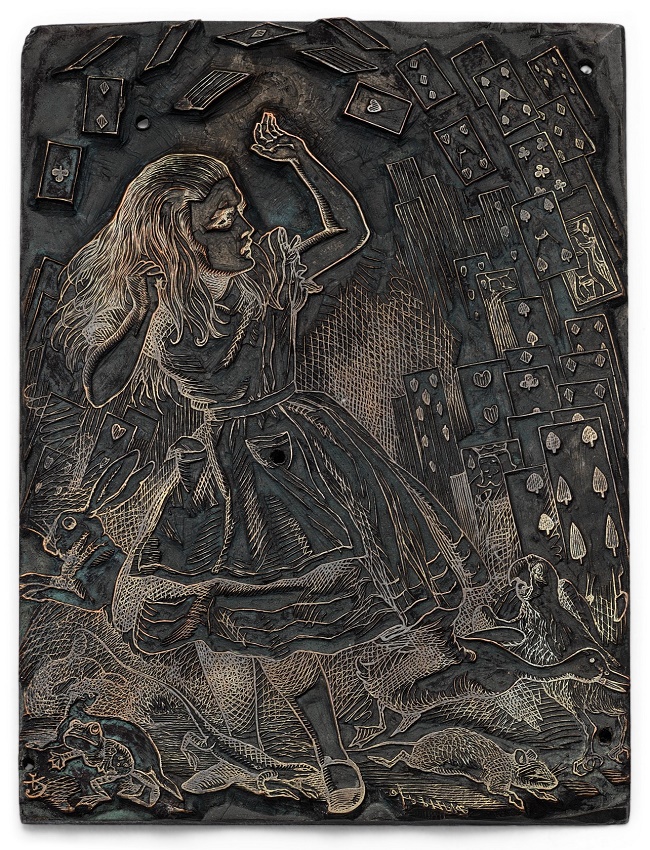 The printing blocks for Tenniel's illustrations were originally produced by The Brothers Dalziel, London's pre-eminent engraving business who also worked with artists such as Dante Gabriel Rossetti and James McNeill Whistler.
His drawings were delicately carved into wooden blocks, which were then coated in a thin copper plate using the electrolytic process to create the metal printing blocks.
These printing blocks were then passed to The Clarendon Press, which printed an initial run of 2,000 copies of the book for the publishers Macmillan & Co. of London.
However, when Tenniel saw the finished books he was mortified, and believed that his illustrations had been ruined by the printing process.
Lewis Carroll immediately asked Macmillan to withdraw the entire run, and asked all his friends to return the advance copies he had sent them as gifts.
His diary entry for 20 July 1865 reads: "Called on Macmillan, and showed him Tenniel's letter about the fairy-tale – he is entirely dissatisfied with the printing of the pictures, and I suppose we shall have to do it all again".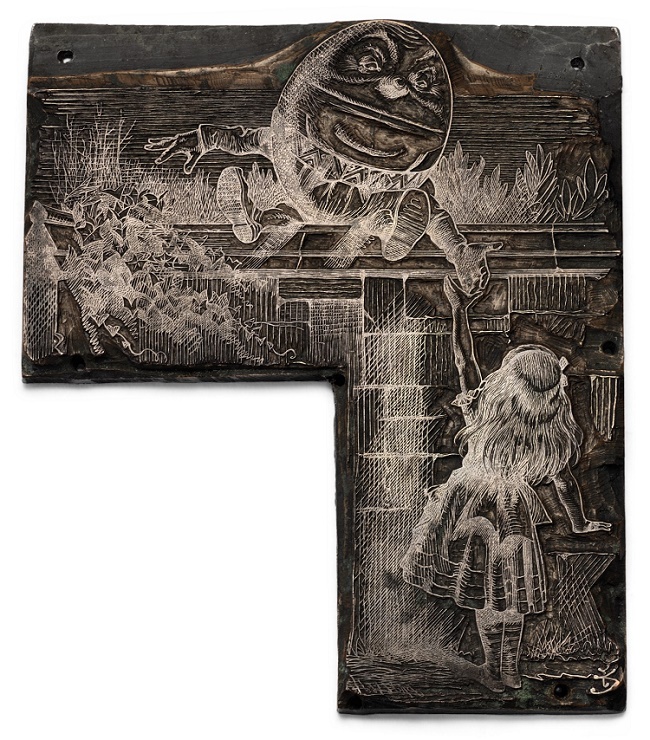 Following the first disastrous attempt, the same blocks were then given to printers R. Clay, Son, and Taylor, experts in working with electrotype blocks, and the second printing (first published) edition of the book was produced.
Having seen the new copies, Carroll wrote on 9 November 1865: "Received from Macmillan a copy of the new impression of Alice – very far superior to the old, and in fact a perfect piece of artistic printing".
For 136 years the printing blocks remained in the family collection of Donald William Barber, a former employee of R. Clay, Son, and Taylor. They last sold at auction at Christie's in 2011 for £30,550 (approx. $39,600).
Today 22 copies of that original first edition remain in existence. The majority are owned by libraries such as the New York Public Library, the Bodleian Library and the National Library of Scotland, with just five in private hands.
That true first edition has been described as "one of the rarest and most valuable books in English literature", and in 1998 a copy sold at Christie's in New York for $1.54 million.