A single signed photograph of Neil Armstrong on the Moon has sold for more than $90,000 at auction in the U.S.
The rare image, taken from NASA's original video footage, shows the moment Armstrong first stepped onto the lunar surface.
Just seconds after the image was captured, Armstrong uttered one of the most famous lines in human history.
The black and white photograph had been described "the pinnacle of Armstrong signed photos", and was estimated to achieve upwards of $12,000.
But when it hit the block at RR Auction in Boston this week, it soared to a final price of $91,450.
This is believed to be a world record price for a Neil Armstrong signed photograph.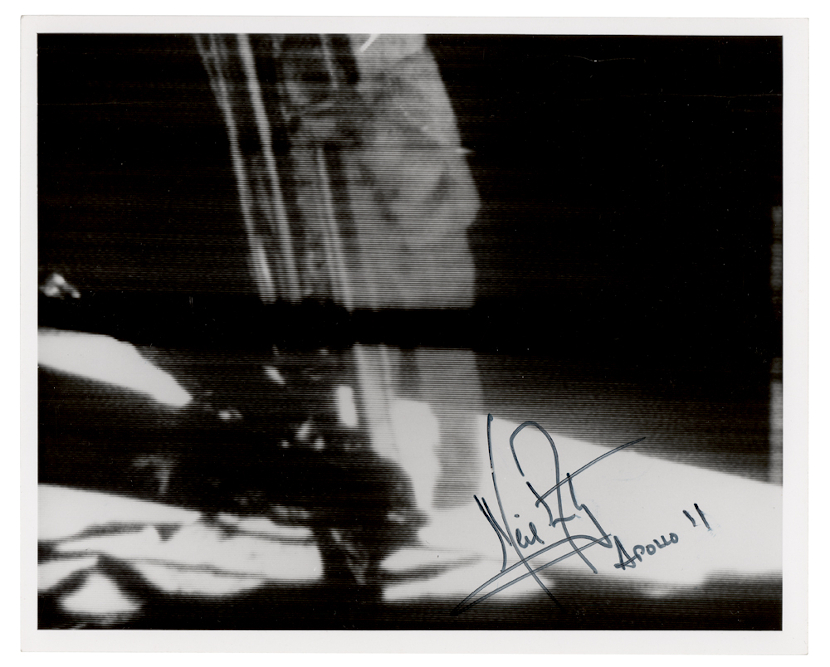 There are just a handful of images of Armstrong actually on the Moon, as he was responsible for taking photographs, and was therefore behind the camera.
This photograph was originally owned by the head of NASA's Jet Propulsion Lab in California, which was responsible for converting the black and white video footage of the Apollo 11 landing onto film.
In a remarkable coincidence, the technician's sister lived in the same neighbourhood as Armstrong and his wife in Bethesda, Maryland.
The technician was later introduced to Armstrong for the first time during a visit, during which he obtained the signature on the photograph.
Armstrong signed the photo without dedication and included the inscription "Apollo 11" – making it a highly rare and desirable example for collectors.
Armstrong famously stopped signing autographs altogether in the mid-1990s, increasing the rarity and value of pieces like this on the market.