NASA's original 'lost' video footage of the Apollo 11 moon landing is heading for auction at Sotheby's later this month, where it could sell for up to $2 million.
The sale in New York will offer three video tapes containing unaltered footage of the historic moment, beamed directly to NASA Mission Control from the lunar surface on July 20, 1969.
The tapes include Neil Armstrong's first steps and his iconic declaration "That's one small step for a man, one giant leap for mankind."; the crew's phone call from President Richard Nixon; and the planting of the American flag.
All original first-generation recordings of the mission were believed to have been lost or destroyed by NASA decades ago.
However, the three tapes had survived for more than 40 years in the collection of Gary George, who had purchased them by accident in a government surplus auction in 1973.
At the time George was a student serving an internship at the NASA Johnson Space Center, and he spent $217 on a job lot of over 1,000 reusable magnetic tapes with the idea to resell them at a profit to local TV stations.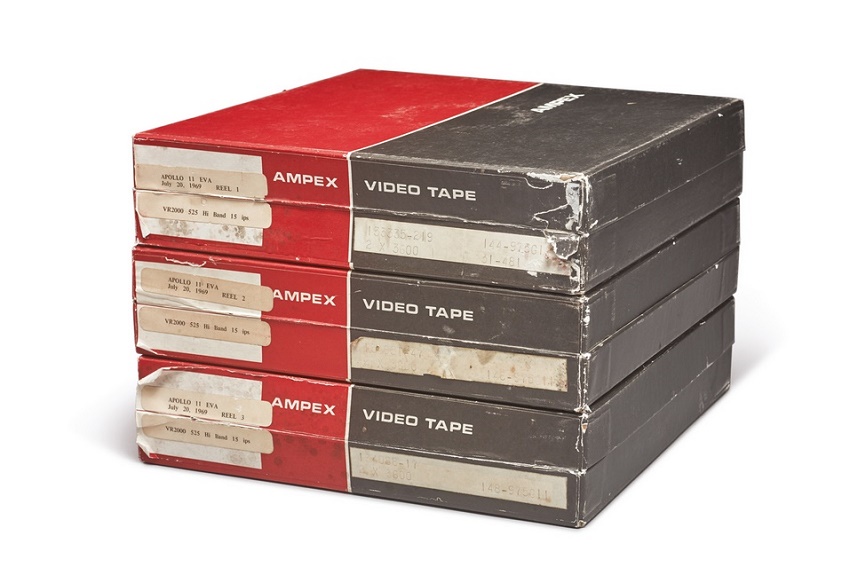 George had already sold some of the tapes, and donated others to his local church, before his father noticed three of them were labelled 'APOLLO 11 EVA | July 20, 1969 REEL 1 [–3]' and 'VR2000 525 Hi Band 15 ips.'
He suspected they could be important and set them aside, but then soon forgot about them, and they remained tucked away in his collection until 2008, as the world prepared for the 40th anniversary of the Apollo 11 mission.
NASA began a public search for any first generation recordings, after admitting their original tapes were lost; either recorded over during the intervening years, or destroyed due to poor storage conditions.
George quickly realized he may have been sitting on the original tapes without knowing – and he was right.
When he took them to a specialist and viewed them on vintage equipment for the first time, he became one of the few people in history to ever watch the moon landings in such high quality.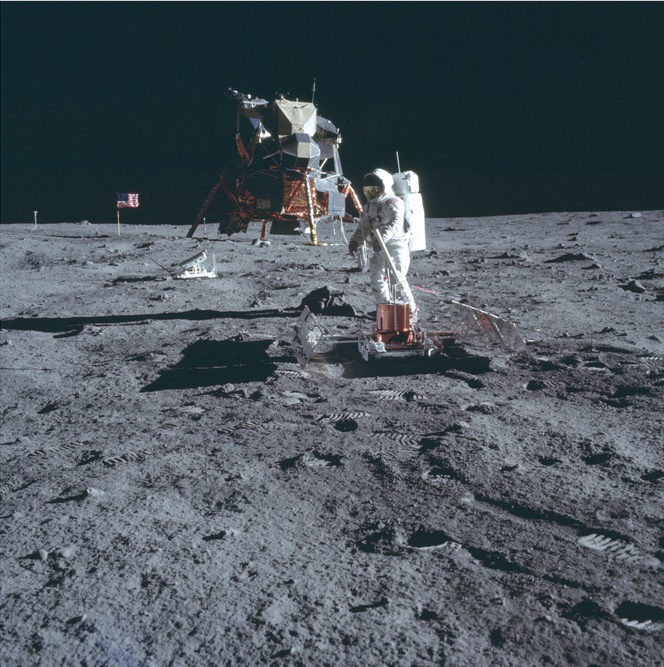 Previously, the only people who had seen the clean, unenhanced and unremastered raw footage were those at Mission Control, as it was recorded onto 45 reels of high quality SSTV (slow scan) videotape.
At the same time it was also converted to NTSC for network broadcast, and then recorded onto the reels of 2-inch Quadruplex videotape.
As the footage was bounced across the U.S using microwave transmission towers, the quality of the video and audio decreased with each generation.
Subsequent tapes recorded by TV stations lost the sharpness of the images and audio, meaning these original videos offer the highest quality recordings of the Apollo 11 moonwalk known to exist.
The tapes have now been digitized, and are expected to sell for $1 – $2 million when they hit the block as part of a sale celebrating the 50th anniversary of Apollo 11.
"The successful lunar landing of Apollo 11 captured the world's attention 50 years ago, uniting us in a collective belief in the unlimited potential of mankind," said Cassandra Hatton, Vice President & Senior Specialist in Sotheby's Books & Manuscripts Department.
"From neighbors gathered around a television set to the cosmonauts in Star City and the astronauts and engineers in Houston, this was a unique event in history that people from all walks remember with excitement and positivity.
"And what we universally recall about that event is best documented on these tapes – a glorious moment that united the people of earth in peace, as witnesses to mankind's greatest achievement."