When it comes to incredible auction discoveries, 2019 proved that rare and valuable treasures can turn up where you least expect them.
From garage sales to thrift store shelves, forgotten attics and farmer's fields, these nine tales show that it always pays to keep your eyes open for that collector's holy grail…
The 1000-year-old garage sale statue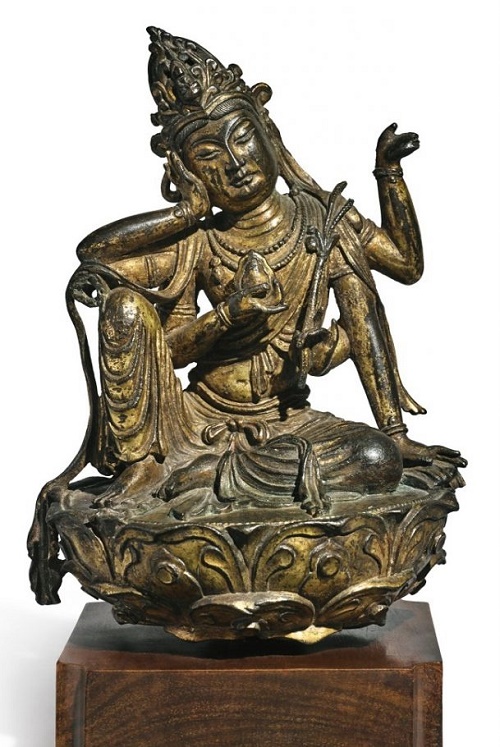 This ancient Chinese bronze statue first made headlines when it appeared on an episode of Antiques Roadshow.
The owner had originally picked it up at a Missouri garage sale for just $100, from the estate of a local collector – although she almost missed the purchase of a lifetime.
"There was a local person who was really a colourful character in Kirkwood, so I wanted to get to his garage sale…I almost didn't have time to acquire it as I was having 15 people for lunch," she told the PBS show back in 2018.
"I rushed out, and the dealers had been there for two days before so I thought that everything good would be gone, but when I saw this I thought it was so beautiful, I just grabbed it."
To her surprise, Roadshow expert Robert Waterhouse informed her that the statue was in fact a depiction of Chinese Buddhist deity Cintamanicakra Avalokiteshvara, and was around 1000 years old.
The quality suggested it had been made for the Imperial palace, during the reign of the Tang Dynasty or the Five Dynasties in the 10th century, and Waterhouse valued it at up to $100,000.
That valuation was stunning in itself, but what happened next was even more surprising.
In March 2019 the statue was offered for sale at Sotheby's in New York, where it sparked a seven-minute bidding war and soared to a final price of $2,060,000.
The baseball legend hidden inside a piano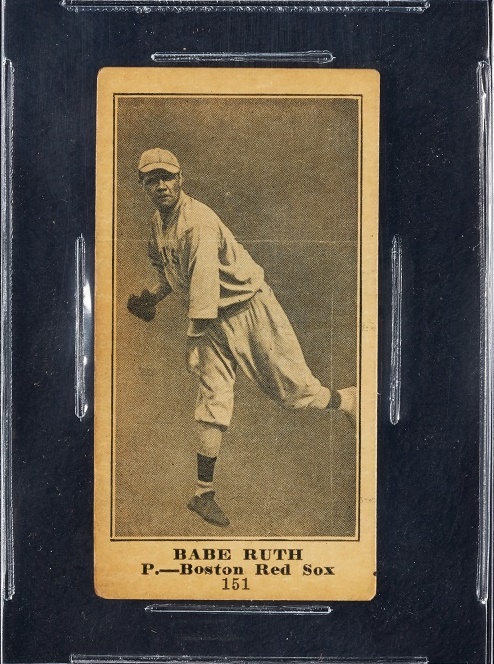 There can be few more significant baseball cards in existence than the Babe Ruth rookie card, printed in 1916 whilst he was still a young pitcher with the Boston Red Sox.
Collectors have hunted high and low for the cards over the years, but there was one place they never thought to look – inside Aunt Nora's antique piano.
Maryland woman Ellen Kelly had fond childhood memories of her aunt's piano, even though she was never allowed to play it, and when it went up for sale back in 1992 she snapped it up for $25.
When she got it home she realised one of the pedals was sticking, and when her friend came round to repair it he discovered a secret stash of 100 antique baseball cards, which appeared to have been stuck there for around 80 years.
It seemed either her father or her uncle had hidden the cards away from Nora, who was notorious for throwing out their toys, and then forgotten about them.
Kelly knew the cards had to be valuable, but she decided to sit on them for a while and stashed them away again – this time in a safety deposit box.
Finally in April 2019 she had the cards graded and placed them up for auction at Goodwin & Co., with the star lot undoubtedly the Babe Ruth rookie card.
And as a fresh-to-the-market find, complete with a unique back-story, the card almost doubled its estimate to sell for $130,000.
The Holy Grail of Harry Potter books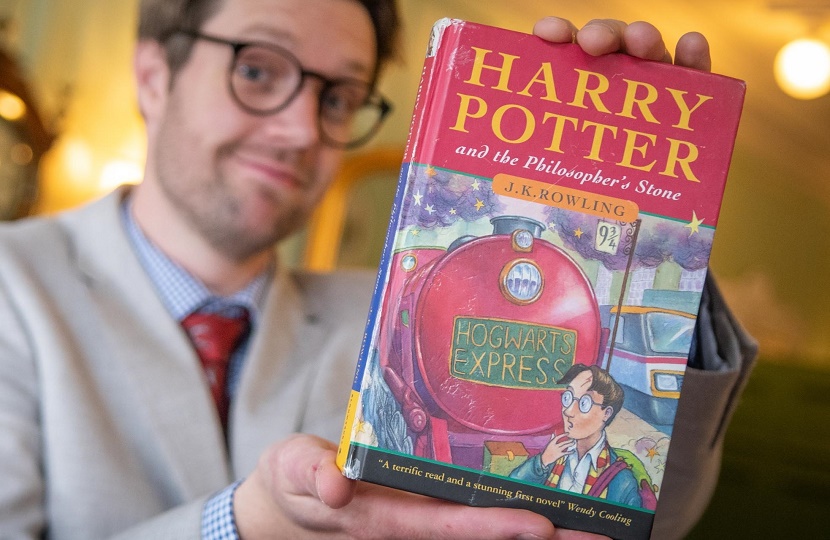 It may only be 22 years old, but Harry Potter and the Philosopher's Stone is already one of the world's most sought-after rare books.
When J.K Rowling's debut novel was released back in 1997, nobody could have foreseen that Harry Potter would become a cultural phenomenon – and spawn a franchise worth billions.
Bloomsbury printed just 500 copies of the first edition, with 200 copies sent out to bookstores and the rest sold to schools and libraries around the U.K.
One lucky consignor in the U.K managed to pick up an ex-library copy for just £1, although at the time he had no idea he was purchasing a future classic.
It was simply amongst a stack of second-hand books he bought to read on holiday, and upon his return he stashed it away in a cupboard where it remained hidden for the next 20 years.
"I found the book when I was called to a client's house near Stafford to value three boxes of books," said book expert Jim Spencer. "I was slightly caught in disbelief when I first saw it.
"There it was – the holy grail of Harry Potter books. I was so excited. Every book valuer dreams of finding one of these."
Even though it was slightly dog-eared, and still contained its original Staffordshire Library label, the rarity of the book meant a bidding war quickly ensued when it hit the block at Hanson's Auctioneers in July.
And when the hammer finally fell, that £1 investment had turned into a magical £34,200 ($41,350).
The metal detectorist who struck gold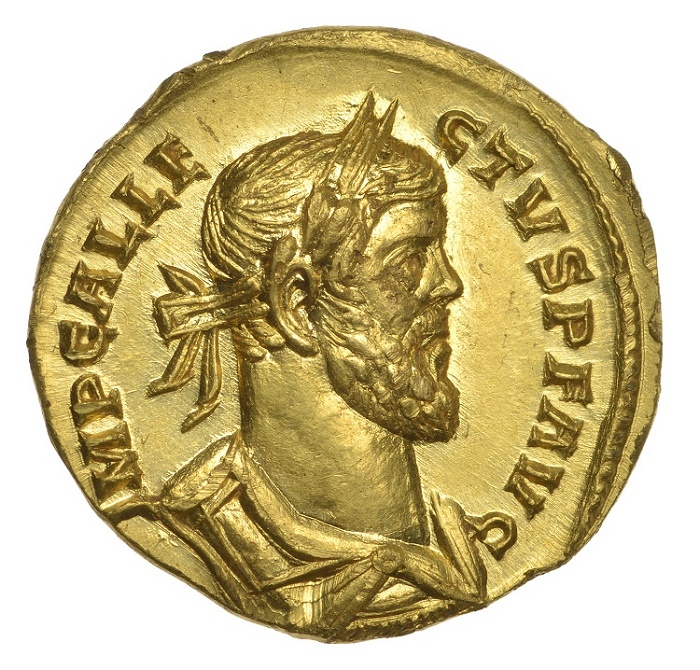 Every metal detectorist dreams of discovering a piece of history, but few are as fortunate as one British treasure hunter earlier this year.
The anonymous 30-year-old was searching in a farmer's field in Kent, near the site of an old Roman road, when he stumbled upon an ancient Roman coin buried in the mud.
However, he had no idea of its true significance until he cleaned it up and took it to experts at the British Museum.
They confirmed it was a gold coin known as an Aureus, bearing the image of Allectus – a politician who seized control of Britain and tried to liberate it from the Roman Empire.
He ruled for just three years, from AD 293-296, until Emperor Constantinus I sent troops to kill Allectus and reclaim the nation for himself.
Due to the brief nature of Allectus' reign, few coins were made featuring his likeness, and the gold Aureus was one of only 24 examples ever discovered.
The coin eventually sold at London auction house Dix Noonan Webb for £552,000 ($701,730), more than five times its high estimate, setting a record as the most valuable coin in the company's history.
"It is my greatest find by miles," said the detectorist after the sale in June 2019. "We expected it to sell for a little over estimate, but not five times the estimate! We are sharing the money with the farmer, who is also thrilled!"
The £1 Imperial Chinese treasure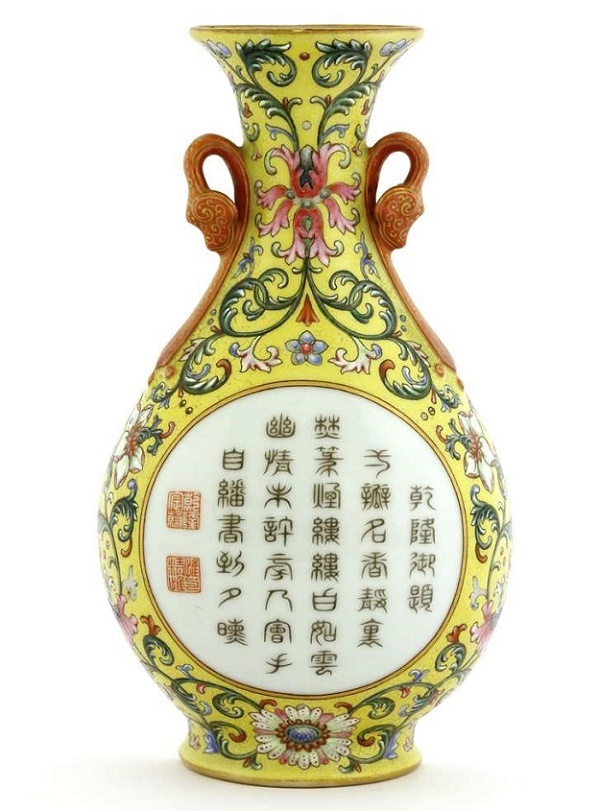 Canny collectors know that thrift stores can be a great hunting ground if you know what to look out for. And sometimes even if you don't.
The consignor of this tiny vase discovered it in a British charity store and bought it for £1, simply because he liked the design.
He had no idea about its true value or history until he listed it for sale on eBay with a low starting price, and was suddenly bombarded with offers from around the world.
Suspecting he could have found something special, he quickly withdrew it from the site and took it to British auction house Sworders for their expert opinion.
They revealed that the vase had originally been made for the Qianlong Emperor, who ruled China from 1735 until 1796, and featured his distinctive seal on the base.
The intricate floral pattern was also painted on a yellow background – a colour that was traditionally reserved for Chinese royalty.
Armed with this new information, the delighted consignor placed it up for sale again, this time with a revised valuation of up to £80,000.
But even that estimate paled into insignificance, as the vase sold to an international collector for a stunning £484,000 ($621,300).
"This has been the perfect auction story," said Sworders expert Yexue Li following the sale. "A bargain find, a culturally important and beautiful work of art and a life changing sum of money for the vendor. He is understandably ecstatic."
The lost Apollo 11 tapes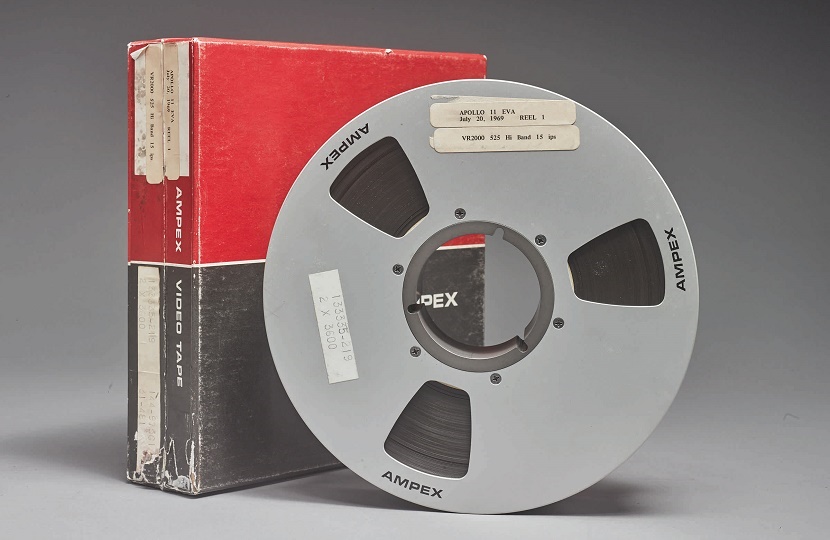 In 1973, teenage NASA intern Gary George purchased a job lot of video tapes at a government surplus auction for a grand total of $217.
He planned to turn a tidy profit by selling the reusable tapes to local TV stations, but kept three back after noticing they were labelled 'APOLLO 11 EVA | July 20, 1969 REEL 1 [–3]'.
However, he didn't have the equipment to play the tapes so he boxed them up and forgot about them for the next 35 years, until the 40th anniversary of the Apollo 11 mission in 2008.
When NASA revealed they no longer had their original video recordings of the moon landing in their archive, and made a public call for any first-generation footage, George took his tapes to experts and made a surprising discovery.
It turned out they were original copies of the entire Apollo 11 moon landing, featuring raw, unmastered footage including Neil Armstrong's first steps and the planting of the American flag.
It was the best quality footage of the historic moment in existence, previously seen only by members of NASA Mission Control as it was beamed back from the lunar surface on July 20, 1969.
Having digitized the footage, George put the original tapes up for auction at Sotheby's in July 2019, in a sale celebrating the 50th anniversary of Apollo 11, where they sold for $1.8 million.
The Norwegian warrior found in a drawer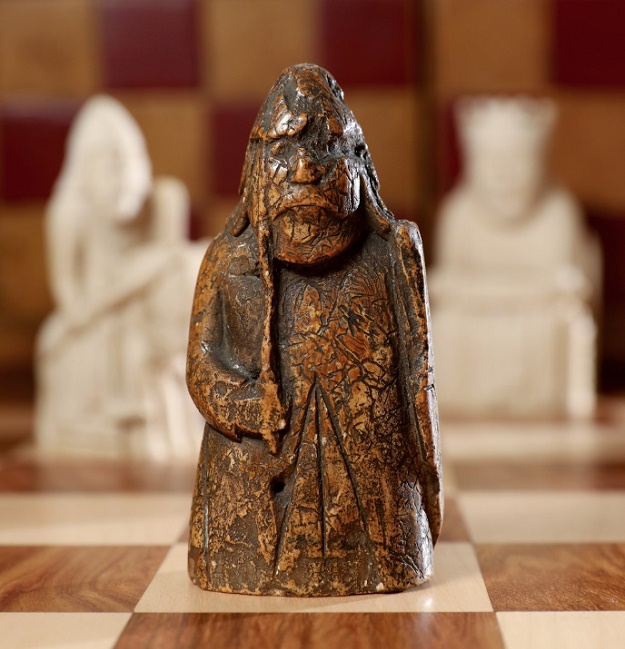 When an 800-year-old chess set carved from walrus tusks was found buried on a remote beach on the Isle of Skye, it became the most famous discovery in Scottish archaeological history.
That was back in 1831 – but even today, the Lewis Chessman Hoard can still make headlines.
The set was made in Norway between 1150 and 1200, and was likely hidden for safekeeping by a wealthy merchant travelling on the trade route to Ireland.
The set consisted of 93 pieces, with the majority now owned by the British Museum, and a further five missing pieces considered lost forever.
But earlier this year, Sotheby's expert Alexander Kader was stunned when one of them appeared in front of him during a routine valuation day.
"This is one of the most exciting and personal rediscoveries to have been made during my career," he later remarked.
For more than 50 years the intricately carved warrior figure had been owned by the family of a Scottish antique dealer, who had acquired back in 1964 without suspecting it was part of the famous Lewis hoard, and had later passed it down to his daughter.
"My mother was very fond of the chessman as she admired its intricacy and quirkiness," said the consignor. "She believed that it was special and thought perhaps it could even have had some magical significance.
"For many years it resided in a drawer in her home where it had been carefully wrapped in a small bag. From time to time, she would remove the chess piece from the drawer in order to appreciate its uniqueness."
Having been treasured for decades, the lost figure went up for sale at Sotheby's in July where it sold for £735,000 ($928,380) – providing another fascinating chapter in the story of the Lewis Chessman Hoard.
The Renaissance masterpiece in the kitchen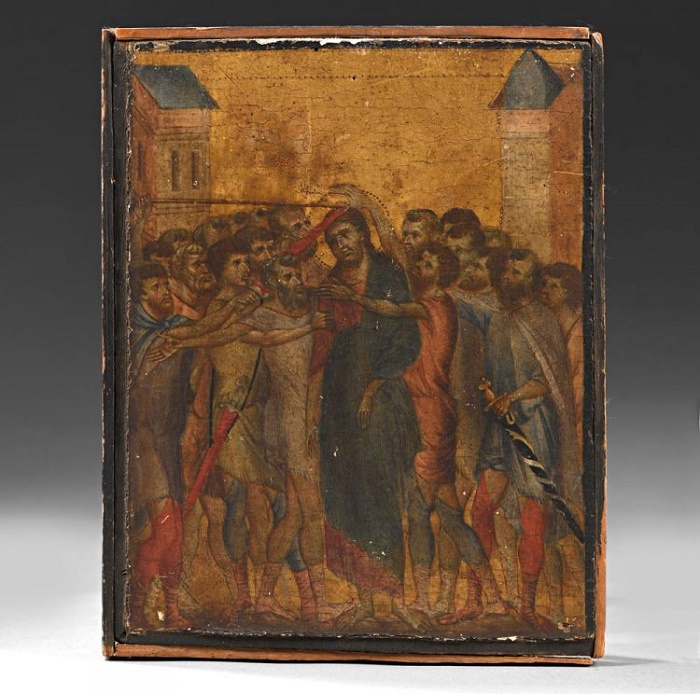 When French auctioneer Philomène Wolf was called out to a home on the outskirts of Paris earlier this year, she wasn't expecting much.
The small 1960s house belonged to a woman in her nineties and the contents were destined for the scrap heap, but when she arrived something caught her eye.
The tiny wooden painting was hanging on a kitchen wall above the stove, where it had remained for decades. The owner couldn't remember where it had come from, but she assumed it was a worthless Russian religious icon that had passed down through the family.
Wolf instantly saw the quality of the painting, but turned to Renaissance art expert Eric Turquin for help, and what they discovered sent shockwaves through the art world.
The small wooden panel was in fact the work of Italian painter Cimabue (c.1240 – 1302), a highly important artist described by historians as "the father of the Renaissance".
Just 11 works by Cimabue were known to have survived. And Wolf had discovered number 12.
The panel was titled 'Christ Mocked', and was part of a larger work originally painted circa 1280. Another panel was owned by the National Gallery in London, and experts had spent centuries searching for the missing pieces.
Paintings by Cimabue were so rare that none had ever appeared at auction before, so when it came time to value the work the Actéon auction house in Paris conservatively estimated it at €4 – €6 million.
But as the only Cimabue work in private hands, and the only one ever likely to be offered for sale, the painting caused an international bidding war and sold for €24.2 million ($26.85 million) – making it the world's most expensive medieval artwork.
The Caravaggio in the attic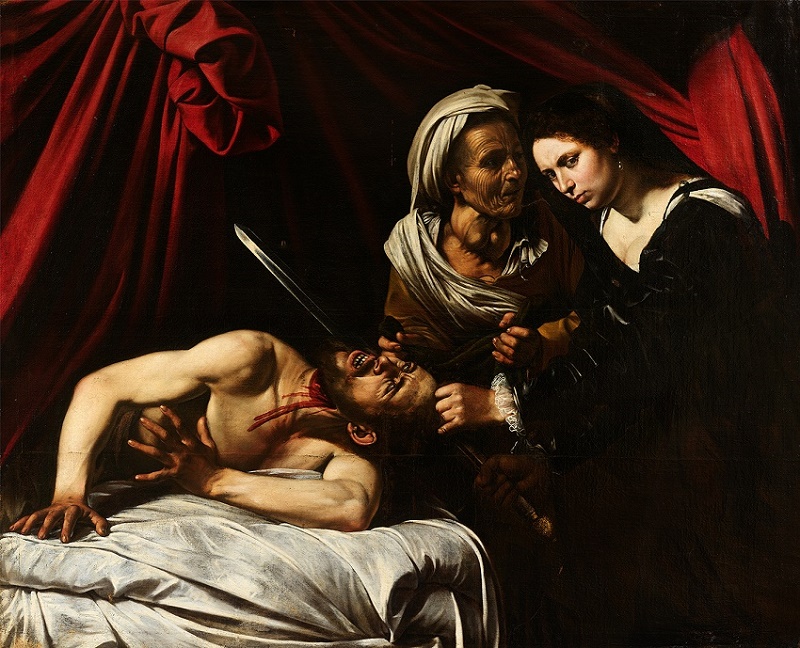 What's in your attic?
For most people it's a place to stash Christmas decorations, high school yearbooks, childhood toys and unused exercise equipment.
What you probably don't have is a gigantic 'lost' painting by one of the most important figures in the history of art.
In 2014 French auctioneer Marc Labarbe was called to help clear an old farmhouse in Toulouse, packed to the rafters with old furniture and antiques.
When he was done, all that was left was a huge oil painting beneath a blanket in the attic, covered with a century of dust. Years earlier, thieves had robbed the house and taken valuable pieces from the attic – but even they hadn't bothered with the painting.
However Labarbe had a feeling about the work, so he cleaned up a small portion of the canvas and sent the photos to art expert Eric Turquin (it's been a busy year for him!).
"They called me and told me a bombshell had arrived in the office," recalled Turquin. "Then and there I knew that I was going to see a very important painting."
What they had discovered was an original work by the Italian Baroque artist Caravaggio, considered one of the fathers of modern painting.
The work, entitled 'Judith and Holofernes', was dated circa 1607 and depicted a brutal and bloody Biblical scene – Caravaggio's speciality.
The painting had been missing since the late 17th century, and nobody knew how it had ended up hidden beneath a water-stained blanket in a French farmhouse. But there it was.
"There are only 65 of his paintings in the world, and I found the 66th painting in an attic," Labarbe told CNN. "It's incredible, but it's true."
The pair spent the next five years researching, authenticating and restoring the painting, before revealing its existence to the public in March 2019.
Only two paintings by Caravaggio remain in private hands, and only one had ever been publically offered for sale. So when 'Judith and Holofernes' was placed up for auction it was big news, and had an estimate to match – $170 million.
In the end the painting never made it to the auction block. One anonymous private collector was so eager to own the work that they snapped it up for an undisclosed sum, before bidding even began.
"For an auctioneer to find a painting such as this one is fabulous," Labarbe said later. "When my son was small I used to tell him the story of Caravaggio, because when I was a student [he] was an artist I felt passionate about.
"It is for this reason you do your work studying artists, studying Caravaggio, and you find a Caravaggio: what could be greater than that in the career of an auctioneer? Nothing… nothing at all."