A rare Babe Ruth baseball card has sold for more than $100,000, after it was discovered hidden inside an antique piano.
The 1916 Babe Ruth M101-4 rookie card sold at Goodwin & Co on Friday (April 26) for $130,000 (including 20% buyer's premium).
The card depicted Ruth enjoying his first MLB season as a young pitcher for the Boston Red Sox, years before his transformation into the big-hitting home run king of the New York Yankees.
"Ruth defies description, entering the game was one of the most dominant pitchers of his era and leaving it as the greatest slugger the world has ever known," said Goodwin & Co in their lot description.
"If ever a museum-worth sports antiquity existed, it would be Ruth's major league rookie card."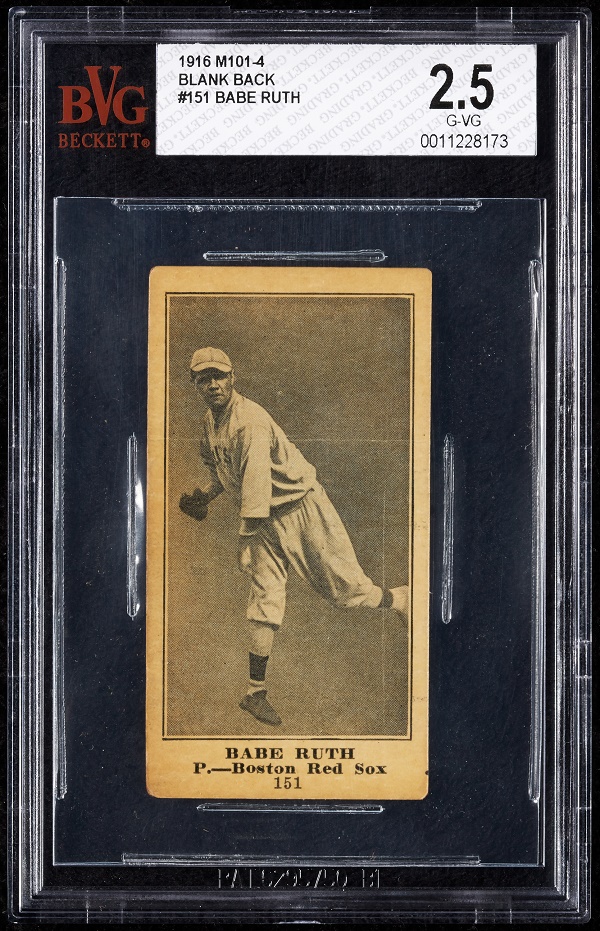 The Ruth rookie card was amongst a stash of 100 baseball cards discovered by Maryland woman Ellen Kelly, tucked beneath the pedal of an antique player piano.
According to reports, the piano had once belonged to her aunt and had passed down through her family until Kelly purchased it for $25 at an estate sale in 1992.
She noticed that the pedal was sticking, and when a friend came to help repair it they discovered the cards carefully hidden inside.
Kelly suspected the cards had once belonged to her father or her uncle, and had been carefully concealed inside the piano for around 80 years.
"They had to hide the cards because my aunt threw everything out," she said in an interview with Sports Collectors Daily.
But having found the cards, including the highly valuable Ruth rookie card, she decided to stash them away for herself – but this time in a safety deposit box.
Then in early 2019, after more than 25 years, Kelly finally decided to sell the collection and enlisted the services of Beckett Grading to certify the cards.
"Different people had offered to do it before for me, but it didn't feel right," Kelly said. "Someone offered me $40,000 for the Babe Ruth card and I thought, 'That's Babe Ruth, he's worth more than that.'"
And she was right. Due to its dusty condition, and a print line across Ruth's chest, the company graded the card BVG 2.5 and valued it at $60,000 – $75,000.
But the rarity of the card, Ruth's iconic status, and the unique story of its discovery helped it soar to an even higher final price.
"Even after 20 years of being a professional card grader, my biggest thrill is helping to bring newly discovered collections to the hobby," said Andy Broome, Senior Vintage Card Grader at Beckett.
"From the T206 Honus Wagner card that once resided under someone's bed in a sandwich bag to this collection of 1916 M101-4 cards that was discovered inside a piano, the story is part of the fun and excitement of authenticating and grading original collections.
"To know that a monumental card such as this 'Piano' Ruth Rookie Card is 'fresh' and not previously seen in decades is appealing to collectors and investors alike."