A metal detectorist in Britain has struck it lucky, after discovering a remarkably preserved gold Roman coin worth more than £10,000.
According to reports, the lucky treasure hunter was using a second-hand metal detector when he discovered the coin in a farmer's field near the village of Wanstrow, Somerset.
Despite being buried for over 1,700 years, the solid gold coin had survived in almost perfect condition, and now looks set to fetch £10,000 – £12,000 when it goes up for auction in London on September 17.
According to Nigel Mills, Antiquities specialist at the auction house Dix Noonan Webb, the coin is the first of its kind ever discovered in Britain, and the first to hit the auction block in many years.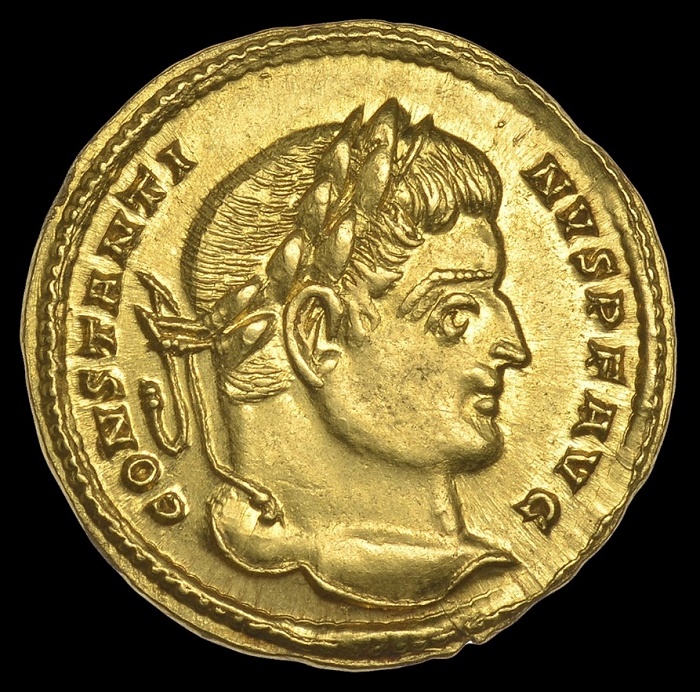 The detectorist found the coin near the site of an old Roman road used to transport mined lead ore, during his first time hunting in the field.
His initial sweep turned up some lead ore and a Roman brooch, but during a more careful probe of an unnaturally shaped area he found the gold coin, buried around 12″ below the surface.
The coin is a Solidus bearing the image of Constantine I, also known as Constantine the Great, the first Roman Emperor to convert to Christianity.
Having risen through the ranks as a military leader, he assumed the role of Ceasar in 306 AD following the death of his father, the Western Emperor Constantius I.
He later fought two civil wars against rivals Maxentius and Licinius before being crowned sole Emperor of the Roman Empire in AD 324, and ruled until
During his reign Constantine declared religious tolerance for Christianity in the Roman empire, established the new capital Constantinople in 330, and introduced the Solidus, which became the standard for European coinage for over 1,000 years.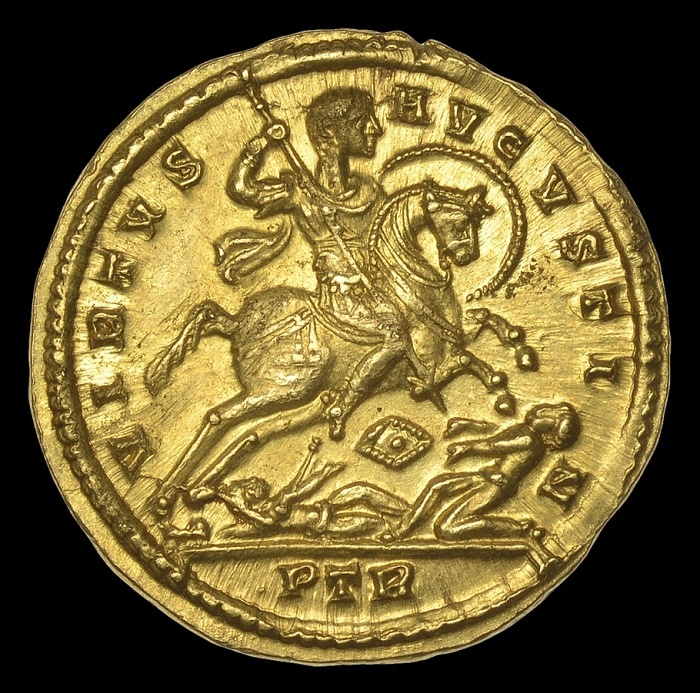 Constantine introduced the Solidus in AD 312 as a replacement for the Aureus, in an effort to combat widespread inflation.
The example currently offered at Dix Noonan Webb was minted circa 313-5, and bears a laureate portrait of the emperor on the obverse.
The reverse of the coin includes a highly rare depiction of Constantine riding his horse into battle, holding a spear and shield with two fallen enemy soldiers below him.
The portrait commemorates his victory over the Maxentius at Milvian bridge near Rome in October AD 312, which helped him solidify his position as Emperor.
The battle was the first time Constantine had flown a military standard featuring the Christogram – the first two letters in Greek for Christ "XP" – marking a significant turning point for Christianity in the Roman Empire.
According to Mr Mills, a similar example on display at the British Museum has a slightly different, more common design on the reverse – making the coin a truly rare and significant find.
Following the discovery it was recorded on the U.K portable antiquities database, and the proceeds will now be shared between the detectorist and the farmer.