A unique pair of guns carved from a 4.5 billion year-old meteorite will be offered for sale at Heritage Auctions later this month.
The set of remarkable 'space' pistols will cross the block as part of the Nature and Science Signature Auction in Dallas on July 20.
The two Model 1911-type pistols were created by noted gunsmith Lou Biondo of Business End Customs, using a large section of the Muonionalusta iron meteorite.
The Muonionalusta is the world's oldest-known meteorite, and is thought to originate from the iron core of a planetoid some 4.5 billion years ago.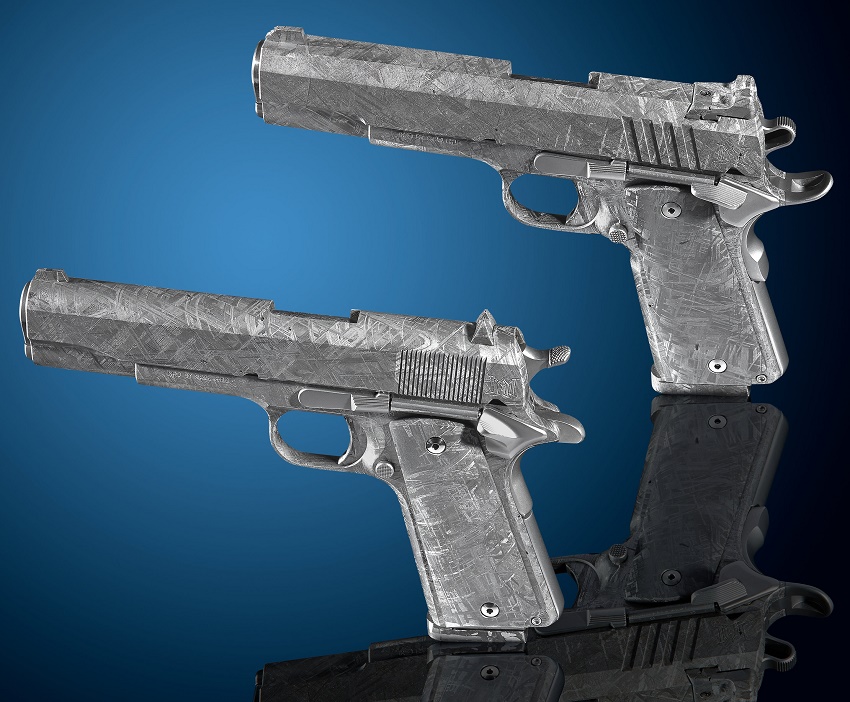 It fell to Earth approximately 1 million years ago in northern Scandinavia, shattering into dozens of large fragments as it passed through the atmosphere.
The first piece of the meteorite was found in 1906 near the village of Kitkiöjärvi in Sweden, and today around 40 sections have been recovered.
The guns are characterized by their striking Widmanstätten patterns, formed naturally by long nickel-iron crystals found in the octahedrite iron meteorites.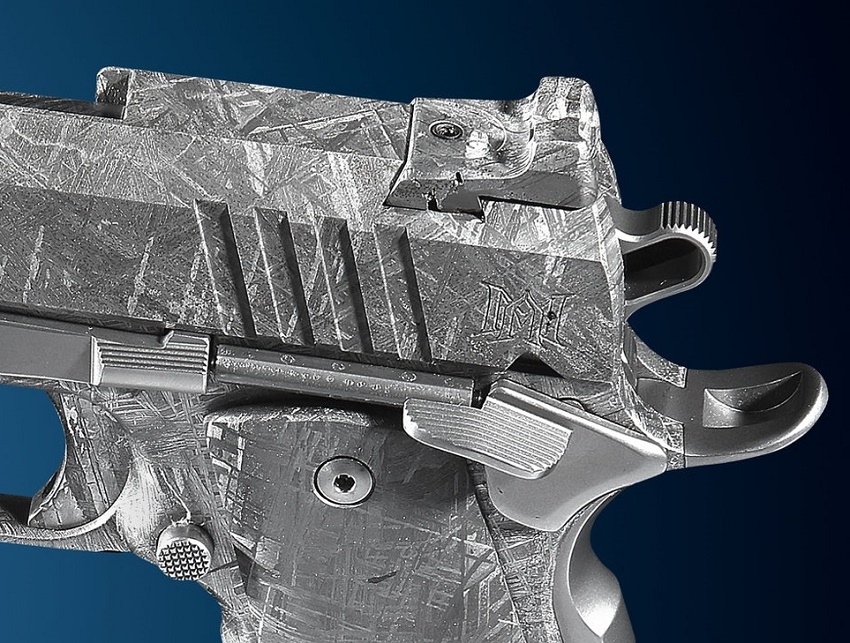 The two guns are modelled after the famous Colt 1911 Pistol; the first is a GI version with a standard slide grip safety, and the second is a Custom version with a beaver-tail grip safety.
Not only do they look out of this world, but the pistols are both fully working firearms capable of firing .45 caliber bullets, and have each been test-fired 35 times.
They may sound like something out of a comic book or sci-fi movie, but in fact mankind has been making weapons from meteorites since around 3,000 B.C.
During the Bronze Age, before humans were capable of iron production, meteorite iron was highly prized and used for making valuable swords and daggers.
Most famously, a dagger crafted from an iron meteorite was discovered buried in the tomb of the Egyptian King Tutankhamun, suggesting these weapons were rare treasures reserved for the wealthy and powerful.
And whilst you won't need to be a member of Egyptian royalty to own this one-of-a-kind pair of meteorite guns, you will need some serious cash – as they come with a pre-sale estimate of $1 – $1.5 million.