The original artwork for 'Master Race', regarded as one of the most important comic book stories of all-time, has sold for $600,000 at Heritage Auctions.
Published in 1955, the EC Comics story was the first comic book tale to seriously tackle the subject of The Holocaust, and has been described as the "Citizen Kane" of comic books.
Master Race tells the story of a traumatised Holocaust survivor who, years later on the New York subway, encounters a sinister figure from his days at the Belsen concentration camp.
The story was written by Bill Gaines and Al Feldstein, and features the groundbreaking artwork of Bernie Krigstein, along with a classic twist ending which characterizes all EC Comics stories.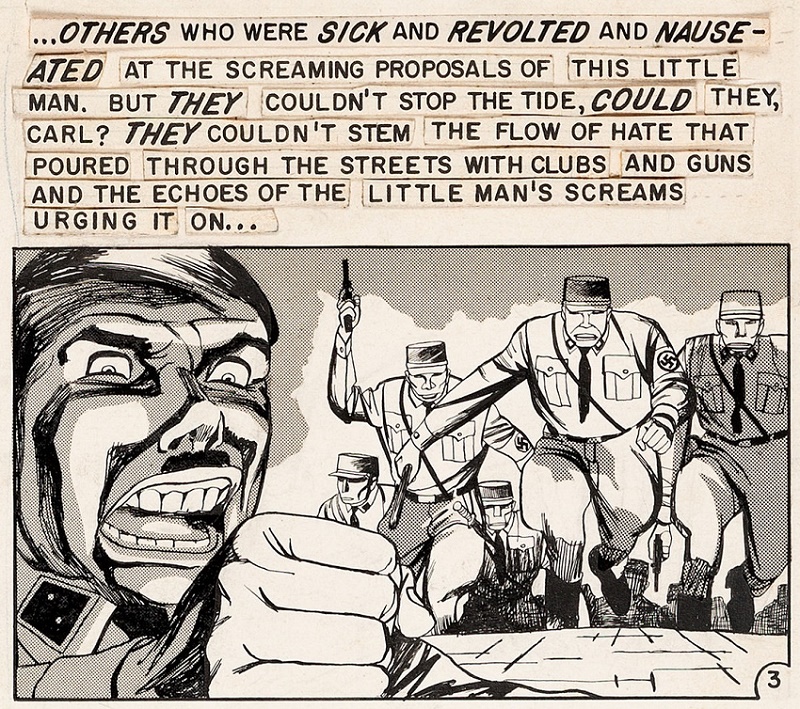 The eight pages of Krigstein's original artwork were offered at Heritage on November 15-17, as part of the company's Comic and Comic Art Signature Auction in Dallas, Texas.
The winning bid of $600,000 was placed by the Boon Foundation for Narrative Graphic Arts, an organization founded in Belgium in 2018 to preserve and honour the history of comic strips and graphic novels.
The story will now take pride of place in the foundation's collection, which includes thousands of artworks and artifacts, and will soon find a permanent home in Brussels before touring in a global exhibition.
"These eight pages date from 1955 and were the first major representation of the Holocaust in the history of graphic narrative," said Daniel Spindler, a representative of the Boon Foundation. "Master Race is one of the world masterworks of graphic narrative."
"The foundation's mission statement to 'share, enthrall and preserve' matches Heritage Auctions' mission perfectly," added Jim Halperin, Co-Founder of Heritage Auctions. "We're thrilled that this artwork, for one of the most critically acclaimed comic stories of all time, will tour the world on public display."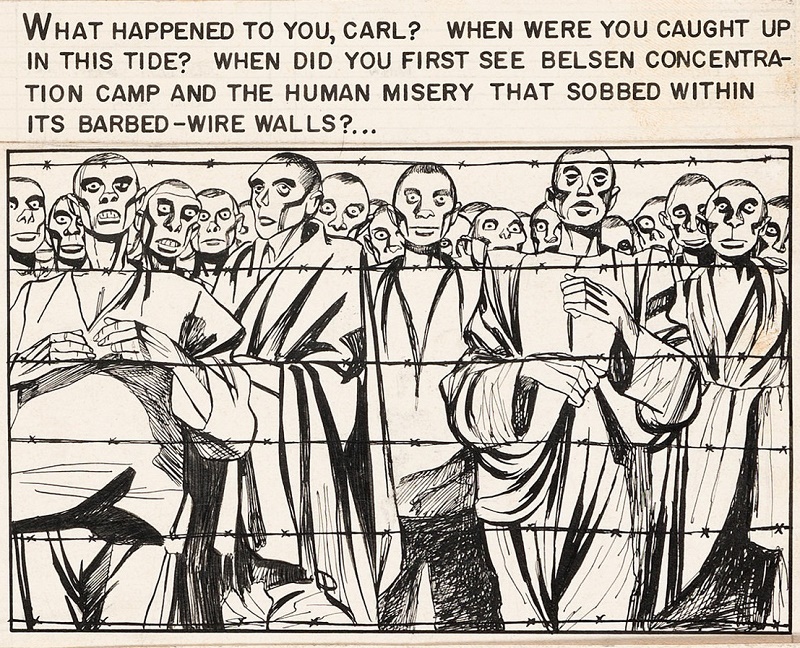 'Master Race' was originally published as the cover story of Impact #1, a short-lived title in EC Comics' New Directions line which ran for just five issues.
EC Comics had developed a reputation for lurid and gory tales of horror and suspense, but when the Comics Code Authority (CCA) was formed in 1954 the publishers were forced to tone down their stories.
However, the horrors of Nazi concentration camps were graphically depicted within the story and would have proven shocking to a U.S audience in any medium, let alone a mere comic book.
Gaines, Feldstein and Krigstein were all American Jews, and used the full force of their creative powers to tell some hard truths to readers still struggling to understand the realities of the Holocaust.
More than 60 years on, 'Master Race' continues to influence generations of comic book storytellers, including Dave Gibbon's landmark Watchmen series, and was recently described by Sandman creator Neil Gaiman as "one of the most important stories in the history of comics and the history of the art of comics…"