A tiny Caterpillar pin with a remarkable backstory stunned auctioneers in the U.K recently, selling for more than five times its estimate.
The gold pin set with amethyst eyes measured just 2cm long, but achieved an impressive price of $4,125 (£3,226) at Lockdale's Auctioneers on November 18.
It had originally belonged to Bram Van der Stok, the most decorated aviator in Dutch history, whose life story could have been taken straight from the pages of an adventure novel.
The pin was a membership badge for the Caterpillar Club, a club established in 1922 for aviators whose lives have been saved by parachutes after bailing out of their stricken airplanes.
Other famous members of the exclusive club include renowned aviator Charles Lindberg and the Mercury Seven astronaut John Glenn.
"These pins are impossible to fake," said auctioneer Simon Elmy. "When we first saw it we could hardly believe it, and it's been exciting to have the opportunity to sell it."
Bram Van der Stok earned his badge in April 1942, when his Spitfire was shot down by German forces over occupied North France. His parachute saved his life – but his story was just beginning.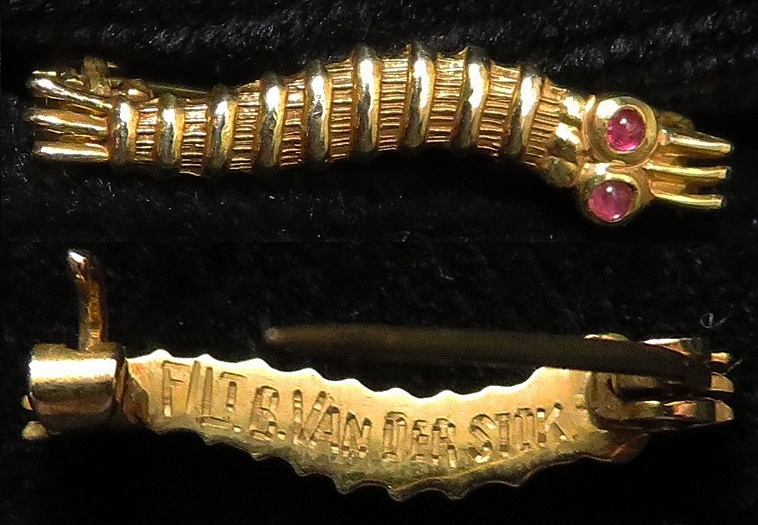 Having been captured by the enemy, he was then transferred to the infamous Stalag Luft III POW Camp in Poland, where he took part in the most famous escape plot of WWII.
Van der Stok was one of only three men who successfully escaped from Stalag Luft III during 'The Great Escape', a plan hatched by Allied POWs in March 1944.
The ambitious plan saw 76 prisoners escape from the camp through a series of secret tunnels, but 73 were quickly recaptured and 50 men were later executed under the personal orders of Adolf Hitler.
The amazing story was later immortalized (with a lot of Hollywood gloss) in the classic 1963 film starring Steve McQueen.
Van der Stok was the 18th man to emerge from the tunnel during the escape, and managed to make his way to safety in Britain during an incredible journey which took him via Germany, the Netherlands, Belgium, France, the Pyrenees mountains, Spain and Gibraltar.
Throughout his journey he was assisted by members of the Dutch Underground and the French resistance, and used fake paperwork to fool his way past numerous German checkpoints.
Upon reaching Britain, Van der Stok immediately joined the RAF and went back to flying Spitfires in the fight against the Nazis.
He survived the rest of the war, and then qualified as a doctor before emigrating to the U.S in the 1950s, where he worked for NASA's space lab research team in Huntsville, Alabama.
He ended his days as a doctor in Honolulu, where he also worked with the U.S. Coast Guard Auxiliary and took part in 162 rescues, before passing away in 1993 at the age of 77.
It isn't the first time Lockdale's Auctioneers have offered a rare piece of 20th century history for sale. Just last month the company sold a rare bronze death mask of the Soviet dictator Joseph Stalin for $14,000 (£11,000), more than doubling its top estimate.