A Keith Haring mural described as the artist's "best kept secret" could sell for up to $5 million when it goes up for auction at Bonhams next month.
The Grace House Mural originates from the walls of a former Catholic youth center in New York, and is the first Keith Haring public mural ever offered at auction.
Originally painted circa 1983/84, the mural features 13 figures in Haring's iconic style which have been carefully removed by owners the Ascension Church, as the building awaits sale and likely renovation work.
Together they will cross the block as part of the Bonhams Post War and Contemporary Art sale in New York on November, with an estimate of $3.5 – $5 million.
"Keith Haring's Grace House Mural encapsulates a classic New York story by the ultimate New York artist," said Bruno Vinciguerra, Bonhams Executive Chairman.
"Haring's ingenuity and spontaneity shine through this astonishing monumental work. Its history and its composition make it one of the most exciting lots to come on to the market this year."
The origins of the mural began at the famous Paradise Garage nightclub, where Haring formed a close friendship with Benny Soto and David Almodovar, members of the Catholic Youth Organisation.
The pair asked Haring if he would create a mural for the youth center they attended, and he arrived one night during a session to paint the mural in front of stunned onlookers.
"He had a can of black paint in his hand and a black, kind of a thick brush, and he just started with that radiant baby on the first floor and then just worked his way up," former youth center Director Gary Mallon told The New York Times.
"We followed him, and I remember saying, 'Ooh, it's dripping,' and he said, 'That's OK. It's supposed to drip.'
Without working from a plan, Haring spontaneously painted a series of figures including dancing people and a barking dog, which are all synonymous with his work.
"When new kids came to that building and they saw all that stuff, they said, 'Oh my god, this is Keith Haring. Is this real?'" said Mallon.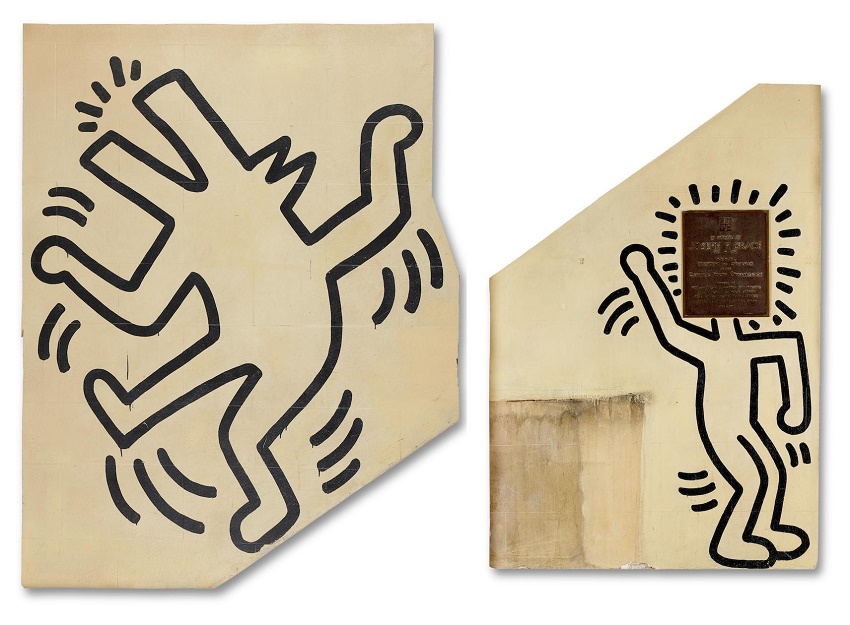 Throughout his life Haring painted 45 public murals around the world, with many created for charities, hospitals, orphanages and day care centres.
Today there are less that 20 known to survive, with the majority having been painted over or destroyed during urban redevelopment.
"The Grace House Mural not only reveals Keith Haring's innate humanity, but also the strong charitable commitment in his art and his dedication to young people," said Rev. Daniel S. Kearney, Pastor of Ascension Church which owns the building.
The 85ft-long mural remained intact for 35 years, and has been described as "one of Haring's least-known, best-hidden treasures".
But with the youth center now up for sale and the thought that the building would be gutted for redevelopment, the Ascension Church made the decision to have it safely removed and professionally conserved for future generations.
It will now be sold to raise funds for vital church projects within the parish, offering collectors the first chance to own a Keith Haring mural straight from the heart of New York where he made his name.