An original "Keep Calm and Carry On" poster was amongst the top lots of Swann Auction Galleries' recent sale in New York.
The famous British WWII propaganda poster sold for $12,500, as part of an auction of rare posters on August 1.
The "Keep Calm and Carry On" poster is now one of the world's most famous poster designs, and has been the subject of countless reproductions, memes and parodies.
It was originally produced by the Ministry of Information in the summer of 1939, as part of a series which also included two further designs: "Your Courage, Your Cheerfulness, Your Resolution Will Bring Us Victory" and "Freedom Is in Peril. Defend It With All Your Might".
The posters were printed on 23 August, the same day that Nazi Germany signed the Molotov–Ribbentrop Pact with the USSR, and were ready to go up around the nation as soon as war was declared on September 3.
It's estimated that 2,500,000 copies of the "Keep Calm and Carry On" poster were printed in 12 different sizes, although they were kept in storage to be used only in the event of a major incident, such as a serious air raid or the invasion of Britain.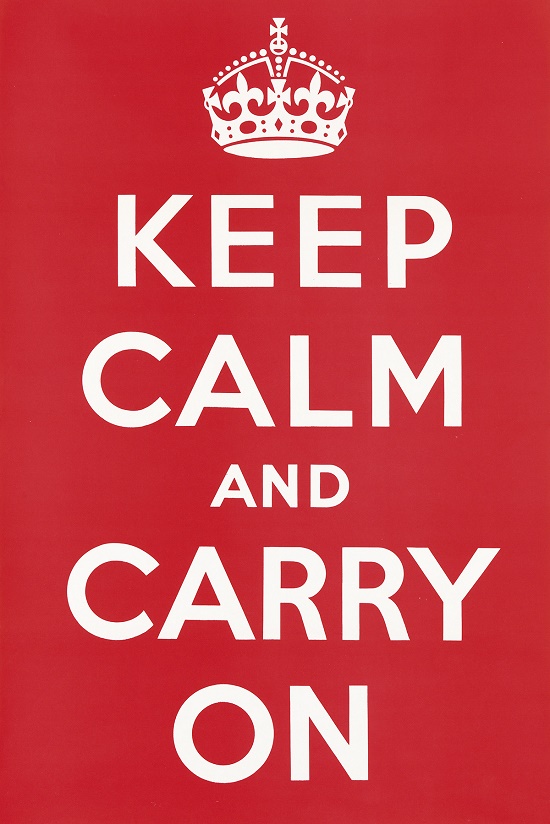 The example sold at Swann Auction Galleries was one of the 30″ x 20″ format posters, which original documents show was printed in a run of 496,500 copies.
Today the slogan is celebrated as an example of British stoicism in the face of adversity – but back in 1939 the posters were hated by the public, who saw them as patronizing and demeaning.
By October 1939 the entire project had been cancelled, and almost all the "Keep Calm and Carry On" posters were pulped in April 1940 without being used.
The existence of the poster remained virtually unknown to modern experts until 2000, when a single surviving copy was discovered by British bookshop owners Stuart and Mary Manley.
Having found the poster folded amongst a collection of second-hand books, they framed it and hung it in their shop, where it attracted attention from customers and inspired a short print run of reproductions.
Other companies soon followed suit, and today the phrase can be found on everything from T-shirts to tote bags, along with endless parodies such as "Keep Calm and Drink Gin" and "Keep Calm and Call Batman".
Today the exact number of surviving original examples is unknown. Until 2012 it was though that just two copies remained in existence, before a collection of 12 posters turned up on an episode of the U.K Antiques Roadshow.
The few originals to have appeared on the open market in recent years have fetched between $10,000 to $20,000 at auction – and with the poster now regarded as a 20th century design classic, it's likely that they'll remain sought after by collectors for decades to come.