An original NBA score sheet from Kobe Bryant's historic 81-point game against the Toronto Raptors is heading for the auction block later this month.
The autographed sheet has been consigned to Goldin Auctions' current 2020 Winter Auction, and looks likely to soar beyond its starting bid of $1,000.
Kobe Bryant (1978 – 2020) was a five-time NBA championship winner who played his entire 20-season professional career with the Los Angeles Lakers.
Regarded as one of the finest players in basketball history, Bryant was an 18-time NBA All-Star, the 2008 NBA MVP and the Lakers' highest-scoring player of all-time.
He was also an Academy Award winner, having won Best Animated Short Film in 2018 for his animated film Dear Basketball in which he spoke of his life-long love of the game.
Bryant's life was tragically cut short in January 2020, when he was killed in a helicopter crash in California along with his teenage daughter Gianna and seven others passengers.
His passing saw an outpouring of grief from fellow players and fans around the world, and a subsequent scramble by collectors for his memorabilia.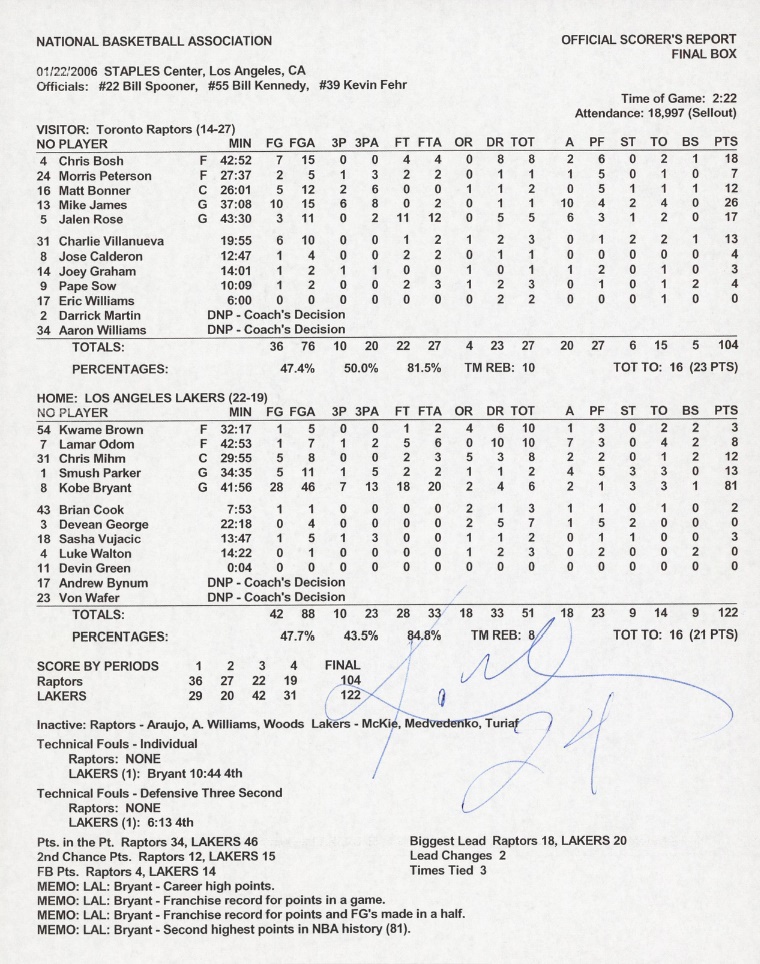 Kobe Bryant had one of the most decorated careers in the history of basketball, and perhaps the pinnacle came on January 22, 2006 as he scored an incredible 81 points in a single game against the Toronto Raptors.
Jerry Buss, the late owner of the Los Angeles Lakers, said watching Bryant play that night was "like a miracle unfolding in front of your eyes."
It was the second-highest scoring game by a single player in NBA history, behind only Wilt Chamberlain's record 100-point game for the Philadelphia Warriors in 1962.
However, whereas many of Chamberlain's points came from being fed inside shots by his team-mates, Bryant created the majority of his shots himself from the outside, against a far more athletic and competitive team.
Bryant also single-handedly dragged his team to victory that night. With the Lakers trailing by 18 points in the third quarter, Bryant scored a remarkable 27 points in the third and 28 in the fourth to complete a 122–104 comeback.
Considering these factors, Bryant's achievement is perhaps even more impressive than Chamberlain's record, and stands as one of the single greatest performances in the history of basketball.
The official NBA score sheets were only made available to reporters, team members and staff at the Staples Center who witnessed the historic game.
The sheet is signed by Kobe Bryant, and comes complete with Beckett authentication. Bidding on the score sheet is currently live, and ends on February 22.