A remarkable sale of T206 baseball cards at Heritage Auctions has rewritten the record books, setting more than 400 new individual world records.
The auction in Dallas on September 20 featured the world's finest set of T206 cards, issued between 1909 and 1911 by the American Tobacco Company across their 16 different brands.
The collection was ranked #1 on the PSA registry, with almost all the cards ranked as the finest available examples in the entire hobby.
All 520 cards on offer were snapped up by collectors, with the final total soaring to $8.1 million against a pre-sale estimate of $3.5 million.
"This might have been the most significant trading card auction in history," said Chris Ivy, Director of Sports Auctions for Heritage. "The finest example of the greatest tobacco issue, absolutely shifted the marketplace on its axis."
Leading the sale was a card featuring Hall of Famer Eddie Plank of the Philadelphia Athletics, graded PSA NM 7, which sold for $690,000.
Following hot on its heels was "the most celebrated 'error card' in the baseball trading card hobby": a card depicting Sherry Magee of the Philadelphia Phillies, with his name miss-spelt "Magie", which sold for $660,000.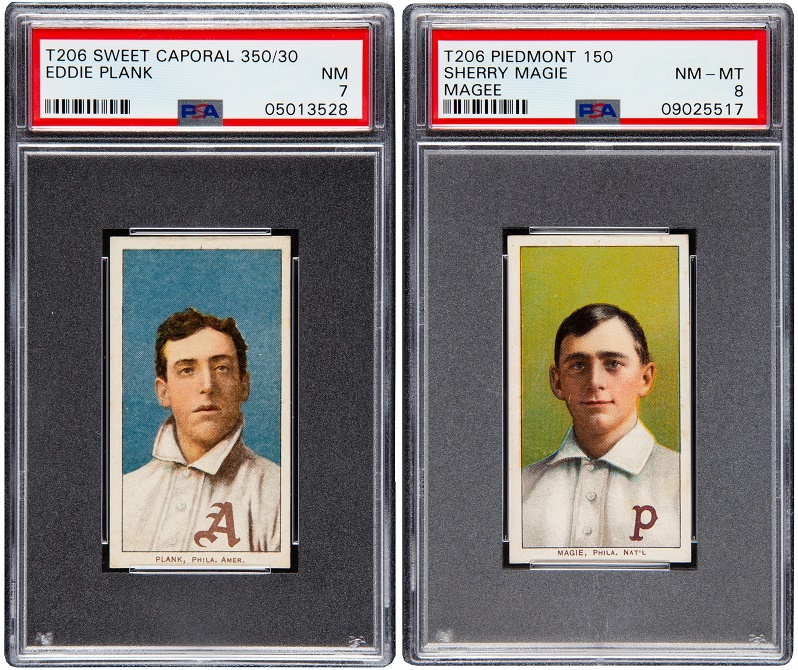 Records tumbled throughout the sale, with many cards achieving several multiples of the previous top prices.
Further notable results included a Ty Cobb (Green Portrait) card graded PSA NM-MT 8 which sold for $360,000; a Christy Mathewson (White Cap) card with the 150/649 overprint which sold for $264,000; a Tris Speaker card graded PSA NM-MT 8 which achieved $66,000; and a John McGraw (Finger in Air) card graded PSA Gem Mint 10 which sold for $192,000.
Prior to the landmark auction, Chris Ivy had described the offering as "the vault door swinging open to reveal treasures unavailable anywhere else on Earth."
The T206 set is regarded as perhaps the most important set in the history of baseball cards, due to its size, scope and the quality of the color lithographs.
Outside the hobby it is primarily known for containing the almost mythical Honus Wagner card, the world's most valuable baseball card.
With less than 200 examples ever produced, and an estimated 60 still in existence, the card is regarded as the true 'Holy Grail for collectors, and in 2016 a copy graded PSA EX 5 (MC) sold at auction for $3.12 million.
The T206 set at Heritage may not have contained an example of the Wagner card – but even without that particular treasure, the sale set a high water mark by which future card auctions will be measured for years to come.