A checklist worn on the Moon by Apollo 17 astronaut Gene Cernan is heading for sale at RR Auction next month.

Cernan's lunar surface-used EVA-1 cuff checklist will cross the block on April 20, and is expected to fetch up to $500,000.

The checklist is presented on a replica of Cernan's left-handed Apollo A7-LB EVA glove, and is still stained with lunar dust.

Apollo 17 was the final manned mission to the Moon. On December 11 1972, Cernan and his crew-mate Harrison Schmitt became the 11th and 12th human beings to walk on the lunar surface.

Cernan wore the checklist as he stepped down from the Challenger Lunar Module, and for the next seven hours as the pair collected samples.

Cernan described the Moonwalk in a letter of provenance supplied with the checklist.

"EVA1 was a high level work period. The cuff checklist reflects that by being completely smothered with lunar dust… The dust was very abrasive and clung to everything it came in contact with during our time on the Moon's surface.

"This cuff checklist represents one of the rarest of Apollo artifacts as a piece of vital equipment that I used during my excursions on the lunar surface."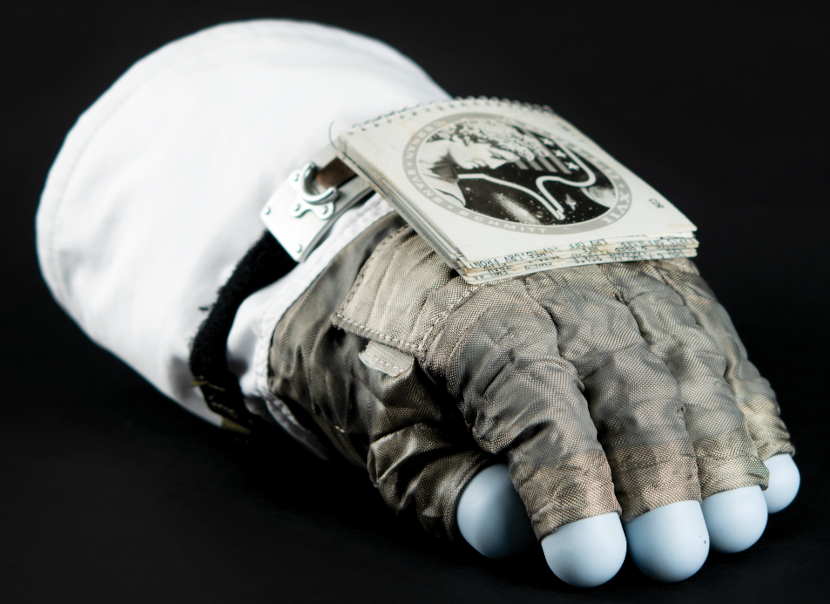 The checklist is clearly visible in photographs and film footage of Cernan captured during his initial moonwalk.

And three days later on December 14, Cernan made history when he became the last human to walk on the moon.

In October 2021 the checklist Cernan wore during EVA3 – his third and final Apollo 17 moonwalk – sold at RR Auction for $745,000.

During EVA3 Cernan remarked: "Man, I tell you, this little navigation map I've got on my cuff checklist is unquestionably the greatest thing that I've ever done."

This checklist also included his notes for the historic speech he stepped back onto the lunar module for the final time.

Like many Apollo astronauts, Cernan was allowed by NASA to keep his checklists as personal mementos of his mission.

And in recent years they have become some of the most sought-after and valuable items of lunar-flow space memorabilia available to collectors.

In 2009 a similar cuff checklist worn by Apollo 16 moonwalker Charlie Duke sold at Bonhams for $206,000.

And in 2012 the checklist worn by Apollo 15 moonwalker Dave Scott sold at RR for $372,045.

During the Apollo 11 mission, Neil Armstrong and Buzz Aldrin had their checklists printed onto the actual cuffs of their space suits, which are now housed in the Smithsonian.