Everything went. An evening sale of personal items from Queen singer Freddie Mercury's raised £12.4 million at Sotheby's on September 6th. No lots were left unsold. The sale opened a 6-night series of auctions that raised over £39.9 million in total.
The event opened with the fan-daubed door of Garden Lodge, the home Freddie left to companion Mary Austin. She was selling the collection, which comprised most of the contents of the house, in Kensington, London.
The 60-lot first evening included handwritten lyrics, musical instruments, and Mercury's famously flamboyant stage wear. The collection also took in his own passions, selling art pieces, notably from his collection of Japanese cultural artefacts.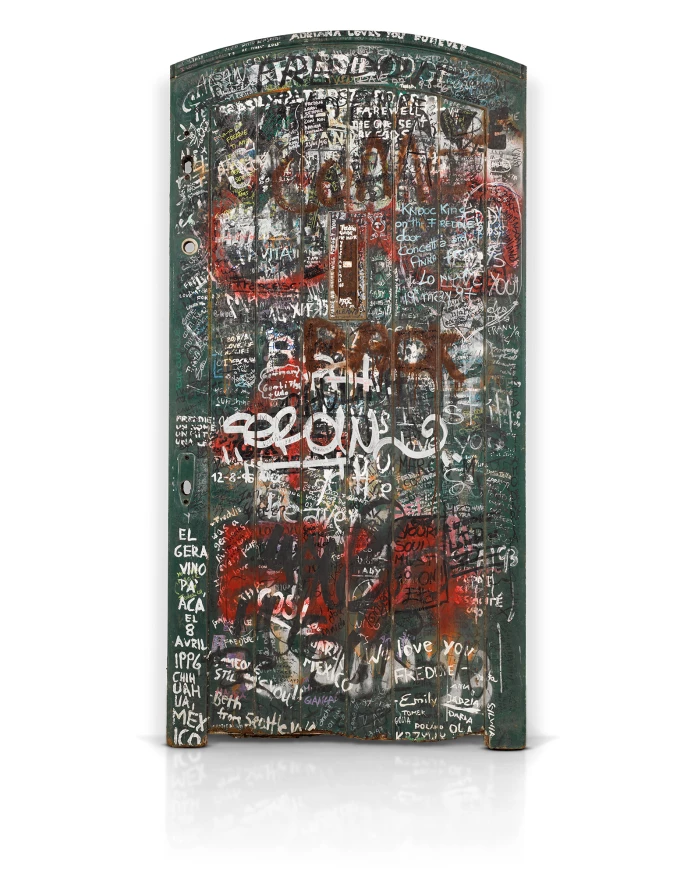 The door to Freddie Mercury's home, Garden Lodge, has sold for more than £400,000.
The Garden Lodge door sold for £412,750, 25 times the estimate.
Lyrics also did well. The hand-written words to Somebody To Love (£241,300), Killer Queen (£279,400), and We Are the Champions (£317,500) all have new owners.
A star item was a draft of the lyrics for Bohemian Rhapsody, which sold for £1,379,000.
A Yamaha baby grand realised £1,742,000. That's higher than the £1.45 million paid by George Michael for John Lennon's white "Imagine" piano, which was sold in 2000, and would probably raise much more if sold now.
This was a blockbuster sale for Sotherby's who ran a free exhibition in the lead-up.
Not everyone is delighted though, Mercury's former Queen band mate, Brian May, has spoken of his sadness at seeing a personal collection dispersed.
Mercury's personal art collection, which included Picasso, Miro, and Dali prints, also performed well.
In total, Sotheby's sold more than 30,000 items in the series of sales, which has been one of the most high-profile rock sales of recent years.
Mercury was born Farrokh Bulsara in Zanzibar in 1946. He co-founded Queen in 1971. The band enjoyed decades at the top of the rock world, probably peaking in a 1985 appearance at Live Aid that is routinely described as the greatest live rock performance of all time. Mercury died in London in 1994 of complications related to AIDS.