Three gowns made for and worn by Diana, Princess of Wales, sold for well over £1 million at a Los Angeles sale on September 8th, each realising around £0.5 million.
The trio of royal dresses were sold in The Legends: Hollywood And Royalty auction by Julien's Auctions in Los Angeles.
The sale, staged to celebrate 100 years of Warner Bros studios, took in over 1,000 lots, many related to Hollywood.
A red gown in silk, designed by Bruce Oldfield, was worn by Diana to the premiere of the comedy Hot Shots in 1991. It raised $571,500 (£458,484), against a top-end estimate of £320,000.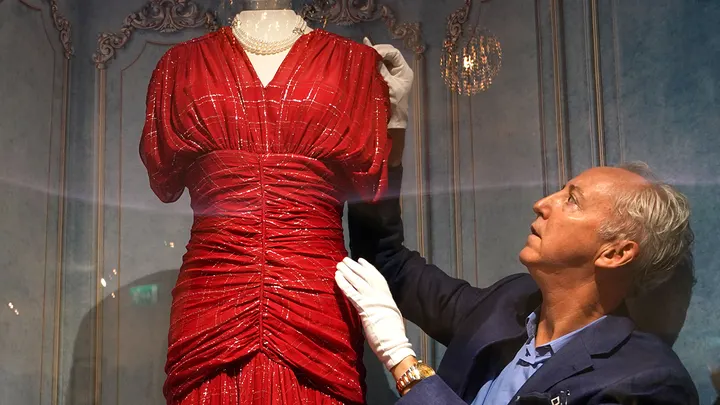 Diana's gown on display in Ireland before its sale in Los Angeles.
Diana wore the second gown to an event in Canada the same year. It was designed by the princess's personal designer, Catherine Walker and sold for the same price, $571,500 (£458,484).
Another Walker gown, worn privately by Diana, made $508,000 (£407,541), against an estimate £48,000 to £64,000.
According to Julien's none of the gown's had been seen since Diana's ownership of them, more than 30 years ago.
Diana, who died in a car crash in Paris in 1997, remains the most compelling figure amongst British royalty. The sale of her clothing alongside costumes from classic Hollywood films is a measure of her star status.
This week a sweater, emblazoned with sheep, she wore on a single occasion was also auctioned. Bidding was due to close today, with the item already attracting a top bid of nearly £100,000.
Anniversaries and publicity always ramp up interest and prices. Diana's children, the Princes William and Harry, are firmly in the public eye – in very different ways – and the anniversary of her death in 2027 is likely to trigger a 360-degree media storm around her life.