A remarkably rare baseball program from the first World Series in 1903 could sell for up to $250,000 when it goes up for auction next month.
The 115-year-old program will be offered in an online sale by Huggins & Scott, which runs online from November 2 until November 15.
With a pre-sale estimate of $150,000 – $250,000, it could become the most valuable World Series program ever sold at auction.
"'Holy Grail' is a term that gets bandied about and overused on the auction block," states the auction house. "But nowhere does it ring more true than with the fabled 1903 World Series program at Pittsburgh. [This is] a once-in-a-lifetime collecting opportunity for the Holiest Grail of its kind!"
The inaugural MLB World Series saw the Boston Americans (now the Boston Red Sox) face off against the Pittsburgh Pirates, following two years of bitter rivalry between the National League and the newly-formed American League.
In a huge upset, Boston claimed the series by five games to three, having won the last four games to come back from 3-1 down.
Superb performances by Boston pitchers Bill Dinneen and Cy Young led Boston to the unlikely victory, as legendary Pittsburgh shortstop Honus Wagner struggled with his batting form.
Wagner later refused to send his picture to the Baseball Hall of Fame, claiming "I was a joke in that Boston-Pittsburgh Series…I would be ashamed to have my picture up now."
Until recently, it was believed that just two copies of the historic program had survived.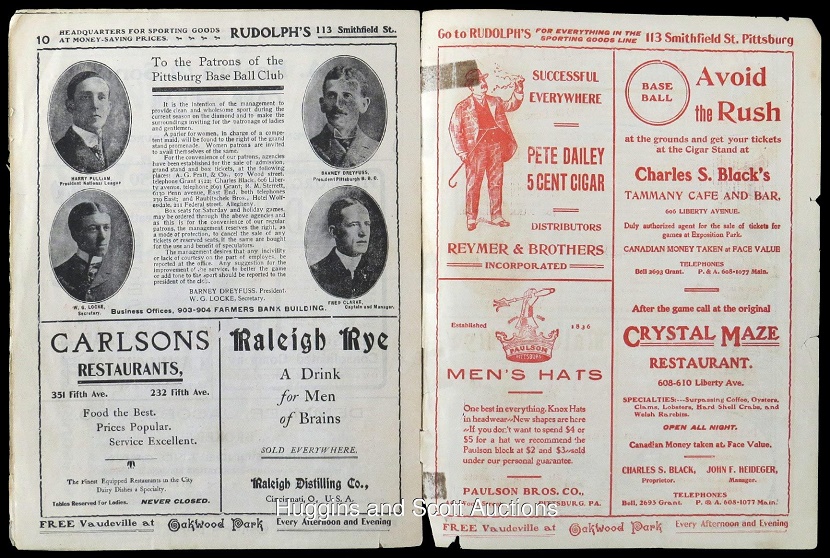 The first is part of the permanent collection at the Baseball Hall of Fame, and the second sold back in 2011 as part of Hunt Auctions' Louisville Slugger auction for a world record $241,500
Only a handful of people within the hobby were aware that a third copy existed, long-term collection of Ben Cavallo – and that it was actually scored in person by a fan during Game 7 at Exposition Park in Pittsburgh.
The program remains intact with all its original pages, which feature the completed score card and images of Pittsburgh players including Wagner and league-leading hitter Ginger Beaumont.
It also features period adverts for local Pittsburgh businesses such as Grabowsky's Hats, Chuddy Chewing Gum, Fleming's Medicinal Wines and Liquors, and The Pittsburgh & Lake Erie Railroad Company.
With its still-vibrant colours and handwritten scores, the program is a time capsule from one of the most significant moments in baseball history – and it would be no surprise if it soars to a new world record price on November 15.